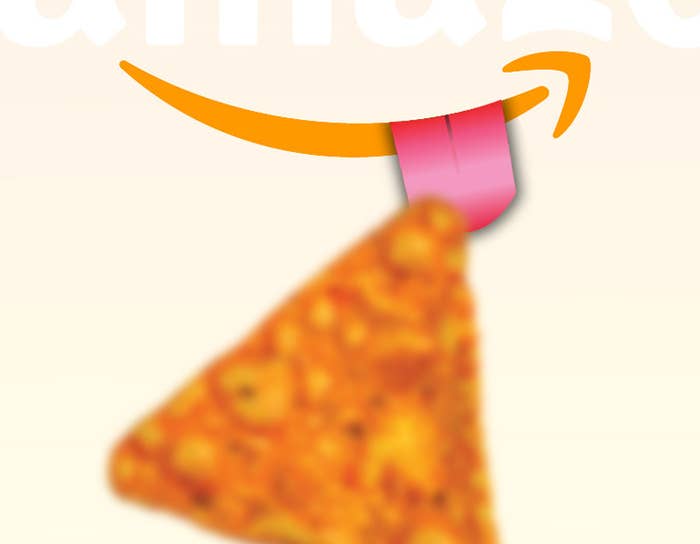 There's an unexpected destination for the offbeat snacker where limited-time promotional snacks and discontinued cult-classic flavors find new life: Amazon, the new laboratory of the food world.
As brands throw products on Amazon to test demand and generate buzz, the platform has become littered with odd, limited-time promotional products, evolving into a paradise for enthusiasts of weird snacks unavailable in stores. Want nacho cheese Doritos in a bag with an audio jack that can also play the Guardians of the Galaxy Vol. 2 soundtrack? Available only on Amazon.
How about the fictional "Pepsi Perfect" product from Back to the Future Part II? PepsiCo made the soda a reality on Amazon in 2015 and — in the carefully crafted words of a spokesperson — it "sold out faster than we can say 1.21 gigawatts."
And this year, Coca-Cola decided two classic products, Diet Coke Lime and Diet Coke Cherry, would spend their final days in the land of Amazon before they were eventually discontinued.
E-commerce is the next frontier for food companies, as evidenced by Amazon's acquisition of Whole Foods. But for now, Amazon is tuned more for impulse-buying gimmicky junk food than weekly grocery shopping.
Consider, for instance, this summer's newcomers to Amazon's snack aisle: $25 boxes of Keebler Fudge Stripes cookies and Kellogg's Frosted Flakes that come, inexplicably, with digital screens loaded with behind-the-scenes footage from the making of Jurassic World: Fallen Kingdom. These items were released on the heels of Doritos' Jurassic World promotion on Amazon, which involved "seven flavors of specially marked Doritos with custom Jurassic World: Fallen Kingdom packaging." (A third-party Amazon seller is now selling empty dino Dorito bags for $10, plus shipping. "It is a Doritos bag, not a bag of Doritos," according to the description for the questionably collectible chip bag.)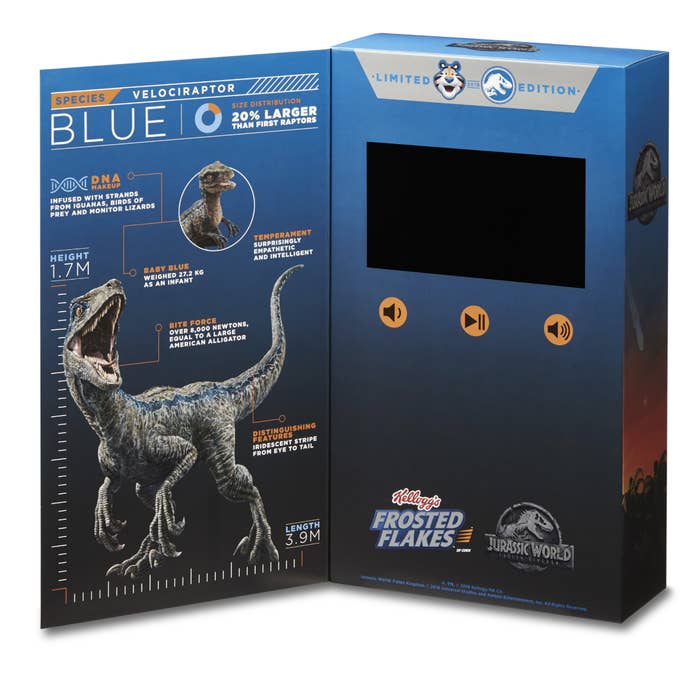 When Alex Spivey heard Kellogg's was selling only 100 boxes of Jurassic World Frosted Flakes, he immediately went to Amazon. "There was some element of FOMO driving the purchase," he told BuzzFeed News. "In no practical sense was it worth $25. A box of sugar-coated corn flakes runs $4, and a ticket to see the entire movie this was promoting would only cost $15."
It wasn't the first such purchase for Spivey. "I have bought several of these odd food products on Amazon. The return of Surge Soda started out on Amazon. I bought the anniversary/futuristic Pepsi bottle from Back To The Future Part 2 on Amazon. I may or may not still have a case of the Hi-C/Ghostbusters remake release of Ecto-cooler that was available exclusively on Amazon," he said in an email.
Then he added, "This is somewhat of a moment of realization that I may have an impulse control problem relating to movies and #Brands colliding."
"Amazon is a great testing ground for new innovation, as well as a good way to capture demand for something niche and not worthy of widespread brick-and-mortar distribution," said Keith Anderson, senior vice president of strategy and insights at e-commerce research company Profitero.
After all, grocery store shelf space is not only limited, it's expensive: Manufacturers pay what's called a slotting fee to have their products placed on that valuable real estate. By having an online strategy, "you don't need to displace something that there's more demand for on shelves," Anderson said.
Even enthusiastic consumers like Spivey understand the limited market for these products. "If someone tried to stock $25 boxes of cereal across brick-and-mortar stores, I think it would be a hard sell," he said. "I would imagine it's much easier for a niche product like this to find its audience on Amazon."
And any marketing buzz an online product generates is good for a company overall. Vivek Sankaran, president and chief operating officer of Frito-Lay North America, said earlier this year, "We have been most pleased about how e-commerce has helped our overall brand building." Online platforms also make it easier for giants like PepsiCo that sell a broad array of products to promote their goods to customers during a transaction by recommending products.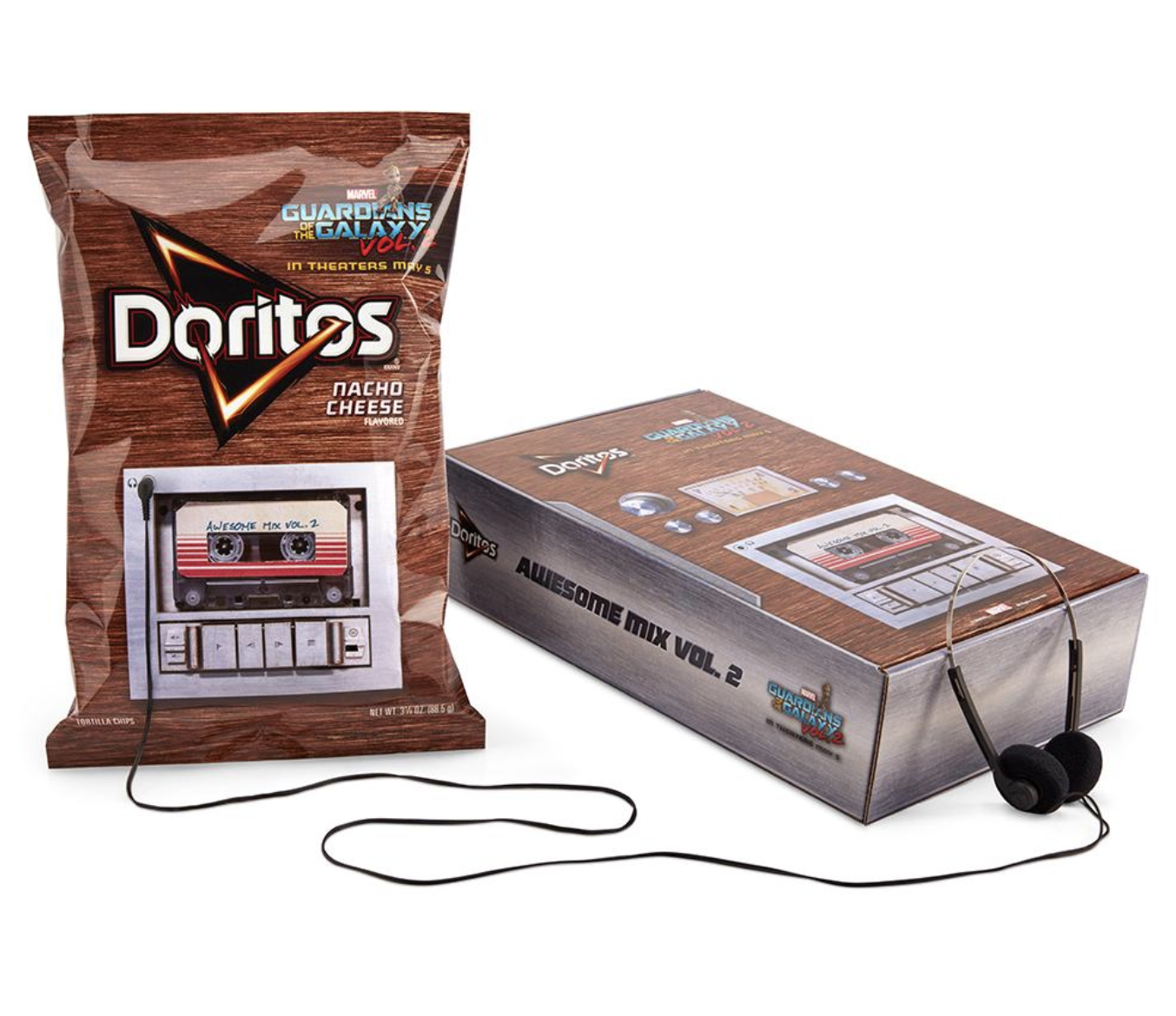 Catering to niche consumers
At this early stage, the catalog of foods and beverages available on Amazon is nothing short of random. Coca-Cola resurrected its discontinued Surge soda on the platform in 2014 in response to an active Facebook fan page with 128,000 members calling for its return. Then, in a twist, Coke discovered by selling Surge on Amazon there was still enough demand for the long-dead beverage, discontinued in 2003, to warrant bringing it back to store shelves.
"That's an example of, how could the brand find their way back and test out the concept? When there's an audience out there, but maybe retail wasn't the best way to test it out," said Darren Seifer, food and beverage analyst at market research firm NPD.
Surge's resurgence was, according to Coca-Cola, the start of a new era. "This may be only the first of a variety of efforts we explore to launch niche products through e-commerce relationships," said Wendy Clark, president of sparkling brands and strategic marketing, Coca-Cola North America at the time.
Earlier this year, Coca-Cola's general manager of e-commerce in the US, John Carroll, said, "We're determining how e-commerce can build brands online before taking them to the next level."
As food and beverage makers continue to try to figure out how to make the internet work for them, "the ultimate goal is to be omnipresent," said Seifer.
Other food companies have caught on to the power of Amazon to push out products that aren't quite worthy of a spot on the shelf, but may be fun enough to give their most devoted fans something to talk, tweet, and share about — and, of course, to buy.
In this way, Amazon has become a landfill for products that have a heartbeat but are no longer in their heyday. It's a place where niche products that have a fanbase can live on without paying for expensive retail space, and where gimmicky movie tie-ins for chips and soda can thrive. Amazon joins eBay as an online destination for random, dopey consumerism. The company did not respond to a request for comment.
New brands take off on Amazon
Amazon is also a hotbed of experimentation for smaller food makers trying to reach customers who might otherwise overlook their products at the supermarket. Amazon's list of top-selling foods makes a bizarre leaderboard where the typical stars produced by big manufacturers are replaced by second-tier competitors and newcomers, driven by the company's algorithms and marketing programs. Amazon has become their incubator.
The hourly updated best-sellers list in Amazon's grocery section, which is full of shelf-stable packaged goods that hold up well for shipping, looked starkly different one afternoon in June when compared to top-selling products in the same categories at typical brick-and-mortar grocers. Number one was a bottle of organic protein powder from a company called Orgain; number four was chocolate-covered almonds from a brand called ChocZero. Amazon's top snack bar at the moment: Rxbars.
By comparison, the top-selling protein powder in the US is Optimum Nutrition brand and the top-selling snack bar is General Mills' Nature Valley, according to information provided to BuzzFeed News from market research company Euromonitor, which had no data on ChocZero.
Amazon is actively courting smaller brands to sell on the platform. Califia Farms, a more established plant milk company that already competes in grocery stores with brands like Silk and Almond Breeze, also joined the Amazon Launchpad marketing program, which promotes "today's brightest startups" to shoppers.
Greg Steltenpohl, cofounder and CEO of Califia, told BuzzFeed News that while selling on Amazon can be simpler for new companies because it's one channel versus a bunch of different grocery chains, sellers also "have to be prepared for multiple layers of expenses that have to do with getting products on Amazon. It's not an inexpensive channel." For instance, sellers can pay for prominent product placement, banner ads, or offering a discount to be included in Amazon Prime.
"You don't have as many sales costs because your sales efforts are focused on Amazon, and there's one person handling the business for you. But on the other hand, Amazon knows that and they charge for some of those functions in different ways," said Steltenpohl.
Food on Amazon may still seem more like a strange potluck than what you'd normally buy at the grocery store, but "the industry evolved very quickly and different niches will emerge, and there will be opportunity," Steltenpohl said.
Maybe, to some shoppers, Amazon looks like a junk food landfill today. The CEO said, however, "If you embrace the level of change, maybe you'll come out on top."