This April, about 280,000 current and former Chipotle employees got a postcard in the mail, sent by attorneys building up a lawsuit against the burrito chain. The postcard said they had the right to join the lawsuit if, at anytime since early 2012, they had done unpaid work for the company — "off the clock" hours that had allegedly become a standard part of life at Chipotle.

Since then, almost 10,000 workers have signed up, accusing the company of violating federal labor laws by routinely failing to pay staff for hours worked.
It's another blow to Chipotle, which is still facing serious sales declines in the wake of a food safety crisis last year that tarnished its reputation. Chipotle sales declined 26.5% in the first six months of 2016.

The suit, which began in 2014, alleges crew members who worked the closing shift were automatically clocked out by the company's systems even if they were still working. In some cases, the suit alleges managers asked employees to continue working even after they clocked out. Several other lawsuits alleging similar claims have been filed in multiple states, and one such suit in California was settled in 2015, although the deal is currently being challenged.
Unlike class-action lawsuits, which can be filed by a single plaintiff on behalf of sweeping categories of people, the Chipotle lawsuit is a collective action complaint, requiring all participants to actively sign up. The lawsuit was reported earlier this week by CNNMoney.
Getting almost 10,000 workers to opt into the suit suggests a degree of motivation among the participants. "They at least had to go to the trouble to fill out the form, and one can infer from that an active desire to be part of a collective action," said Maria Glover, an Associate Professor of Law at Georgetown University.
In a collective action suit, current and former employees who opt in could be asked to respond to discovery and to testify at trial; those who choose not to join are not entitled to any monetary rewards should the court rule in favor of the plaintiffs.
As the case progressed, the court asked Chipotle to provide the plaintiffs and their lawyers with the names, addresses, and email addresses of current and former employees eligible to sign up for the suit. The chain also posted notifications in its stores.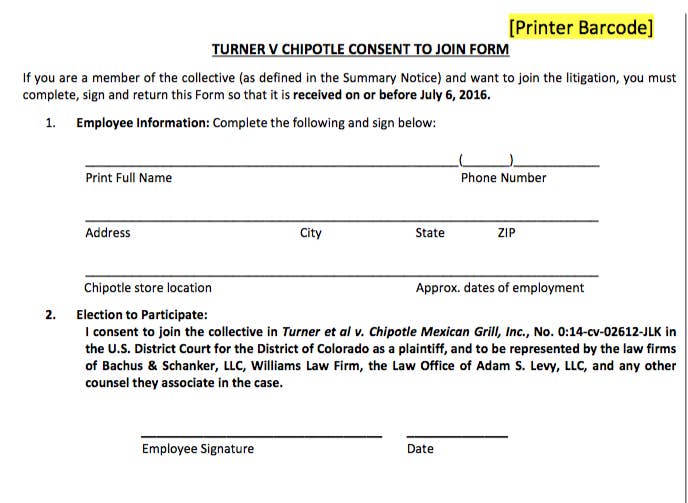 Chipotle spokesman Chris Arnold said in an email:

"As we have from the outset, we maintain that [the case] has no merit, but will limit our discussion of details to the legal proceedings. I'd also note that a lawsuit is nothing more than allegations and is proof of absolutely nothing. Simply because this suit has filed does not mean that we have done anything wrong.
More generally, I'd note that we offer compensation and benefits that are, at a minimum competitive and, in many cases, really unusual for our industry and include such things as paid vacations, paid sick days, tuition reimbursement, and a new partnership with Guild Education that allows eligible employees to earn degrees for as little as $250 per year. More on that here. We also offer extraordinary opportunity for our employees, with more than 90% of our managers coming from within the ranks of our crew, and our most elite managers earning compensation of more than $100,000 a year. There is more on employment and what that looks like here."
Williams, the lawyer representing the workers, said he plans to begin the discovery phase of the lawsuit soon.