After getting rid of cigarettes in 2014, CVS is making another change in the name of pushing its brand of health-conscious consumerism: better snack options.
Shoppers in CVS stores will soon see more grab-and-go snacks with healthier labeling in the check-out areas. The chain told BuzzFeed News 25% of checkout space traditionally occupied by candy now will be dedicated to what it considers to be "better-for-you" snacks such as KIND snack bars, Larabars, Justin's Peanut Butter Cups, and Vega One meal bars, which contain nutritional supplements.
Changes are happening in the regular food aisles too, with more products from brands like Amy's Kitchen, Annie's Homegrown, Chobani, Vita CoCo, Bai, Krave Jerky, and Rhythm Superfoods. The company said it's focused on items that are sugar-free, contain no trans fats, or have higher servings of protein or fiber.
Michael McEnany, a vice president at CVS Pharmacy, told BuzzFeed News the company has "shifted our positioning to be be the leading health and beauty destination for our customers in the United States."

CVS based its "healthy" selections on guidelines from nutritionists, including those at large food companies like General Mills and Hershey, as well as research on popular food and health trends.
Prepare to see a lot of new labels, from high-protein and heart healthy, to non-GMO, organic, and sugar- and gluten-free.
Changes are also happening with CVS's displays. It piloted a "healthy foods format" in 2015 in nearly 500 stores with more refrigerated and frozen equipment and more shelf space for non-perishable food. This year, it plans to expand shelf space in 2,600 additional stores — it's about halfway through this target already. About 360 more stores will also see more refrigerated and frozen equipment brought in.
Displays and merchandizing will be set up "to nudge customers to make those healthier decisions," according to a spokesperson. Some locations will also feature a rotating display for different diets, such as paleo, raw and vegan.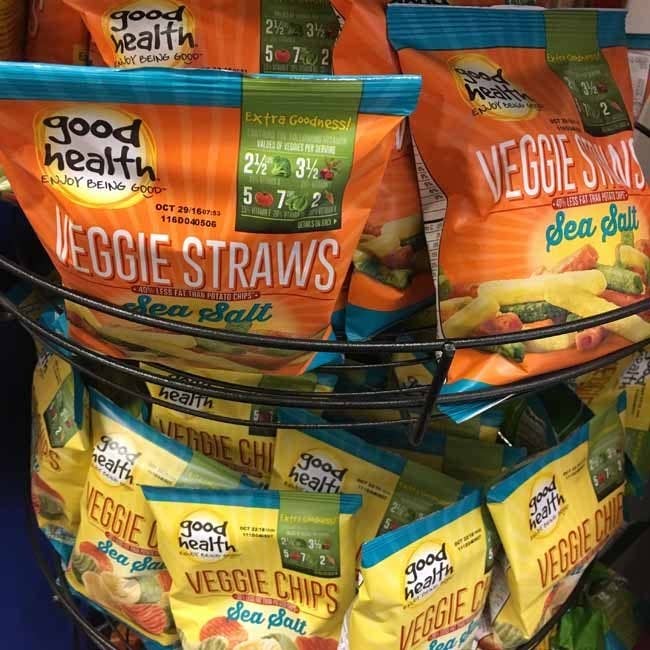 "Our customers have been very positive about the changes that we've made. We've seen positive sales impact," said McEnany. CVS already has increased its demand forecasts for these products based on results so far.

The retailer will still sell conventional cookies, chips, and soda, but they will be less prominently featured. Candy and other grab-and-go snacks have been moved away from registers.

The chain is also introducing more options from its better-for-you private label Gold Emblem Abound in all locations.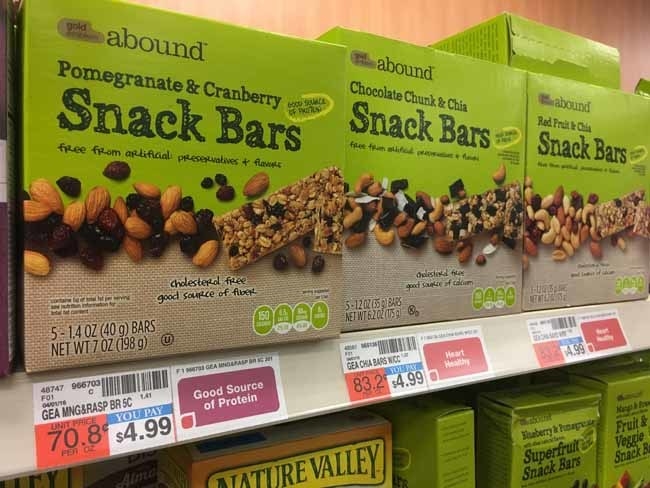 But really, shouldn't you just eat an apple?
Is an organic peanut butter cup really a healthy snack? It's still 220 calories. And a snack bar can still contain lots of sugar even if it has no preservatives.
Plenty of healthy marketing is involved, but dietitian Ashley Koff said some of these products will in fact be better options for impulse snacking than popular junk foods. While this is a positive change for CVS, she said, "don't grocery shop here."

In particular, Koff warns against products that make health claims on their labels but still contain low-quality ingredients like soy protein isolate (which may contain unhealthy additives) or add empty calories on top of regular meals. A fruit or, in some cases, even a small snack from a a fast food restaurant can still be a better choice, she said.