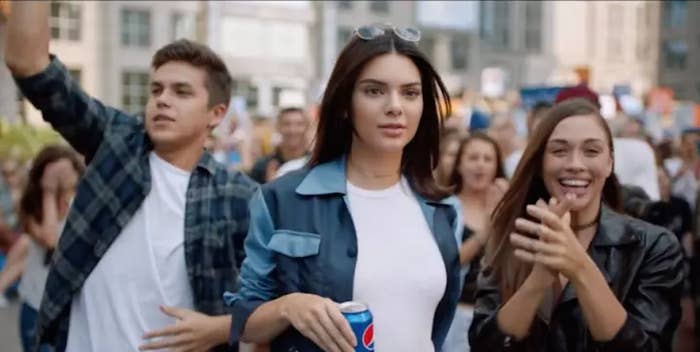 The disastrous release and swift withdrawal of Pepsi's Kendall Jenner-led protest spot has advertising insiders questioning the limits of the industry's core belief that there's no such thing as bad publicity.
The ad diminishes decades of African-American protests for civil rights and "lives that have been lost in that struggle over the years," said JeWayne Thomas, a vice president at Burrell Communications, an agency that has specialized in ads targeting the black community. Pepsi was so focused on centering its own product that it missed a much more lucrative opportunity to create something inspiring, he said.
"The story just doesn't resonate," he said. "There are some complex issues that we have to deal with as a country, race being one of them. And for sure Pepsi is not going to help solve issues."
Thomas said these types of mistakes can be avoided by having someone in the room who is familiar with the issues. "That is typically the best way to avoid falling into this negative situation," he said. "Having that person be empowered should be a part of the process."
Pepsi knows how badly this one landed. The ad, it said in a statement Wednesday, "was trying to project a global message of unity, peace and understanding. Clearly we missed the mark, and we apologize. We did not intend to make light of any serious issue."
The company also apologized to Kendall Jenner.

But while Kendall got an apology, Pepsi's casting of her seemed mistaken for an ad playing on a rising national wave of street activism. "To add her into the mix made a controversial situation more controversial," said Allen Adamson, founder of BrandSimple Consulting.

"There's so much pressure on brands and companies to try to be relevant," said Adamson. "They missed the mark on connecting to the hearts of people protesting and dramatically underestimated the sensitivity of the problem with protesters and BLM with soda pop. In a market where social media is looking, they got the attention they wanted for the wrong reasons."
Jenner may be a tempting force in youth advertising thanks to her 77.8 million dewy, millennial-and-younger followers on Instagram. How much blame should she take for this disaster? The almost 500 respondents to our highly unscientific poll were inclined to give her a pass: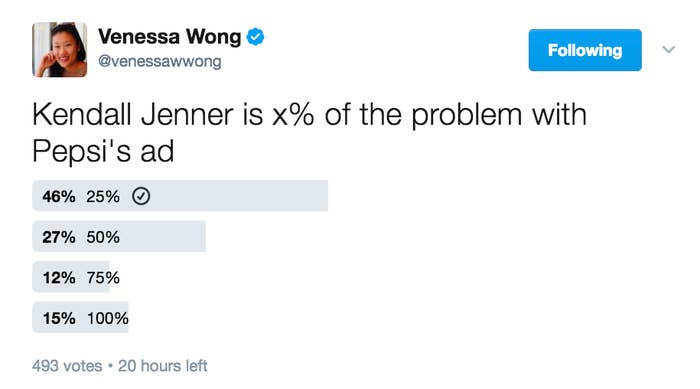 The protest alluded to "emotional events and very significant issues that affect the core of American society," brand consultant Dean Crutchfield told BuzzFeed News. "They piggybacked on a crusade and didn't have permission to do so. People found it tasteless and crass. It was trivializing grief."

For Pepsi, the debacle adds to a much bigger and more existential problem: Its core product is getting less popular by the day. Soda has become one of the main targets of public health advocates, and cities are starting to pass taxes on sugary drinks. Even diet sodas are in decline.

"This is the last thing they need. Their business is pretty fragile now," said Crutchfield. "This is very embarrassing for the brand."