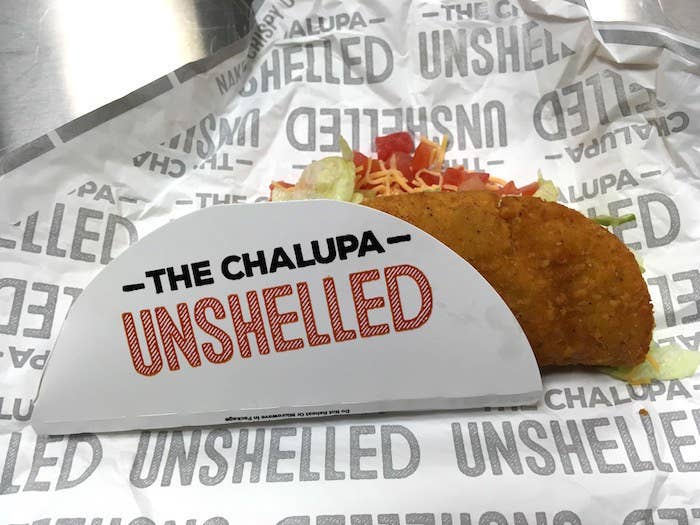 Back in September, a small number of Taco Bell customers were introduced to a new concept: a taco shell made of fried chicken, used to make what was then dubbed the "Naked Crispy Chicken Taco." It was the Tex-Mex chain's response to KFC's Double Down, a sandwich that uses fried chicken fillets for buns.

This creation was offered only as a small test in Bakersfield, California. It later made its way to restaurants in Kansas City in mid-April.
And it's not over yet.
Taco Bell told BuzzFeed News that the product — renamed the "Naked Chicken Chalupa" following the successful launch of the Quesalupa earlier this year — hasn't been approved for a national launch yet, but things are looking good. It's still in test mode, but "the results and consumer feedback are very encouraging," according to a spokesperson.

"We're just planning what's the right the timing," Kat Garcia, Taco Bell's senior manager of marketing, said.
The 5.5-inch, 4-ounce chicken shells arrive at the restaurants seasoned and breaded. They get fried into a taco shape using this contraption, which has also been used to shape other things at Taco Bell, like the Waffle Taco.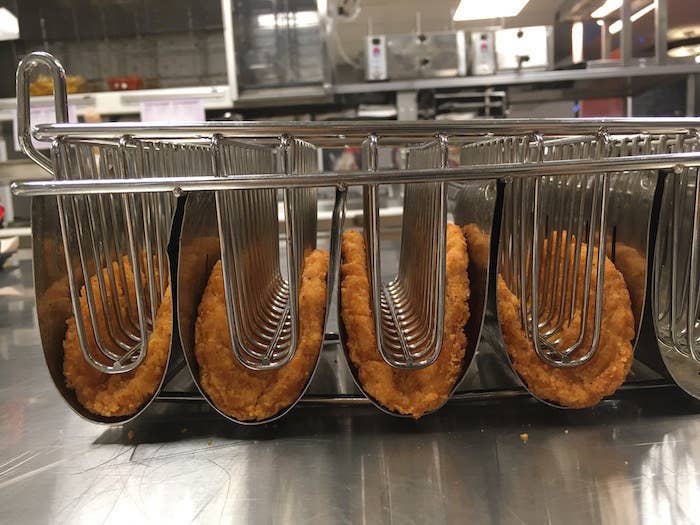 The idea for the chicken shell goes back to 2013, when Taco Bell's senior director of innovation, Heather Mottershaw — better known as the mastermind behind the Waffle Taco — imagined a taco shell made from chicken Milanese.
But senior managers, including Chief Marketing Officer Marisa Thalberg, were not instantly on board. "They really weren't into it because it is so different," Garcia said.
"Think of all the crazy firsts that have existed in time and civilization," Thalberg told BuzzFeed News. "Dare we say even the creation of the wheel probably seemed a little odd at first until someone said, 'Ah, that's really a good thing!'"
The dream of a fried chicken shell may have never been realized if not for the diligence of Steve Gomez, Taco Bell's manager of product development. He calls it "a passion project," and made it his mission to get other employees to try it. Looking back, he says he "was probably borderline annoying" in efforts to spread the word.
To even get to the test phase in 2015, the team had to shop the product to executives in headquarters, and then work with suppliers and stores to explore the viability of offering it at a larger scale.

This is what the fried poultry shell looks like if you unfold it.
The challenge, according to Garcia, is assuring consumers that the chicken shell isn't weird fair food or "jestery." "We wanted to make sure people took it seriously," she said.
"When you explain it to someone they create a visualization in their mind, but it you put it in front of someone and say, 'Try it,' then it's like, 'Okay, I get it,'" Gomez said.
The meaty new chalupa, in fact, basically just tastes like a fried chicken wrap without the wrap. And it's spicy, and stuffed with lettuce, tomato, cheese and avocado ranch sauce.
Taco Bell has found in the test that the vegetables somehow manage to give the meaty, deep-fried chalupa a "health halo" in the eyes of consumers. "We were getting feedback like, 'It's so healthy. It's so fresh,'" said Garcia. "That really surprised us because it's fried chicken."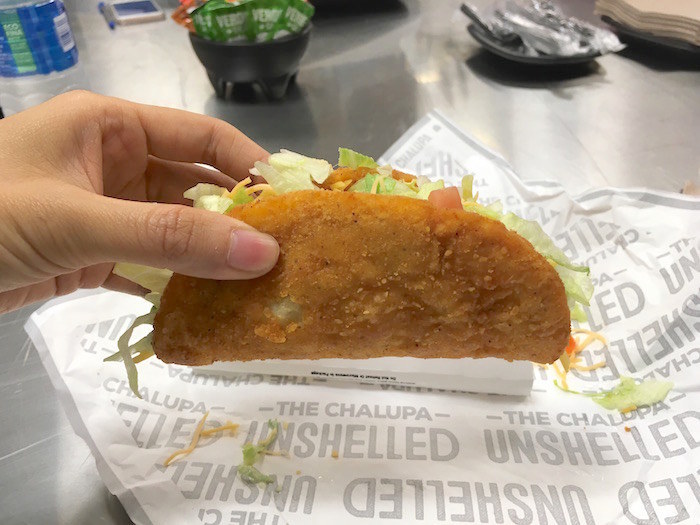 "We're not going to market it as a health food item — I promise," said Thalberg.
If the Naked Chicken Chalupa does well, there will likely be other versions of it down the road. "Every year the benchmark gets higher and higher for new, big taco-innovation ideas," said Gomez.

Taco Bell's approach to product innovation typically is focused on new product lines that it can expand with variations and flavors, such as the Doritos Locos Tacos, but with a deep-fried chicken shell, "it really feels like you're at the end of the innovation line. What do you do next?" said Garcia. "We will think of something, of course."