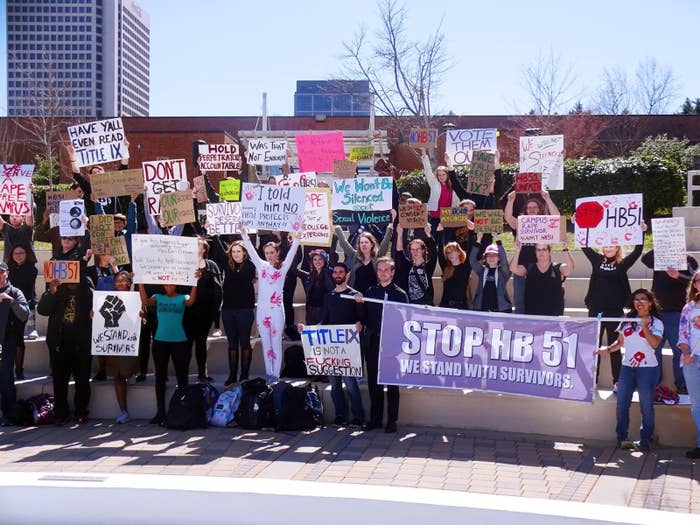 The Georgia state senate on Thursday shot down an attempt to ram through a controversial campus rape bill that had no support from victim advocacy groups and was aimed at protecting accused rapists.
The legislation would've required college officials in the state to report all felony-level sexual assaults to cops, whether or not a victim wanted to file a police report. The bill also limited how universities could discipline students accused of sexual assault. If any of this conflicted with federal requirements, the bill instructed Georgia colleges to ignore the opinion of US government agencies that enforce federal law.
State Rep. Earl Ehrhart, a long-serving Republican from Powder Springs, Georgia, sponsored the bill because he believed too many male students were being falsely accused of sexual assault and treated unfairly by their schools.
The bill passed on a party-line vote in the Georgia House, but the senate judiciary committee then voted unanimously to table it after students, sexual assault victims' advocacy groups, and private colleges lobbied against the proposal. Public colleges, whose purse strings are controlled by Ehrhart — chairman of the appropriations subcommittee on higher education — didn't take a stand on the bill.
On Tuesday night, Ehrhart gutted SB 71, an unrelated bill dealing with health savings accounts sponsored by the head of the state Senate Judiciary Committee, and replaced it with the language of his campus rape legislation. The House then approved SB 71 and sent it back to the Senate, which unanimously rejected it on Thursday afternoon.
"Without objection, the Senate has disagreed with the House," said Lt. Gov. Casey Cagle, a Republican who serves as senate president. He then tossed a small piece of paper in the air as senators applauded the vote.
Late on Thursday night, the Senate declined to appoint any of its members to a conference committee that would have hashed out a deal to get the bill through at the last minute.
Thursday was the last day of the legislative session for 2017, meaning the rejection of the controversial proposal kills it for the year.