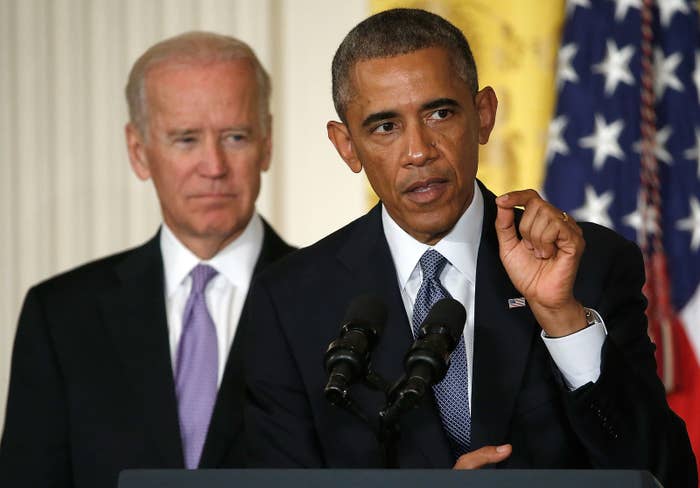 The White House is ramping up pressure on K-12 schools to improve their response to incidents of sexual harassment and assault among students.
The administration released several documents Monday reminding schools of their obligations under the federal gender equity law Title IX to respond to reports of students being sexually harassed or assaulted, and of factors to consider when dealing with students who experience trauma. The White House Task Force to Protect Students from Sexual Assault, created in 2014 with a focus on addressing campus rape, released a document explaining how K-12 districts should craft a sexual misconduct policy.
The guidance reminds schools of existing law and does not amount to new regulations. Advocates like Monika Johnson Hostler, president of the National Alliance to End Sexual Violence, see the new K-12 guidance as the "sequel" to the Obama administration's pressure on colleges to improve how they deal with sexual assault.
Throughout President Obama's tenure, the administration has put up a number of guidance documents and "Dear Colleague" letters about what schools must do when a student is sexually assaulted or harassed — the most consequential of which came out April 2011 and spurred many universities to start rewriting their policies on what to do when a student reports being raped. Yet advocates and activists complained too many elementary and secondary schools were falling short on their duties under Title IX on sexual violence, and needed prodding by the White House.
"We were hoping the wake-up call would've already happened," Tina Tchen, executive director of the White House Council on Women and Girls, told BuzzFeed News.
Officials said while the previous releases were generally applicable to elementary and secondary schools, there wasn't much that specifically spoke to the K-12 environment. Monday's release is intended to address that shortfall, and is the result of more than two years of feedback from sexual assault victim advocacy groups, activists, school social workers, and administrators.
The Obama administration is tying the focus on sexual harassment in schools to girls of color facing disproportionate rates of discipline. The documents are being released as the White House co-hosts a conference with the Georgetown Law Center on Poverty and Inequality on "Supporting Girls of Color and Rethinking Discipline." The higher rates of school suspensions for students of color compared to their white counterparts has been another major focus of the Obama administration.
Carrie Goldberg, a Brooklyn-based attorney who has represented teen sexual assault victims, applauded the new guidance for pairing a school's Title IX responsibilities with two other key areas: trauma sensitivity and an overall positive school climate.
"In my cases, I have seen how a child's education is disrupted by sexual violence, implicit biases, and trauma," Goldberg said. "With the free online training modules accompanying the guide, there is no excuse — utterly no excuse — for a school to ever punish the victim for in-school sexual violence, as happened in six of my firm's cases."
In some of Goldberg's cases, girls of color who reported to school officials that they were sexually assaulted were sent home or forced to transfer schools. Other schools, like Warren Consolidated Schools in Michigan, have also punished girls who said they were victims of a sexual assault after concluding the activity was consensual and violated school rules for engaging in lewd behavior on campus.
"Yes, we are concerned about school districts that would blame the victim when a young woman is making an allegation of rape," Catherine Lhamon, assistant secretary for civil rights at the U.S. Department of Education, told BuzzFeed News. "We are concerned about adding to the trauma."
Training on dealing with students who've experienced trauma is "often lacking" among school administrators, said Adele Kimmel, a senior attorney at the DC-based firm Public Justice, who works on Title IX issues in K-12.
"My experience is that schools often respond to harassment in ways that further traumatize the victims," Kimmel said. "So training and education in trauma sensitivity would greatly improve the educational environment for students."
Administration officials like John King, Jr., education secretary, and Vanita Gupta, the head of the Department of Justice's civil rights division, are expected to make statements Monday.

The Department of Education's Office for Civil Rights currently has 106 investigations open at 97 K-12 schools and school districts into concerns that administrators mishandled sexual violence cases. Meanwhile, there are 350 federal investigations into whether school officials are exhibiting racial bias in their discipline of students, according to the Education Department.
At the higher ed level, there are 273 ongoing investigations by the Education Department at 212 colleges and universities into allegations they handled sexual assault cases poorly, in violation of Title IX.
While around 1 in 5 women experience some form of sexual assault by the time they graduate college, 8% of girls experience rape or attempted rape before they turn 18, according to the CDC. The most common assailants are acquaintances or current or former intimate partners.

To reduce substantially the rates of sexual assault, advocates and experts say kids must receive education about safe and healthy relationships before they get to college.
"If we have students coming to orientation and that is their first exposure, then we've missed an opportunity to move up the stream to get to it at the root," said Katie Hanna, executive director of the Ohio Alliance to End Sexual Violence.
The materials pushed out Monday emphasize that everything done should be age-appropriate, so a first grader, a kid in middle school, and a high school senior should not all be getting the same kind of prevention programming.
UPDATE
This story has been updated with additional interviews.