Why It Matters When Rolling Stone Retracted Its Explosive Rape Story
Both sides continue to dispute when the magazine retracted its story about sexual assault at the University of Virginia. "The longer Rolling Stone waited to retract after learning the facts, the more evidence of bad faith."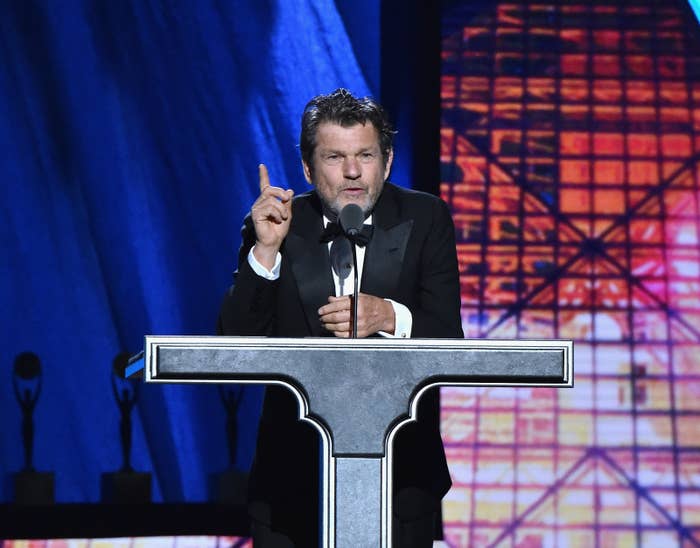 Rolling Stone magazine retracted its story about rape at the University of Virginia. But whether the retraction happened in December 2014 or several months later, and whether the retraction applied to the whole article or just part of it, is being debated in federal court.
Jann Wenner, the founder and publisher of Rolling Stone, raised eyebrows Friday when video of his deposition was played in former UVA dean Nicole Eramo's libel suit. Eramo is suing for $7.5 million in damages, arguing that the magazine and Sabrina Rubin Erdely, the writer of "A Rape on Campus," defamed her in the article's portrayal of her response to an alleged sexual assault of a student named Jackie. The trial moves into closing arguments on Tuesday.
In Wenner's deposition, he said he disagreed with then–managing editor Will Dana's April 2015 editor's note, which stated that the magazine was "officially retracting" the entire article. Wenner called that "inaccurate," adding, "We do not retract the whole story."
"To withdraw a retraction would seem to be an assertion that Rolling Stone is standing by the story," said Michael C. Dorf, a Chicago-based attorney who teaches First Amendment issues. "The only possible reason I could think for doing this is that Rolling Stone is going to try to use truth, the ultimate libel defense, as its trial strategy."
Throughout the trial, both sides have disputed the date when the retraction was issued, and whether Rolling Stone's apologizing — something legal observers say is done to mitigate damages and attract sympathy from the jury — was sincere. But, legal experts told BuzzFeed News, Wenner putting forth a new take on the retraction could be a risky move.
"Denying that it was all retracted is a pretty high-stakes play by Wenner," said Stuart Karle, who teaches media law at Columbia University. "It seems to me to be a pitch to the jury that, even today, no one is too sure what happened, and while [Rolling Stone] can't prove what did happen, it did well enough under the circumstances to get to the truth and nothing it found shows that it lied or ignored accuracy."
"A Rape on Campus" was published to much acclaim in November 2014, but reporting from other media outlets raised doubts about Jackie's story and caused the article to unravel. The April 2015 retraction came following a report from the Columbia Journalism Review detailing Rolling Stone's reporting and editing failures.
During opening statements on Oct. 18, and throughout the first week of testimony, lawyers for Rolling Stone argued that the article was effectively retracted on Dec. 5, 2014, when an editor's note was appended to the top disavowing the reporting on Jackie's claims. Defense attorneys said that the magazine kept the story online so that readers would see this disclaimer.
When she took the stand, reporter Erdely concurred that adding the editor's note in December constituted a retraction.
However, Eramo's lawyers disagreed. They insisted that the note amounted to republishing the story, attracting more readers to its allegedly defamatory statements about her. They claimed the retraction didn't happen until April 2015, four months after the article's credibility was shot.
In a case like this one, seemingly small disagreements about dates could have a big impact. Under Virginia law, noted attorney Dorf, a prompt retraction can show that the defendant acted in good faith — in other words, that the magazine acted responsibly once it knew the story was inaccurate — and reduce the amount of damages owed.
"The longer Rolling Stone waited to retract after learning the facts, the more evidence of bad faith," Dorf said.
Eramo's lawyers have to convince the jury that Rolling Stone acted with "actual malice," which means the staff had serious doubts about the validity of the story that they ignored when the article was published. The Supreme Court has held that post-publication actions, like retractions or apologies, do not necessarily reveal whether a media outlet had actual malice at the moment of publication.
In addition to disputing that the article was fully retracted, Wenner apologized to Eramo in his deposition video Friday. "I'm very, very sorry. It was never meant to ever happen this way to you," Wenner said. "And believe me, I've suffered as much as you have. But please, my sympathies."
Legal experts told BuzzFeed News that emphasizing apologies is generally a play for jury sympathy and an attempt to reduce damages, should the defendant lose.
Eramo said on the stand that she didn't take Wenner's apology as sincere because he also said Rolling Stone stood by the portions of the article that did not deal with Jackie's case.
When he testified on Oct. 27, Rolling Stone editor Sean Woods also apologized to Eramo, stating, "I'm sorry if this hurt you in any way."
Eramo's lawyer pressed, "Do you think Ms. Eramo was hurt by this story?"
Woods responded, "I do," but added the caveat, "I think she is a public figure and subject to criticism."