Most of the gin and tonics Susanna Hempstead and Christine Adams drank on Dec. 3, 2015, were paid for by their Ohio University English literature professor, Andrew Escobedo. He insisted on buying rounds after organizing an end-of-semester gathering for about a dozen students at a local pub.
By his own admission, Escobedo drank too much that night, but Adams and Hempstead say that's no excuse for what happened as the gathering moved from one bar to another until finally breaking up about 1 a.m. Adams and Hempstead, then 26 and 23, respectively, say Escobedo, then 48, rubbed their crotches, grabbed their buttocks, slid his hand under their shirts, and rubbed up against them under the tables where they sat crowded together — allegations corroborated by several witnesses who spoke to university investigators. When the group called it a night and began splitting up to go home, Adams said Escobedo pressed his body against her, forced his tongue into her mouth, and confessed he was attracted to her. "I don't want this," Adams says she told Escobedo while trying to squirm out of his embrace. She says she asked him not to tell anyone what had occurred, fearful it would hurt her reputation in the English department. "You better not tell anyone, either," he allegedly replied.
Adams and Hempstead reported Escobedo to Ohio University in March 2016, and in December, the school's civil rights office issued a graphic 78-page report that not only substantiated their claims but also those of two other women alleging sexual harassment by Escobedo dating back to 2003. Escobedo denied the accusations, but his bosses, from the dean and provost to the president, agreed he should be fired.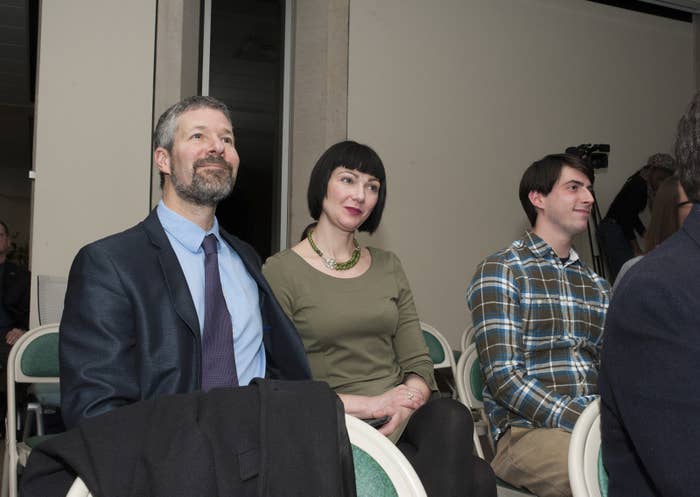 Months later, Escobedo isn't teaching, but he remains on paid leave largely because of one thing: tenure.

"It shouldn't have to take two women being sexually assaulted in the same night, in full view of their colleagues, for our school to address this problem."
The administration may want Escobedo gone, and the school's own report may have painted Escobedo as a predator who "has engaged in a pattern of exploiting females who are subordinate" to him, but because of tenure, university policies entitle him to an administrative process that has kept him on staff for months. The Athens News reports that Escobedo's salary last year was $87,000. At any time, Escobedo could resign without facing formal punishment, something the graduate students want to prevent.
Now Adams and Hempstead are questioning whether tenure, a system they both believe in as it safeguards intellectual freedom, has actually hamstrung how universities like theirs deal with sexual harassment cases.
"It shouldn't have to take two women being sexually assaulted in the same night, in full view of their colleagues, for our school to address this problem," Adams told BuzzFeed News. "If this isn't enough to fire someone in an expedient manner, what is?"
Tenure is designed to protect professors from being fired for frivolous or political reasons. If an oil company pressures a university to get rid of an academic researching the effects of global warming, for example, tenure would protect the researcher. Once a college grants someone tenure — which can take years to earn — a professor essentially has a job for life and can only be canned for extraordinary reasons. Many institutions, including Ohio University, have adopted principles drawn up nearly 80 years ago by the American Association of University Professors that establish steps schools must take before firing tenured faculty. Donna Young, an Albany Law School professor on the AAUP's academic freedom committee, said the lengthy firing process helps separate true harassment accusations from attempts to muzzle free speech, and ensures that serious misconduct is dealt with effectively.
"The only way to make sure these things are being taken care of properly is for the administration to have some strong procedures," Young said.
But tenure also puts schools in a difficult position when confronted with allegations of professorial sexual misconduct. Academia has found itself compared to the Catholic Church for "passing the trash," or letting faculty accused of sexual misconduct move on to other schools while the allegations against them are kept quiet.
While most jobs wouldn't require a board of directors to sign off on firing a mid-level employee, terminating a tenured professor isn't possible without approval from a school's board of trustees or regents, a process aimed at preventing faculty from being targeted simply because they made the wrong person mad.
"Of course, there's an ethical responsibility to students and to our colleagues, but there's also the value of academic freedom."
"We are in the knowledge business; we're not in the profit business," said Vicki Schultz, who teaches workplace law at Yale University. "Free speech is a very important value on any college campus, so whenever a faculty member is accused of misbehavior, of course there's an ethical responsibility to students and to our colleagues, but there's also the value of academic freedom."
Firing tenured faculty is so unusual that when the University of Washington this month dismissed a microbiologist found to have committed sexual harassment and misused university resources, the school said it was the first time it had terminated a tenured professor. But it took 18 months for it to do so.
Hempstead worries the same thing could happen at Ohio University. "Tenure," she said, "is really what makes this situation go on and on and on."
Nearly a year after they first filed a sexual harassment report, Adams and Hempstead sued Ohio University and Escobedo in federal court, attaching the school investigation report to the suit. Additional documents exchanged between administrators, faculty, and students about the case were obtained by BuzzFeed News. Escobedo "expressly denies that he engaged in any sexual harassment of anyone, including the plaintiffs," his attorneys said in a statement.
According to the 78-page university investigation report, Escobedo said he never touched his accusers "unless there was an accidental 'brush' of the shoulder." He blamed the allegations on a conspiracy, and he noted one witness reported seeing nothing inappropriate that night. Investigators, though, noted in the report that the witness was elsewhere in the bar during part of the evening and, unlike witnesses who corroborated Adams' and Hempstead's claims, did not have a clear view of the table where the group was sitting. Additionally, investigators noted that another witness described looking under a bar table to see Escobedo's hand moving along Adams' leg. At one point, Adams made a face as if to say "Oh my God," the witness told investigators. At another point, the witness said Escobedo's hand "was pretty much all the way down" Adams' pants. A separate witness reported seeing Escobedo groping the women "in plain view" of others. Yet another witness saw Escobedo rubbing his hand on Adams' upper thigh near her crotch. Adams "seemed petrified," that witness said.
In his response in court, Escobedo denied Adams' and Hempstead's claims that he touched them without their consent.
After the investigation finished, Escobedo wrote a letter to colleagues — outing the names of witnesses and alleged victims — in which he said they had multiple opportunities to move away from him, yet they didn't. Adams and Hempstead told investigators they feared that if they more forcefully rejected Escobedo, he could retaliate when giving them their final grades.
Ohio University placed Escobedo on administrative leave within one week of Hempstead and Adams filing their complaints. Since the university investigation concluded Escobedo had harassed subordinates, more than 50 students in the English department have written to the administration asking that Escobedo be fired. In February, students staged a protest pushing for Escobedo to be fired.
Because it's taking so long to settle Escobedo's future, Adams and Hempstead are both in limbo about their futures. In graduate school, students rely on building relationships with faculty who serve as mentors and who can help them land jobs once they finish their programs. Those relationships have changed for Adams and Hempstead, who say some faculty have told the pair that they support Escobedo. Both students rearranged their coursework to avoid instructors they believe are backing the professor.

"It's just an alienating process to report someone in your department when you're supposed to be making very close allies and close friendships," Hempstead said. Adams says she often wonders why she didn't just leave the school altogether.
Hempstead's main worry, she told a dean in a January letter, was that Escobedo would be allowed to resign in good standing rather than be fired, enabling him to get hired elsewhere and harass more students. Twice since 2000, Ohio University has moved to fire tenured professors, but both professors resigned before they could be fired, according to a university spokesperson.
Peter Lake, an expert in higher education law who teaches at Stetson University, said universities sometimes prefer that troublesome employees resign because the firing process is so onerous. And employees found to have committed wrongdoing would rather quit than be fired, because by resigning they often can keep their pasts under wraps. "If the employee has done something heinous or embarrassing, they may not want a public execution," Lake said.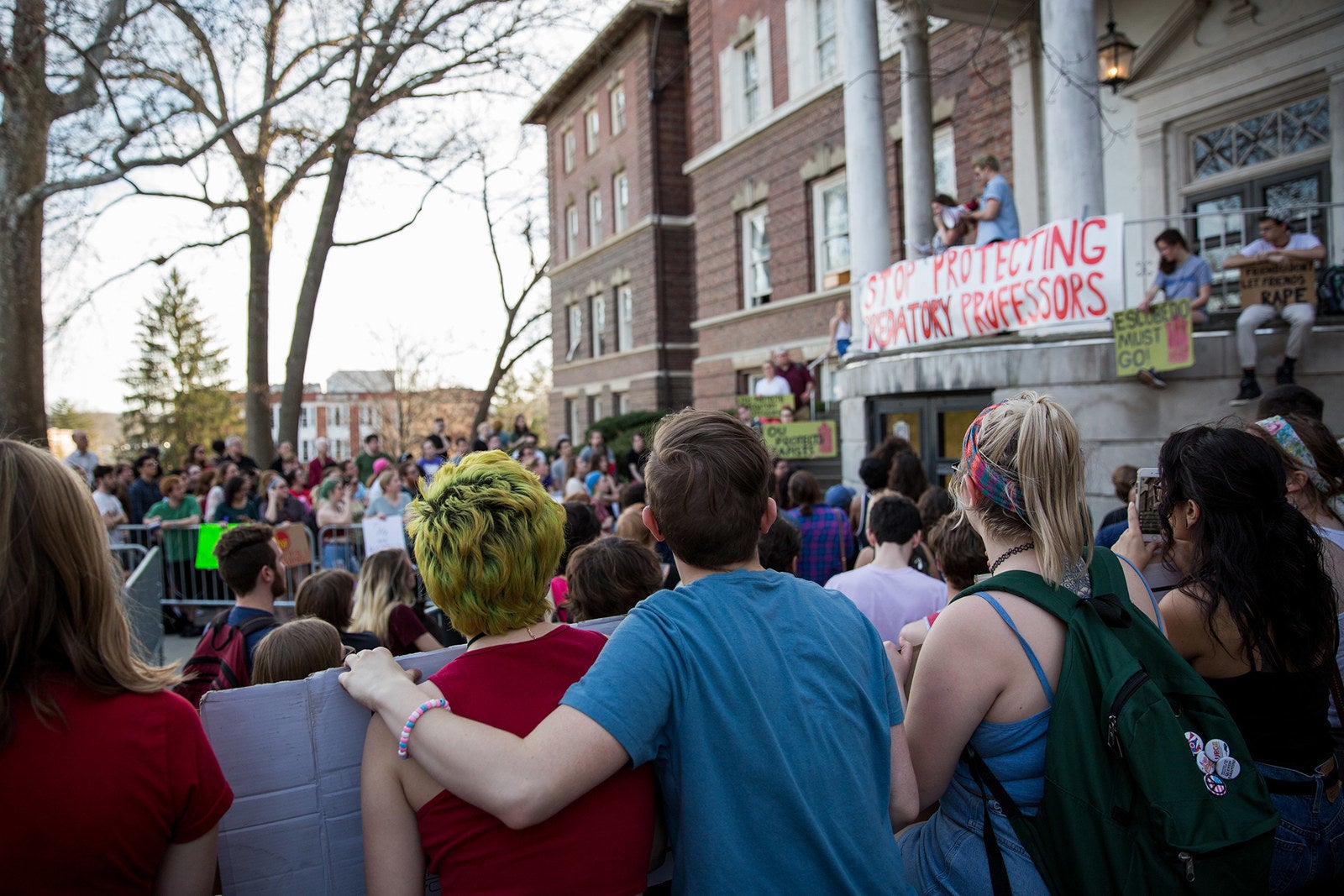 At St. Cloud State University in Minnesota, for example, chemistry professor Donald Neu resigned in February before the conclusion of an investigation into accusations he'd had an inappropriate sexual relationship with an 18-year-old student and given her alcohol and marijuana, according to documents BuzzFeed News obtained. The investigation eventually found Neu had violated the school's policies, and Neu now faces criminal charges of providing alcohol to a minor. Despite this, the student Neu had a relationship with told BuzzFeed News that Neu took the "easy way out" by quitting rather than being fired. St. Cloud State University declined to comment. Neu did not respond to multiple attempts to contact him.
"If the employee has done something heinous or embarrassing, they may not want a public execution."
In 2012, philosophy professor Colin McGinn resigned from the University of Miami three months after he was accused of sexually harassing a graduate student. He repeatedly wrote messages to the student discussing his erection, and he suggested that he and the female student have sex.
The university's president at the time, Donna Shalala, trumpeted the way the school handled the case, saying that McGinn's resignation got him away from students in "lightning speed." "The University of Miami is an example of how one institution got it right," Shalala told the Miami New Times in 2015.
Ann Olivarius, the lawyer representing McGinn's accuser, disagrees. Olivarius said firing McGinn would have slowed the process considerably, but letting him resign did nothing to fix a widespread problem in academia, and also humiliated the student. The student later sued the school. (The case was settled in October 2016.)
If schools faced financial pressure to crack down on harassers, Olivarius says things might change. The feds could revoke funding, assess fines, or offer financial rewards to schools that do better at complying with anti-harassment laws, Olivarius said. "Make respecting the law a money-making proposition for schools, another source of revenue, and the rape culture at universities and schools will change and start to disappear," she said.
That sort of suggestion makes people nervous. Faculty groups, law professors, and Senate Republicans have argued that too many universities have gone too far in response to pressure to crack down on sexual misconduct on campus. They say many schools punish teachers for alleged sexual harassment based on things said in provocative courses, or on lewd language that should be protected.
"People are treating vile words, or words that someone perceives as vile — they're equating that with vile conduct," said Nadine Strossen, former president of the American Civil Liberties Union. "It's so pernicious and so threatening to freedom of speech."
Some schools, like the scandal-plagued University of California system, are trying to improve the handling of sexual harassment cases by speeding up the timeline so investigations are done within a couple months. However, administrators who handle sexual misconduct issues warn that trying to rush an investigation can present problems when cases are complex.
"In my experience, there's no one case that's like any other case," said Brian Pappas, who recently served as a Title IX coordinator at Michigan State University's law school. It can be "dangerous" to leave a perpetrator on campus for several months, Pappas said, but if you try to meet a 60-day deadline for resolving a case, the investigation might be flawed.
Escobedo's hearing is scheduled September 1st – nearly 18 months after Adams and Hempstead formally complained about him.
"When you have dozens of witnesses and you're trying to retrieve text messages and emails, you don't really want to push something to final conclusion until the investigator feels ready," said Lake, who has also served as a Title IX coordinator at Stetson University.
Ohio University said it strives to finish investigations within 60 days, but it can be tough booking witnesses for interviews. That's why the probe of Escobedo's behavior took nearly nine months. The president then took almost three months to weigh in on how to punish Escobedo. Escobedo then had 30 days to request a hearing before the faculty senate to challenge the firing recommendation, and another 60 days to prepare his defense. Escobedo's hearing is scheduled for Sept. 1 — nearly 18 months after Adams and Hempstead formally complained about him.
After the hearing, if the faculty senate agrees Escobedo should be fired, the university's board of trustees will have to approve his termination, possibly at its October meeting, but it has no deadline for making such decisions.
Nearly two years after the night when two women say Escobedo put his hands all over them making unwanted sexual advances, a year and a half after they told the school about it, and nearly a year after a university investigation substantiated their claims, the case could still be far from over. ●