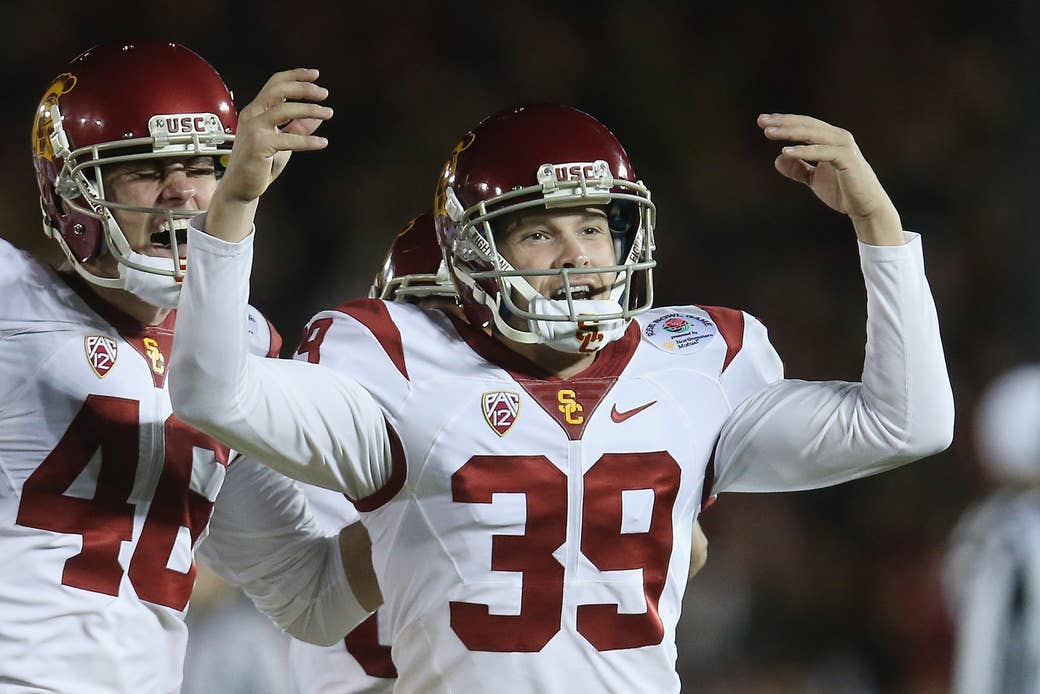 The screams in the alley were loud enough to catch the attention of two men in a nearby apartment, who told University of Southern California officials that they looked outside and saw a star football player — the Trojans' Rose Bowl hero — with his hands around his girlfriend's neck, pushing her against a concrete wall.
It's a startling description, offered last week by USC. The twist in the case: The alleged victim says she was never assaulted.
USC says in newly filed court documents that it has extensive evidence showing that Matthew Boermeester, 23, whose last-minute field goal won the Rose Bowl for the Trojans this year, physically abused his girlfriend of more than a year. Boermeester, who was kicked out of USC over the accusation, is still dating Zoe Katz, 22, and both have repeatedly denied that any abuse took place that January night. "I made it very clear to USC that I have never been abused, assaulted or otherwise mistreated by Matthew Boermeester; not on January 21, 2017 and not ever," Katz said in a court declaration.
But USC is laying out the most graphic details yet of the alleged violence. According to court documents filed Thursday, neighbors said they saw Boermeester wrap his hands around Katz's neck, causing her to gag at one point. The neighbors reported it to a USC tennis coach, who told the university's Title IX office, which began investigating. USC expelled Boermeester in July.
The new documents also include evidence USC says it collected from text messages, from surveillance video, and during interviews with people who say they saw bruising on Katz, who was captain of the USC women's tennis team. USC says Katz took the university up on its offer of emergency housing, and asked administrators not to let Boermeester know that two days after the alleged incident, she'd spoken with campus investigators. According to USC, she texted one of them: "He can't know I made a statement."
"There are dozens of cases, if not more, that cross my desk each month."
The situation grew into a controversy for USC when, six months later, Katz publicly sided with Boermeester, accusing the university of jumping to conclusions about their relationship. In a statement issued through her attorney following Boermeester's expulsion in July, Katz said, "I was stereotyped and was told I must be a 'battered' woman, and that made me feel demeaned and absurdly profiled. I understand that domestic violence is a terrible problem, but in no way does that apply to Matt and me."
Last month, Boermeester filed a petition in a Los Angeles court seeking to be readmitted to the private university, where he was two classes shy of graduation, arguing that its investigation was biased against him and the evidence twisted.
Boermeester's case highlights a predicament attorneys and experts say many universities are increasingly facing: whether to investigate when alleged victims of sexual or dating violence do not want to cooperate with campus officials.
"There are dozens of cases, if not more, that cross my desk each month," Brett Sokolow, a prominent Title IX consultant, told BuzzFeed News.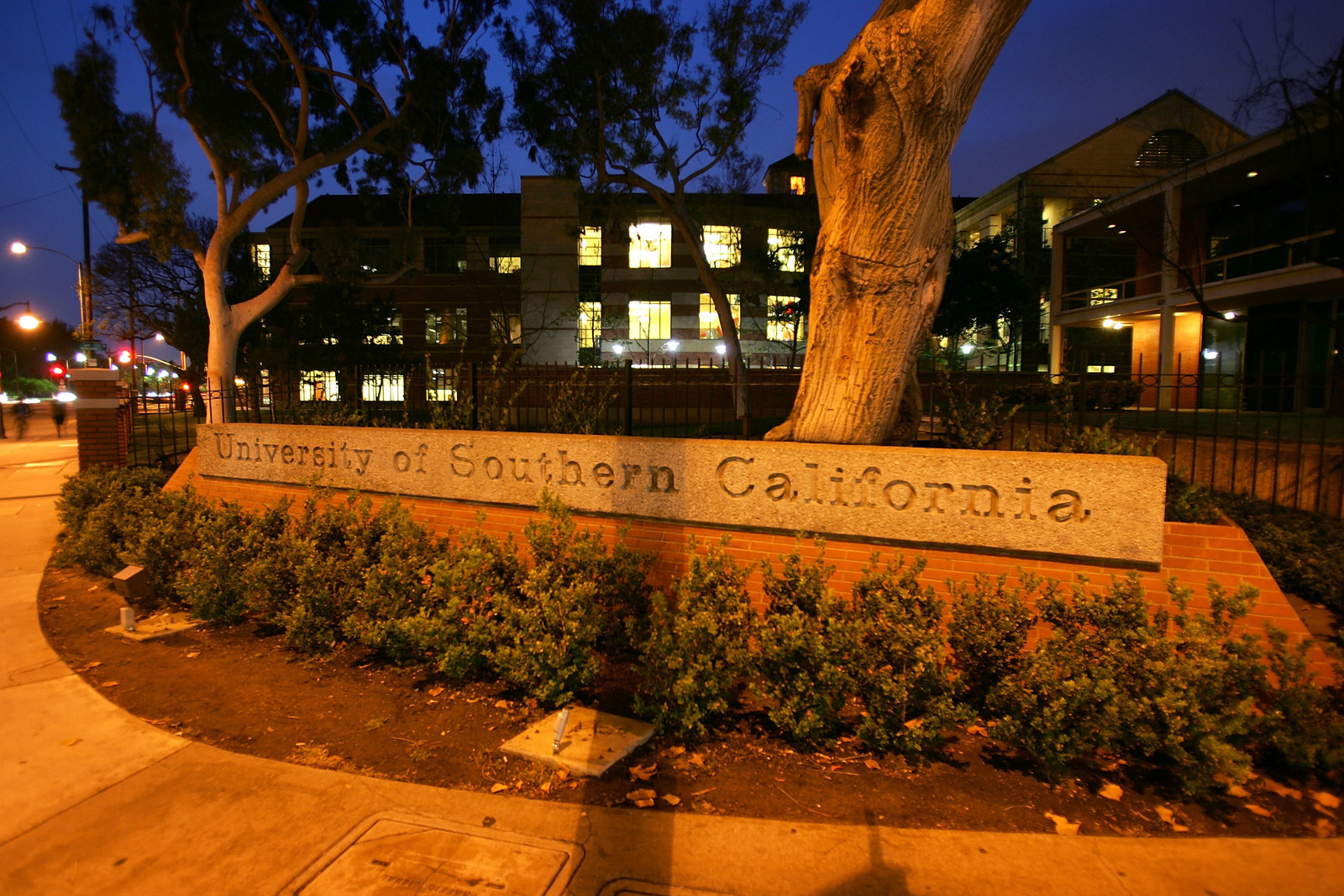 It has never been easy to get targets of relationship violence to come forward. It's no doubt harder on college campuses, where many victims are young, far from home, and in fear of retaliation or being ostracized by peers. But Sokolow said colleges have experienced this dilemma more often following US Department of Education guidance that told schools to take action regardless of an alleged victim's wishes when there are concerns that the accused has committed or will commit more abuse, has made threats, or has used a weapon, or if an alleged assault involved multiple assailants.

"I'm hearing from a lot of administrators, 'This could be a pattern, but I'm not sure,' so what they do is typically err on the side of caution and investigate to find out, trying to do their due diligence," Sokolow said.
Lawyers who represent accused students say the USC case proves their point that under current Title IX policies, colleges assume accused students like Boermeester are guilty from the start. Boermeester's attorney, Mark Hathaway, has represented students in two cases at California Polytechnic State University in which the alleged victims declined to participate in the investigations and failed to show at the hearings, but the accused students were still kicked out of school.

Hathaway said Boermeester will submit a response to USC's "false charges" in court Tuesday.
"I understand that domestic violence is a terrible problem, but in no way does that apply to Matt and me."
The Trump administration is reviewing Title IX directives issued in recent years, and is already making changes to enforcement of colleges' handling of sexual misconduct cases.
Attorney Andrew Miltenberg said he's represented accused students in cases where the accuser later admits to having made the allegation in a fit of anger. But in one case Miltenberg recently settled at Colorado State University-Pueblo, the university investigated and suspended a student despite the alleged victim insisting everything was consensual.
"We have a process that at best is negligently designed, or it's intentionally biased," Miltenberg said. "It's one or the other, and until that changes, we're going to continue having these conversations."
Yet schools have also been called out for not more forcefully intervening when they receive reports of dating violence. The parents of a student who killed herself at Chadron State College in Nebraska is suing the school, arguing that it should've investigated when their daughter's friends reported suspected physical abuse by her boyfriend.
Boermeester says in court documents that the noises in the alley that night in January were "loud, consensual horseplay" between him and Katz. When a neighbor asked if Katz was all right, Katz responded that she was fine. Katz never made a complaint to USC and repeatedly told investigators who contacted her that she had not been assaulted. In a court declaration, Boermeester said, "Nothing I or Zoe Katz said or did or provided them could dissuade Title IX Coordinator Gretchen Dahlinger Means and Title IX Investigator Lauren Elan Helsper otherwise."
Katz said in a declaration in court after Boermeester's expulsion that witness statements, including her own, "were misrepresented, misquoted and taken out of context in order to support" the university administrators' "personal opinions about what they think happened." During the investigation, Katz said, "I felt so misled, harassed, threatened and discriminated against by USC's Title IX personnel … that I had to retain my own attorney to protect myself and to try to get UCS's Title IX office to listen to me."
But according to USC, Katz told a tennis coach, "I am ashamed because I haven't left but I am afraid if I do leave, it will be much worse." She told a friend she trusted that Boermeester wouldn't hurt her again, the university says, and USC argues that Katz began denying the abuse out of fear of what Boermeester would do to retaliate.
If the court grants a stay of Boermeester's expulsion, it would mandate USC to readmit him, and USC says that would effectively force the university to grant him a degree.
When Boermeester was banned from campus earlier this year, he already had a setback in his recovery from knee surgery since he couldn't meet with USC doctors. If he doesn't get back into USC now, Boermeester says he may not be able to enter the NFL draft.