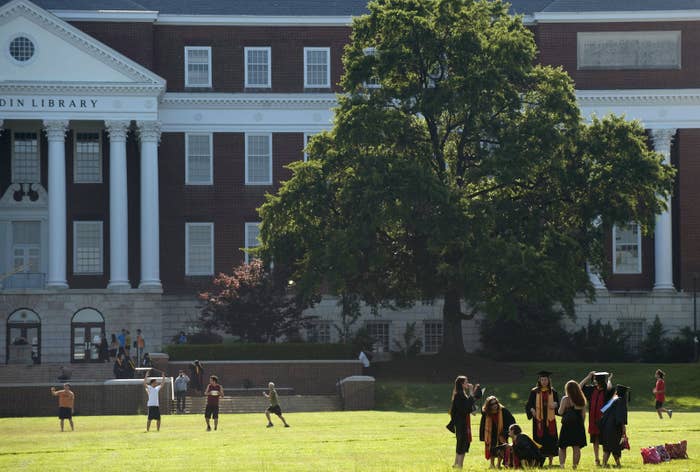 Students at the University of Maryland are facing an additional fee after the Title IX director complained that the school was failing to adequately fund services to combat sexual assault as mandated by the Obama administration.
The university's Student Government Association approved the $34 mandatory annual fee at a meeting Sept. 28. It takes effect next fall, assuming the university president and Board of Regents ultimately sign off on it. The money will go toward funding the school's Title IX office, which was set up two years ago to handle complaints of sexual assault and discrimination on the College Park campus.
The director of the Title IX office, Catherine Carroll, said she needed more money to hire staff to keep up with a growing number of sexual misconduct reports and wasn't getting it from the university administration or the state.
The Title IX office's budget has grown from $643,000 in its first year to just over $1 million, but Carroll said that was not enough. "My people are burned out," she told BuzzFeed News.
Charging students to make sure their school complies with Title IX is a highly unusual move, experts say. But A.J. Pruitt, the Student Government Association's vice president of student affairs and the sponsor of the measure, told BuzzFeed News the administration left him no choice.
"The university has failed in their responsibility to fully fund this office," said Pruitt, a junior at the university. "By putting in a proposal to add an additional fee — that's placing another financial burden on students. It's not something I'm excited about, but it gets us to fully funding the office in a short amount of time."
In the past few years, colleges and universities nationwide have increased staff to deal with campus sexual assaults amid intense public scrutiny of the issue and heightened reports of students being raped. The gender equity law Title IX requires colleges to address reports of sexual assault, and recent changes have mandated more prevention efforts on campuses. The Obama administration has made clear it expects schools to fully investigate sexual misconduct cases within 60 business days.
"My people are burned out."
However, at the University of Maryland, each investigation takes an average of 140 business days. Speaking at the Student Government Association meeting at which the fee was approved, Carroll called that "unacceptable." She said the office was too understaffed to launch additional anti-rape efforts on top of the required compliance training for university employees.
"In all honesty, I hesitate to put that out there that this is where you come if you're experiencing discrimination and want to file a complaint, because we have a limited capacity to respond," she said.
Pruitt proposed the fee after an Aug. 1 meeting with Carroll, the university's first Title IX compliance officer, to discuss how to improve the school's response to complaints about sexual assault and discrimination.
Student governments don't control tuition but have sway over fees for intramural sports, student clubs, and other student services and events. The Title IX fee now has to be approved by a student fee committee — that includes representatives from the faculty, graduate students, and residence hall leaders — followed by Wallace Loh, the university president, and the Board of Regents, but they rarely veto what the student government approves.
The university told BuzzFeed News it supports the new fee, saying in a statement that "having the students' support is tremendously important."
Pruitt, though, accused the school of dropping the ball, despite national attention to campus rape and controversies at neighboring and peer institutions.
If the university is taking 140 days to investigate sexual assault cases, that raises red flags, said Sejal Singh, a coordinator for the nonprofit group Know Your IX.
"It's shocking to hear by the university's own admission they may not be in compliance with Title IX, and what is even more astonishing is the university has apparently chosen not to take action on that," Singh said, referring to Carroll's comment that it was taking so long to investigate cases.
The Obama administration hasn't advised how many staff should be employed to deal with sexual misconduct cases but said all schools should hire a "well-trained Title IX coordinator and to give that coordinator the authority and support necessary to do the job," which a university spokeswoman characterized to BuzzFeed News as an "unfunded mandate." Most universities have hired people to do this without charging students.
"It's shocking to hear by the university's own admission they may not be in compliance with Title IX."
The National Center for Campus Public Safety and the Clery Center for Security On Campus told BuzzFeed News they did not know of any other schools with Title IX fees. Some universities have "safety fees," but they typically support security or campus police.
It's "strange" to have the student government funding what is in essence an administrative department, said Tracy Pearson, an independent Title IX consultant. "The responsibility is on the institution."
The University of Maryland at College Park has about 38,000 students. In-state students pay tuition and fees of about $10,000. Out-of-state students pay more than three times that. Carroll said her office received 243 reports of sexual misconduct in the 2015–16 school year, up from 112 reports the previous year, and has three investigators to respond to those cases. (A fourth investigator handles discrimination cases.) A survey in the spring concluded that 13.8% of women on the campus are raped by the time they graduate, on par with other universities of similar size.
Carroll told the student government her office only received $725,000 in the 2016 fiscal year. The university said that when computer supplies and employee benefits were taken into account, the full budget was $947,558. The budget for fiscal year 2017 for the office is $1.01 million, school officials said.
The Title IX fee is expected to generate close to $900,000 annually, which would bring the total budget to just under $2 million. That would allow the hiring of a deputy for Carroll and two more investigators, she said, plus a manager of rape prevention programming. That is a new position that would supplement what Carroll said is the inadequate online training in prevention of sexual misconduct that is required of all students.
"None of us are under the illusion it's going to change their behavior. It's not even intended to," Carroll said of the online course. "It's really to put them on notice this is what our policies are."
Carroll praised the SGA for showing leadership, and hoped the new fee would prompt top brass to allocate more money for her office.
UPDATE
This post has been updated to further clarify the process by which the fee would be fully approved.