A university is arguing that the US Constitution protects it from being sued for money under the gender equity law Title IX, and a group of state attorneys general are supporting the school in a federal appeals court.
If the court sides with the university, it would strip students of their ability to file federal lawsuits for damages against state colleges for mishandling sexual assault cases. Legal observers say there's a strong chance the case could end up before the US Supreme Court, given the attention from attorneys general in seven states backing the school and from national organizations, including the American Civil Liberties Union, that support the plaintiff.
The University of Arkansas was hit with a Title IX lawsuit last year by a former student, Elizabeth Fryberger, who says the school mishandled her sexual assault case. The university filed a motion to dismiss the case, claiming sovereign immunity protections under the 11th Amendment protect state institutions from being sued for damages in federal court over Title IX violations. After a federal district court denied the motion, the university in December appealed to the US Court of Appeals for the Eighth Circuit.
"It is a radical approach," said Adele Kimmel, an attorney at the firm Public Justice, which co-signed an amicus brief in support of Fryberger. Kimmel traced the university's approach to the election of President Donald Trump. "What I think is happening here is that some states are feeling empowered by the change in administration to try and press for a more restrictive view of Title IX," she said.
Many victims' advocacy organizations worry that a decision supporting the university would undercut gains made by sexual assault survivors in recent years and affect how schools deal with other civil rights laws, like those on disabilities and race.
"If you're going to lose your right to sue for damages at the same time we're afraid the government is going to cut back on enforcement of civil rights laws, then you're left with nothing," said Amy Katz, an attorney with the ACLU Women's Rights Project.
The seven attorneys general — all Republicans — who filed an amicus brief supporting the university see it differently. The offices that responded to BuzzFeed News's request for comment said the case highlights an important legal question about states' immunity from having to pay damages in federal lawsuits.
The outcome of the case "has far reaching implications on Arkansas's sovereignty and our taxpayer dollars," Judd Deere, a spokesman for the office of Arkansas Attorney General Leslie Rutledge, told BuzzFeed News.
Rutledge is joined by Mark Brnovich of Arizona, Derek Schmidt of Kansas, Jeff Landry of Louisiana, Douglas Peterson of Nebraska, Alan Wilson of South Carolina, and Ken Paxton of Texas in the amicus brief.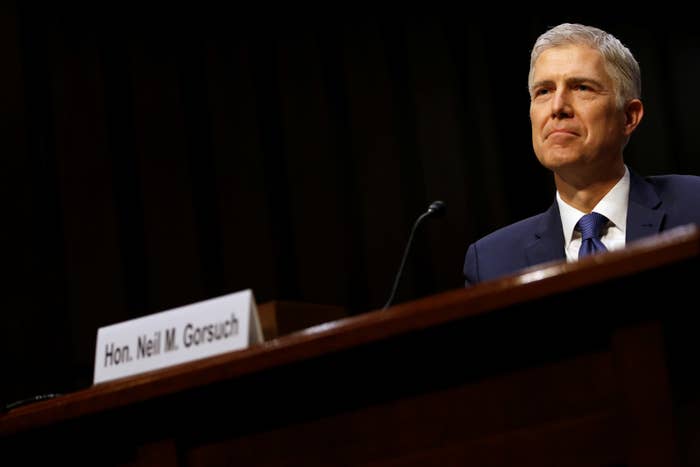 Two Supreme Court cases from the 1990s set the stage for students to sue schools over Title IX violations, including sexual assault. In 2007, the right to sue was further expanded by a federal appeals court panel that included Supreme Court nominee Neil Gorsuch — meaning if the Arkansas suit goes to the high court, he might end up weighing in on the issue for a second time.
Many public universities would welcome more clarity on what immunity they have under the 11th Amendment, said Peter Lake, a higher education law expert at Florida's Stetson University. Schools also are increasingly defending themselves against costly lawsuits from alleged victims and accused students. With a new president and a different Supreme Court than there was twenty years ago, "I think it's time to test the waters," Lake said.
Rick Rossein, a CUNY Law School professor, agreed. "This whole area is very ripe for litigation right now, and with the new administration, who knows what they will do with Title IX regulations," said Rossein, who teaches courses on discrimination law.
The University of Arkansas argued in its appellate brief filed last week that it can only be taken to federal court under Title IX for injunctive relief, meaning a student could demand the school handle a case differently but not collect monetary damages. The school points to the 1986 federal law that says people can sue in federal court for Title IX violations, but doesn't explicitly say plaintiffs can collect damages.
The university's argument is similar to one made by the George H. W. Bush administration, which was rejected 9-0 by the Supreme Court in 1992. Because that 1992 case dealt with a K-12 school district, it's unclear if the same holds true for public higher education institutions, according to court documents filed by the University of Arkansas's lawyers.
The university and its lawyers declined to comment for this story.
Fryberger says the University of Arkansas violated Title IX after she reported that Raymond Higgs, a fellow student who competed in the long jump in the 2012 Summer Olympics, sexually assaulted her in October 2014.
The university found Higgs responsible for sexual assault and ordered him expelled in December 2014. Higgs appealed but did not contest whether he was guilty, just that the sanction was too severe and would impede his track career. While the university upheld the punishment, the school said in a Jan. 29, 2015 letter signed by top school officials that it didn't believe Higgs' "immediate expulsion is appropriate in this case." The university then told Fryberger that his expulsion wouldn't take effect until the day after graduation.
Two weeks later, after being asked for comment about the decision, the school said the letter had been sent in error, and Higgs was expelled immediately. Fryberger withdrew from the university a couple months later and filed a civil lawsuit in August 2016. (The lawsuit says the school originally defended the decision to delay his expulsion, but changed course after this reporter contacted the university.)
Victims' advocates say it's important to allow people to sue for monetary damages in federal court because such suits act as deterrents against schools violating Title IX in the first place.
The University of Arkansas, though, argued in court documents that the consequences of eliminating Title IX damage suits against public colleges "are grossly overstated." Title IX will continue to offer "crucial protections and play a transformative role in our society," the school said. It noted that students are free to sue schools in state court, report their rapists to police, or file complaints with the US Department of Education, which could move to cut off a college's federal funding.
But the Education Department will likely never pull funding, said Rebecca Peterson-Fisher, an attorney with the San Francisco-based Equal Rights Advocates, who signed the brief supporting Fryberger. The department has never stripped funding for Title IX violations, and it's too overworked and understaffed to deal with backlogged federal investigations into these cases.
The Education Department also cannot award monetary damages, which Peterson-Fisher said survivors sometimes need for medical and mental health bills, as well as other costs.
A combination of weaker federal enforcement and losing the ability to file Title IX lawsuits would leave students "really powerless," Peterson-Fisher said.
The advocacy groups supporting Fryberger, which also include the National Organization for Women, the Feminist Majority Foundation, and the National Women's Law Center, feel confident about their chances. They noted in their brief that multiple appeals courts in other circuits have rejected universities' sovereign immunity defense in discrimination cases.
But it's likely, legal scholars say, that whatever the decision by the Court of Appeals, this could still get pushed to the Supreme Court.
"I would assume when you get this kind of energy around the case that this might need to go all the way to the top," Lake said.