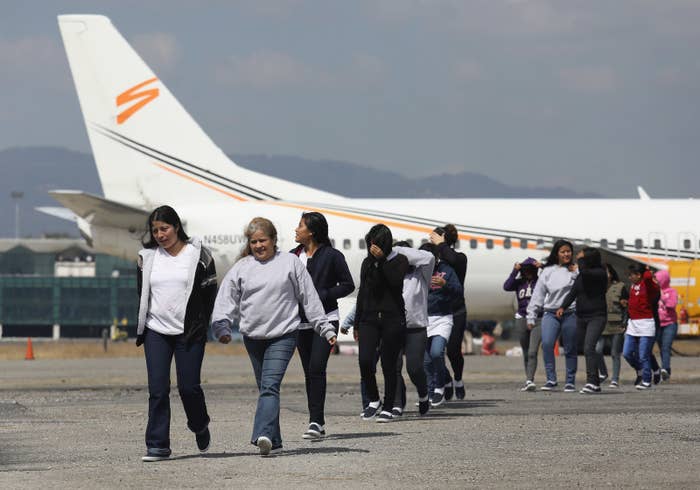 Undocumented immigrants suffering from domestic violence are worried they'll get deported if they seek help dealing with their abuse, advocates say, a concern that spiked following recent executive actions by the Trump administration.
Nonprofits like the Tahirih Justice Center that help immigrant women flee violence are seeing their calls skyrocket. Cases referred to Tahirih have tripled in the past two months compared to a year earlier as immigrants seek visa or legal advice. Despite these calls, however, victims — afraid coming forward could get them deported — often aren't taking the next steps to escape abusers, such as pressing charges or moving into shelters. Staff at clinics and domestic violence shelters in cities with high populations of undocumented immigrants said they've seen a large drop in the number of women coming in for services.
Their anxiety follows nationwide Immigration and Customs Enforcement raids that occurred as President Trump signed an executive order on deportations, which prompted new directives from the US Department of Homeland Security.
"Even people who work with these issues are saying they have not seen this level of fear," said Sandra Henriquez, executive director of the California Coalition Against Sexual Assault.
Prosecutors in Denver say the department had to drop four domestic violence cases after victims refused to come to court following Trump's executive order in January.
"A lot of the domestic violence incidents are done in private, so the cases are highly dependent on a victim's testimony," Kristin Bronson, Denver's city attorney, told BuzzFeed News, but these undocumented immigrants became skittish. "It's very disheartening," Bronson said, noting that 2016 hit a 10-year high for domestic violence homicides in the area.
The district attorney's office in Travis County, Texas said at least one domestic violence case in that jurisdiction has stalled because the victim fears deportation and hasn't moved forward with charges. Last week, a witness in a family violence case walked out of a San Antonio courthouse after seeing ICE agents, according to the Bexar County DA's office. "When federal officials show up in our state courthouses, it has the unintended consequence of making our job more difficult," the office said in a statement.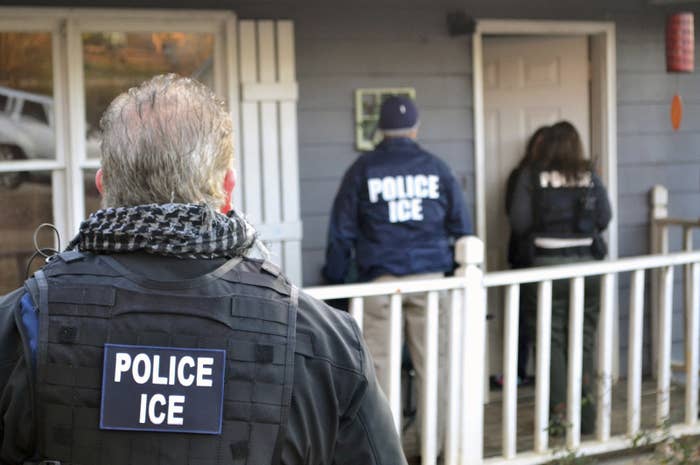 There is not yet comprehensive data calculating the effect of Trump's deportation policies on prosecutions of domestic violence cases. Most advocacy organizations release their reports no more than quarterly. But advocates say survivors are basing their decisions on whether to go forward with cases on fears and rumors.
"The lack of clear information is bad information," said Monica McLaughlin, deputy public policy director at National Network to End Domestic Violence. "It means survivors are trying to make risk calculations, and if being deported is part of that risk — which has always been there but it feels heightened, even though we don't the data yet — the decision is going to be based on the risk of it happening to one person, and that is certainly going to send women into the shadows."
There are legal protections for undocumented immigrants who are victims of domestic abuse, which let victims stay in the United States. But Elle LeBlanc, who works with immigrant assault victims at a Boston community health center, said she's having trouble just getting undocumented immigrants in the door so she can explain their options to them.
"Even people who work with these issues are saying they have not seen this level of fear."
"It's one thing for me to understand policy and another thing for me to be able to effectively reassure someone who is in a terrible situation on multiple fronts that it is OK to seek help," LeBlanc said.
Judge Eugenia "Genie" Wright, one of two judges who handle family violence cases in Bexar County, Texas, said she's concerned about a chilling effect.
"If a woman is afraid to call the police because her husband is violent, because she knows they don't have papers and he's the only breadwinner in the family, which is very frequently the case," Wright said, "nobody is going to call the police. Nobody is going to get help. The violence is going to continue."
Homeland Security Secretary John F. Kelly issued a pair of memos last month calling for hiring thousands more immigration agents, expediting deportation proceedings, and giving more power to individual ICE agents. The Trump administration has emphasized that it is focused on deporting criminals.
An ICE field office in Texas reportedly reassured the Travis County DA's office that immigration officials will not target victims or witnesses in criminal cases. Acting ICE Director Thomas Homan also pledged the agency won't detain immigrants at places "where people are receiving essential care or services" — presumably including domestic violence shelters — according to a Tuesday statement from U.S. Senator Tom Udall of New Mexico.
However, a Tahirih Justice Center analysis said the Kelly memos "eviscerated" protections for victims of domestic violence, sexual assault, and human trafficking. For example, it said the expedited removal process could lead to the deportation of people who might be able to legally stay as crime victims, but who don't know their options.
Abusers threatening to call ICE if their partners won't have sex with them or think about breaking up is often a major concern.
Last week, 563 organizations that work with immigrant survivors of domestic violence, sexual assault and human trafficking sent a letter to DHS and ICE warning that the Kelly memos and executive orders are going to harm victims and empower abusers.
An ICE official disputed this and said a 2011 directive that advises immigration officers to use discretion when dealing with abuse victims remains in effect.
"Particular attention is paid to victims of domestic violence, human trafficking or other serious crimes," Jennifer D. Elzea, acting press secretary for ICE, told BuzzFeed News in a statement.
"ICE also works closely with its state and local law enforcement partners to help make eligible individuals aware of, and pursue, U visas for victims of crimes including domestic violence and T visas for victims of human trafficking," Elzea said.
Undocumented people's deportation fears aren't new: The Obama administration deported a record number. However, advocates say Trump's promise to ramp up deportations, and new strategies by ICE agents, are putting these communities on edge unlike before. The detention of an undocumented trans woman seeking a domestic violence protective order in El Paso, Texas, and reports of ICE agents detaining people near "sensitive" locations like schools — where immigration officials typically do not make detentions — have caused immigrants to believe nowhere is safe.
"We're actually getting a lot of requests from public school systems to do evening 'Know Your Rights' information events about what do you do if ICE comes to your school," said Layli Miller-Muro, head of the Tahirih Justice Center.
In January and February, Tahirih received 620 calls for help in cases involving immigrants, compared to 877 the organization took in all of 2015. The National Domestic Violence Hotline answered nearly 1,100 calls over the last two months from people who identified as immigrants suffering from domestic abuse or dating violence, many of whom had deportation fears. "Many contacts also shared that their partners use deportation, visa revocation, and separation from their US-born children as threats," said Maribel Bruno, a spokeswoman for the hotline.
Abusers threatening to call ICE if their partners won't have sex with them or think about breaking up is often a major concern in these cases, said Negar Katirai, director of the Community Law Group at the University of Arizona. Katirai said she has five clients who are in situations like that. One of the first questions clients often ask is whether they'll get deported if they report the abuse.
"The next time a client asks me that question, I can't say for sure they're going to be safe," Katirai said.
Aravella Simotas, a Democrat from Queens in the New York state assembly, proposed a bill last month to make it a crime to report the immigration status of a crime victim seeking an order of protection against an abuser. If an abuser did report their victim's immigration status, the victim might still face deportation under Simotas's proposal, but the abuser would also face charges, which she hopes would deter that kind of retaliation.
"I really want to eliminate tools that criminals can use to prevent victims from reporting crimes, regardless of their immigration status," Simotas said.
Domestic violence victims can petition to gain legal resident status, without separating from their abuser, under the Violence Against Women Act, or they can apply for a U-visa if they help law enforcement prosecute the abuser.
"But saying that and having it implemented in this administration are two different things," said Antoinette Sedillo-Lopez, executive director of Enlace Comunitario, a domestic violence victims' service center in Albuquerque, New Mexico.
Undocumented victims are now telling Enlace they're too afraid to come into domestic violence shelters for counseling and other help, and the same goes for the courthouse, where they believe ICE agents are hanging out, according to Sedillo-Lopez. Enlace has had two dozen no-shows roughly since Trump's inauguration.
"This leaves them more vulnerable," Sedillo-Lopez said. "It's a whole class of people who have no justice."
In Boston, one of LeBlanc's clients is a mother of two in a relationship with a man who is abusing her, but he is holding the woman's legal status over her head to keep her from leaving him. The woman worries that he would come after her if she tried to leave, according to LeBlanc, and she doesn't speak English, so she would struggle to get by on her own.
"Basically what you have is the domestic violence puts her in a position of having to choose," LeBlanc said, "and she gets to choose physical safety in one sense versus physical safety in another sense."