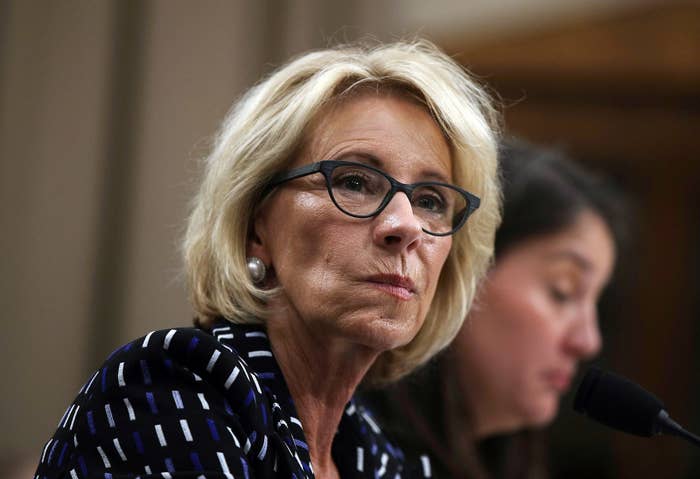 A top Democratic senator accused Education Secretary Betsy DeVos on Wednesday of "outright neglecting" her department's civil rights duties, while another blasted DeVos for planning to meet with a fringe group that says false rape reports are part of a "war" being waged on men.
Two letters, one obtained exclusively by BuzzFeed News, were sent to DeVos on the eve of Thursday's meetings between the Education Department and organizations representing victims of sexual violence, and those accused of it.
Sen. Patty Murray of Washington, the third-ranking Democrat in the Senate, criticized DeVos in her letter for steps the Department of Education has taken under the Trump administration, such as narrowing the scope of campus sexual assault investigations. Murray said she feared DeVos was moving toward changing the department's approach to the gender equity law Title IX "in a way that will undermine the rights of sexual assault survivors."
In her letter, Murray also took aim at comments made by Candice Jackson, the acting head of the department's Office for Civil Rights, which investigates how schools comply with Title IX. Jackson told the New York Times that 90% of campus rape accusations "fall into the category of 'we were both drunk,' 'we broke up, and six months later I found myself under a Title IX investigation because she just decided that our last sleeping together was not quite right.'"
"I am deeply disturbed by this message coming from the person you have selected to lead OCR," Murray wrote. "At the least, this suggests a fundamental misunderstanding of campus sexual assault and suggests that OCR is not prepared to take accounts from survivors seriously."
Jackson, a rape survivor herself, later apologized in a statement Wednesday for her remarks to the Times: "What I said was flippant, and I am sorry. All sexual harassment and sexual assault must be taken seriously — which has always been my position and will always be the position of this department."
On Thursday, DeVos will hold a series of meetings with various groups on how schools handle sexual violence, broken up into three 90 minute sessions. One will feature groups representing rape victims, another will include groups that work with students accused of assault, and a third will involve educational groups, attorneys, and lobbyists.
Earlier Wednesday, Sen. Bob Casey, a Democrat from Pennsylvania, called DeVos's inclusion of a men's rights group, the National Coalition for Men Carolinas, in her meetings "a slap in the face to the victims of campus sexual assault."
"It is disturbing that the Department of Education would place these radical groups on the same level as those working tirelessly to confront the crisis of sexual assault on our campuses."
The coalition is a branch of the National Coalition for Men, which has referred to rape survivor advocates as "anti-male," and last week it called Sen. Kirsten Gillibrand, a New York Democrat, a "misandrist" on Twitter. "We are dedicated to bringing attention to the very real and damaging war on men that is being waged in classrooms, in the media, in our courts, on college campuses, in the workplace, even in places of worship," the group says on its website.
The Education Department said that the men's rights group will participate in a meeting for "Students who have been falsely accused and disciplined under Title IX," and is bringing two students and two parents. The group has also posted photos of women it believes made false rape accusations, and suggested half of all sexual assault reports are lies.
"It is disturbing that the Department of Education would place these radical groups on the same level as those working tirelessly to confront the crisis of sexual assault on our campuses," Casey wrote in his letter.
Murray also focused on an internal memo from Jackson telling OCR offices to narrow their Title IX investigations to focus on individual cases and shift away from class action reviews geared toward uncovering systemic issues. Jackson said the goal was to finish investigations more quickly and clear a backlog of cases, some of which have languished for years. Murray said this change, combined with plans to decrease OCR staff, shows DeVos "is outright neglecting ED's civil rights responsibilities."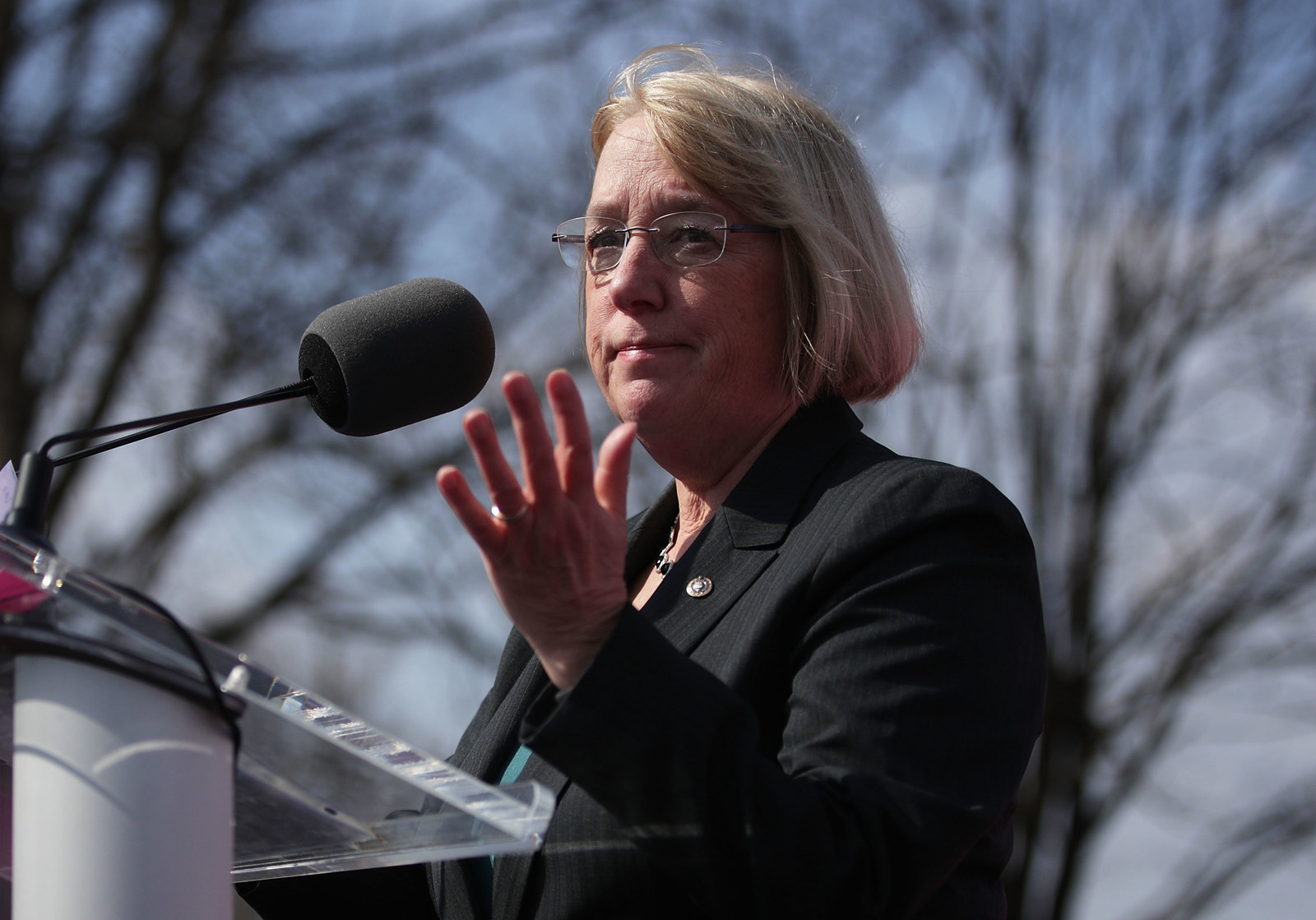 Both Casey and Murray have been critical of the education secretary since she was nominated, and both voted against her confirmation in part because DeVos refused to commit to upholding the mandates outlined in a 2011 "Dear Colleague letter" from the Education Department on how schools must handle sexual violence. However, as the Education Department now actively reviews whether to retain that 2011 directive, members of Congress from both parties have pressed DeVos to keep it in place. Fifty-two members of the House signed onto a June letter to DeVos urging this.
Murray says in her letter she's concerned that DeVos has already made up her mind on changing federal Title IX mandates, but she urged the secretary to continue meeting with students and experts before making any final decisions.
Thursday will be the first time DeVos meets with sexual assault survivors, but the arrangement "feels more like a stunt more than a means of hearing important information," said Catherine Lhamon, chair of the US Commission on Civil Rights, and Jackson's predecessor.
When Lhamon ran OCR, she said she met with victims' advocates and groups representing accused students, because it's good to hear from all sides. "But we didn't do it in a setting like this," Lhamon told BuzzFeed News. "We did them in closed-door confidential meetings that were not pitting groups against each other."
That's what Jackson has been doing since she was appointed in April to be acting assistant secretary. BuzzFeed News has learned that Jackson has held a number of private meetings recently to discuss Title IX issues, speaking to victims advocates like End Rape On Campus, SurvJustice, National Women's Law Center, and Girls Inc., and to groups critical of the 2011 directive, like Families Advocating for Campus Equality and the Foundation for Individual Rights in Education.
Sources told BuzzFeed News they got the feeling from those meetings with Jackson that the department is intent at this point on rescinding or overhauling the 2011 directive.
But Cynthia Garrett, an attorney and board member of Families Advocating for Campus Equality, said some people are acting like Jackson is planning to get rid of Title IX altogether.
"That's never going to happen," Garrett told BuzzFeed News. "Title IX is a good law. It has its place. She's not going to stop enforcing the sexual assault issue, her approach is just going to be more cooperative. She's trying very hard to understand both sides, and she's a smart woman."
Laura Dunn, founder of the victims advocacy group SurvJustice, said in her meeting with Jackson, Jackson seemed particularly interested in a recent task force report by the American Bar Association, which focused on what procedures should be used in campus tribunals on sexual assault cases. Dunn and Garrett both served on the committee that drew up the recommendations, and Jackson appeared interested in that collaborative model for potential replacements for the 2011 directive, Dunn said.