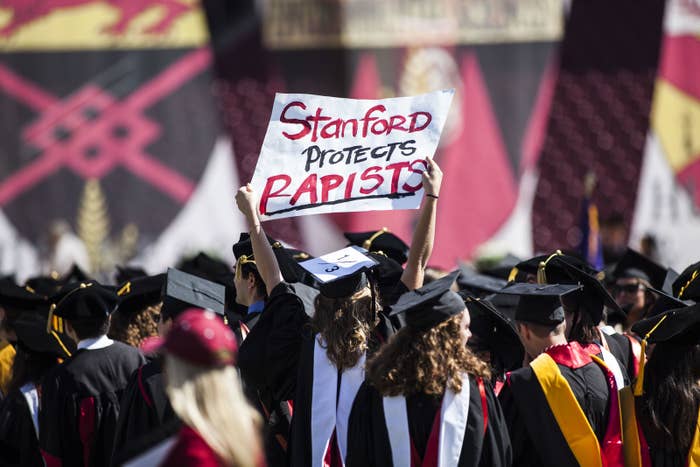 Students at Stanford University are emailing the university's new president, Marc Tessier-Lavigne, en masse following a report by BuzzFeed News about settlements the school offered to women who filed Title IX complaints.
The campaign was instigated by the Fountain Hopper, a student-run newsletter at Stanford, which provided text that could be copied and pasted into an email to the university's president.
On Wednesday, BuzzFeed News reported that Stanford offered financial settlements to at least two women who filed complaints over how the university handled their sexual assault cases. Those complaints prompted ongoing investigations of the school by the US Department of Education's Office for Civil Rights (OCR). However, the women said Stanford's offers required them to withdraw their federal complaints. Both women rejected Stanford's condition and turned down the money.
The Fountain Hopper sent out an edition of its newsletter at 12:30 a.m. ET with the headline "We're Fucking Furious," discussing the BuzzFeed News report about the settlement offers. Toward the end, the newsletter directed readers to the ready-made email they could send, along with the email addresses of several Stanford administrators, a BuzzFeed News reporter, and a handful of other journalists at national publications.
"Bribing victims of sexual assault at Stanford in exchange for their silence is abhorrent," the boilerplate email reads. "So is Stanford's continued refusal to adopt institutional change, instead opting to rely on settlements and concerted legal pressure to silence those mistreated by the Title IX process."
Within 12 hours, at least 75 emails were sent, according to the volume received by BuzzFeed News through the carbon copies. Most used the boilerplate message, but a handful of students and alumni sent emails with personalized messages.
Students wrote to the university's president to say they felt the school avoids expelling accused rapists to "protect Stanford's image at all costs."
"I want to be a proud alum. But I don't feel like I can be after stories and moments like these come to light," wrote one alumnus.
A current student noted that it's the middle of finals week, and wrote, "I do not have time to be yelling at adults for neglecting their responsibility to the student body and forgetting basic human decency, yet here I sit."
People writing to Stanford officials also criticized the university over a claim from law professor Michele Dauber at the university that administrators asked her to refrain from discussing sexual assault cases alleged to have occurred on the Palo Alto campus without the consent of all parties. "Faculty have a fundamental right to freedom of speech, even when inconvenient to their employer," the emails read.
Stanford spokeswoman Lisa Lapin told BuzzFeed News on Wednesday that the school would never forbid a faculty member from talking about harassment or assault cases at the university. But, Lapin said, Stanford "may ask a faculty member to use good judgment, and not discuss confidential information they may have obtained about a sexual assault survivor's actual case in public or with other students without the survivor's permission."
Meanwhile, Leah Francis, one of the former students offered a settlement if she withdrew her federal complaint, has raised over $2,200 from at least 60 people in the first 24 hours of creating a GoFundMe page online. Francis is asking for money to cover medical bills associated with her assault, and to reject "Stanford's attempt to buy the silence of the victims of sexual violence on campus."
Lapin said Thursday that the school is now seeking permission from Francis's attorneys to publicly share information about the settlement discussions, calling the publicly stated version of events inaccurate. She confirmed that when the university offers a financial settlement in response to a demand from a lawyer threatening a lawsuit, Stanford "requires that the party receiving the money withdraw any personal claims under which they could receive more money for the same matter – in this case, through the OCR process. But such a step would not curtail any investigation."
According to the Office for Civil Rights' case processing manual, withdrawing a Title IX complaint can close an investigation. However, the agency reserves the right to continue its investigation if it has uncovered evidence that suggests there are systemic issues worth probing. The decision is ultimately up to the US Department of Education.
Stanford is sending a prepared statement to people who have emailed their offices in response to the Fountain Hopper's suggestion, Lapin said, to explain "misrepresentations and misinformation."
"It is also important to let you know," Lapin added in an email to BuzzFeed News on Thursday, "that our counselors and staff who work with sexual assault victims tell us that students are citing fear of media coverage and public attention as the primary reason they are reluctant to come forward to report crimes."