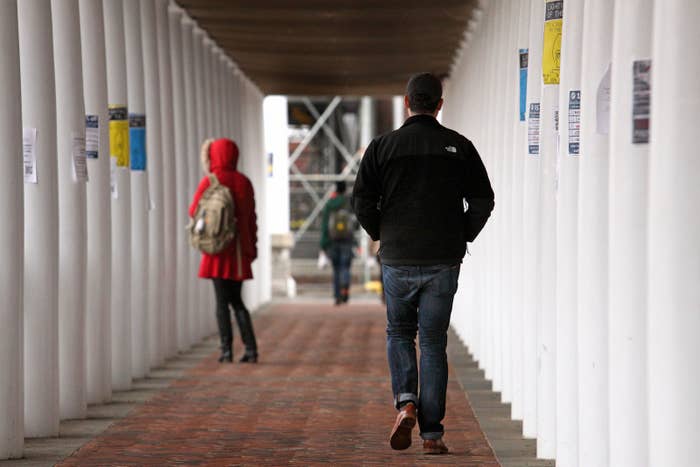 CHARLOTTESVILLE, Virginia — The University of Virginia dean suing Rolling Stone for defamation over how she was portrayed in an article about a campus rape report testified Tuesday that a public letter of support from the purported victim "might've saved my life, honestly."
The Nov. 19, 2014, story "A Rape on Campus" by reporter Sabrina Rubin Erdely described a woman named "Jackie" being gang-raped by seven men at the Phi Kappa Psi fraternity house — a claim that was later discredited — and portrayed the administration as not doing enough to help. The article was later retracted, and Nicole Eramo, then the associate dean of students who handled the report, sued the magazine.
Eramo said in federal court that she filed the suit to restore her reputation and hold Rolling Stone accountable for what she called "avoidable" errors that had "a real impact" on people's lives.
"I don't think anyone at Rolling Stone thought of me as a real person," Eramo said, her speech quickening and her voice releasing an audible display of anger.
"It's not fair, it's not right, and people need to know that," she continued. "You can't just do drive-by journalism."
Eramo said she was "shocked" as she read the full article on her phone after a student sent her the link around 5 a.m. the morning it published. When she got to the illustrated photo of herself, Eramo said, she cried because Rolling Stone made her "look like the devil." The office was "deadly quiet" that day, she added, and later that afternoon, she was instructed to turn over all of her files for sexual assault survivors she was working with so other administrators could review them.
A point of support came five days later when a collection of letters were published in the Cavalier Daily by students, colleagues, sexual assault survivors — and Jackie herself.
Jackie wrote:
Of all the professors, deans, faculty and staff at the University of Virginia, Dean Nicole Eramo has made the most significant and, ultimately, the most positive impact on my life. Dean Eramo has truly saved my life. If it were not for her, I do not know if I could be alive today. When I came to Dean Eramo my first year, I was depressed and suicidal...I was barely hanging on. Dean Eramo was helpful and understanding and, above all, compassionate.
"For anyone to say you saved their life is pretty amazing," Eramo said on the stand. "That might've saved my life, honestly."
For the next two weeks, Eramo said she received an onslaught of hate mail, some of which was read in the courtroom. There was a protest outside of her office on campus. Eramo said she had trouble sleeping.
Eramo's attorneys also asked her if she blamed Jackie for this situation. "I don't blame Jackie for what happened. I don't know what happened to her at this point," she said, and, referring to the alleged gang rape, "I don't believe this particular incident occurred." She said she does believe Jackie is traumatized for some reason.
Eramo's lawyers asked her about each quote attributed to her in the Rolling Stone article. Eramo disputed that she ever said any of them. She added that no one at Rolling Stone contacted Eramo later on during the fact-checking process.
Earlier in the day, during opening statements, Eramo's lawyers revealed that Jackie forwarded an email to the reporter showing that the dean had set up two meetings with police so Jackie could report the alleged rape to authorities.
A reference to these meetings, her lawyers said, was included in a draft of the article but was later edited out.
Eramo's lawyer Tom Clare said that in May 2013, the dean told Jackie that her alleged assault was "too serious" for informal resolution by the university and that she could pursue a school disciplinary proceeding or go to the police.
In an email Eramo sent to Jackie at that time, which was shown to jurors, she said, "I do want you to continue to consider these options."
Eramo didn't learn where the alleged assault took place until April 2014, after Jackie told the dean that fraternity men threw a beer bottle at her one night in retaliation for her speaking about the alleged rape. "Jackie tells Nicole [the assault] took place at Phi Psi," Clare told the jury.
Eramo then arranged two meetings with police at her office so Jackie could report the assault. Jackie met with police that April, but was still unwilling to go forward about the alleged 2012 assault.
"We did know there was a meeting with police," Scott Sexton, a lawyer for Rolling Stone, confirmed in his opening statement. However, he said, "that meeting was about the bottle incident."
Erdely contacted the Charlottesville Police Department for records about Jackie. Rolling Stone's lawyers showed jurors a copy of documents they received from the city police, and pointed out that they only reflected the alleged incident of men throwing beer bottles at Jackie and did not say in writing that she disclosed a sexual assault.
"It's entirely possible" that the alleged rape came up in that meeting, Sexton said. "We're not mind readers."