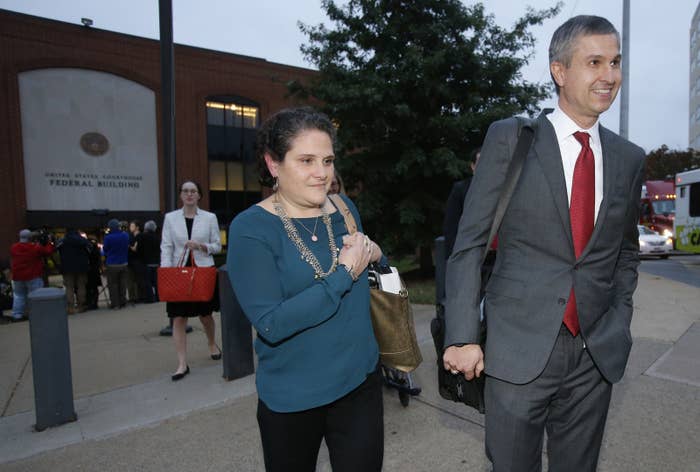 A jury in federal court ruled Friday that Rolling Stone and one of its reporters defamed a University of Virginia administrator in an article about campus rape.
Nicole Eramo sued Rolling Stone, reporter Sabrina Rubin Erdely, and parent company Wenner Media over a November 2014 story about sexual assault at the University of Virginia and statements the reporter made promoting the article. Eramo was a dean in charge of handling sexual assault reports at the university, and argued that she was unfairly cast as the "chief villain" in a story that purported to suggest administrators like her tried to keep rape cases under wraps.

The bombshell article centered on an alleged gang rape of a woman named Jackie, and how UVA students and administrators, including Eramo, responded. Though the article initially roiled the campus, other media outlets and police undermined the credibility of Jackie's claims, causing Rolling Stone to retract the article.
In closing arguments, Tom Clare, an attorney for Eramo, claimed that Erdely and her editors deliberately ignored evidence that Jackie changed elements of her story multiple times. "Once they decided what the article was going to be about," he said, "it didn't matter what the facts were."
The defense team for Rolling Stone pushed jurors to consider whether the magazine acted with "actual malice," meaning that the staff had serious doubts about the accuracy of what was in the story before publication. "Everyone who encountered this young woman believed her," Scott Sexton, an attorney for the magazine, told jurors. "Yet we are the ones, in a sense, being tried for having believed her."
The 10-person jury found that Erdely acted with actual malice when the article was first published on Nov. 19, 2014, and Rolling Stone and Wenner Media acted with actual malice when the story was republished on Dec. 5, 2014.
"We are very pleased with the jury's verdict, which was obviously the product of a very careful deliberation," Libby Locke, an attorney for Eramo, told BuzzFeed News in an email. "The jury's verdict is a complete vindication of Nicole Eramo, and a complete repudiation of Rolling Stone's and Ms. Erdely's false and defamatory article. We are looking forward to the damages phase of the trial."

Rolling Stone released a statement immediately following the verdict. "In our desire to present this complicated issue from the perspective of a survivor, we overlooked reporting paths and made journalistic mistakes that we are committed to never making again," it read. "We deeply regret these missteps and sincerely apologize to anyone hurt by them, including Ms. Eramo. It is our deep hope that our failings do not deflect from the pervasive issues discussed in the piece, and that reporting on sexual assault cases ultimately results in campus policies that better protect our students."
The magazine declined to say if it would appeal the ruling.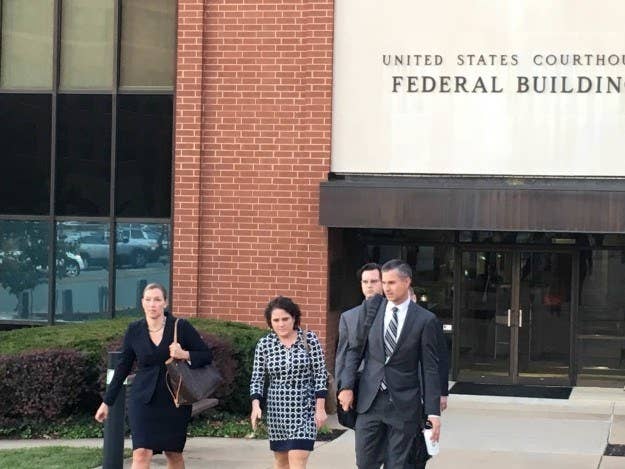 The lawsuit sought $7.5 million in compensatory damages for Eramo, who claimed the article damaged her reputation and resulted in the school taking her off sexual assault cases and revoking her title of dean. However, the magazine insisted Eramo's job changes were more likely due to the US Department of Education's investigation of UVA — which concluded in September 2015 by stating that the school violated Title IX under her watch.
Eramo filed suit in circuit court in May 2015 against Erdely, Rolling Stone, and its parent company Wenner Media. It was later transferred to federal court. She claimed that statements attributed to her in the article, including that rape statistics at UVA were kept under wraps because no one wanted to attend a "rape school," were false and that Rolling Stone never fact-checked them with her. Eramo's lawsuit also went after Erdely for comments that Erdely made in interviews about the article following its publication. The suit insisted that when Erdely said on WNYC and in a Slate podcast that "the administration" did nothing in response to Jackie's alleged rape, she was referring to Eramo, and that it was wholly inaccurate.
Much of the trial focused on showing jurors how wrong Erdely was about Jackie's case, a point reinforced by a Columbia School of Journalism independent report. Rolling Stone pushed back by arguing that Eramo herself found Jackie's report credible and spent a year and a half trying to get the case in the hands of police.
Rolling Stone further defended itself by noting that Erdely was denied an opportunity to interview Eramo and was told that the university wouldn't discuss specific student cases, like Jackie's, due to federal privacy laws.
Another major point of contention was whether Rolling Stone adding an editor's note on Dec. 5, 2014, counted as republishing the story. The note explained that the magazine had lost faith in Jackie as a source and the reporting behind the story.
Eramo's attorneys said the magazine left the story up after learning facts that severely undermined its central storyline, and that adding the note simply attracted more attention to the faulty article. Rolling Stone's team strongly disagreed, explaining that the note was added so that anyone who viewed the official version of the story would know that the editors doubted its accuracy.
Ultimately, the jury determined that the article was republished on Dec. 5, 2014, delivering a fatal blow to Rolling Stone and Erdely. By that date, Erdely had spoken with new sources, like Jackie's friends, who provided information that poked major holes in the article. Hours before the editor's note went up, Erdely emailed her supervising editors, "We have to issue a retraction." The jury found this showed "actual malice," because the magazine was "republishing" something it had serious doubts about.
A full retraction of the article did not happen until April 2015.
After a two-and-a-half-week trial, which began on Oct. 17, jury deliberations stretched nearly 20 hours. Before they began, jurors were reminded by the judge that "a failure to investigate is not actual malice."

The Phi Kappa Psi fraternity is also suing Rolling Stone for defamation, with the case set to go to trial in October 2017. UVA suspended the frat upon the article's publication but reinstated it after it was cleared by police. Three individual fraternity members from the UVA chapter of Phi Psi previously sued Rolling Stone over the article, but their suit was tossed.
Update: This post has been updated to include the magazine's response, a statement from Eramo's attorneys, and a copy of the full jury verdict.