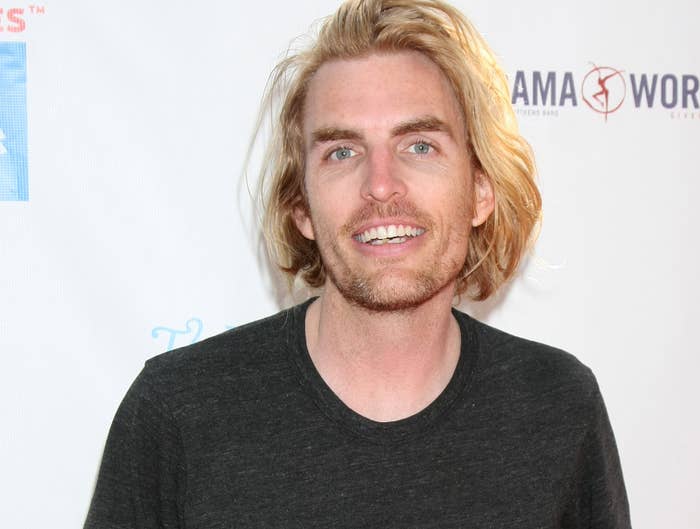 Dallas Clayton, a popular children's author, illustrator, and motivational speaker who encourages people to "share love," is under investigation by the Los Angeles Police Department following a rape report filed against him by a woman.
Dawn Batson, 34, filed a police report on Oct. 19 accusing Clayton of raping her in 2011. Batson then publicly accused him of assault in an Instagram post on Oct. 21, which was written in the same singsong, childlike verse that Clayton often uses in his books. The LAPD confirmed to BuzzFeed News on Tuesday it has an investigation open into a sexual assault report filed against Clayton.
Through an attorney, Clayton declined an interview but called Batson's report an "outrageous allegation."
"Mr. Clayton categorically denies Ms. Batson's allegations, and while no law enforcement officials have reached out to my client about this matter, if and when that occurs, he will cooperate fully with any purported investigation to ensure that his name is cleared," Andrew Brettler, a lawyer for Clayton, told BuzzFeed News in a statement.
Clayton, 38, has built a brand around positivity and has authored seven books since 2008, including An Awesome Book of Thanks! and Make Magic! Do Good!.
He landed his first book deal in 2011 with HarperCollins after selling "tens of thousands" of copies of An Awesome World! through his website and donating just as many to charity, according to the Hollywood Reporter. Clayton has amassed 241,000 Instagram followers, some of whom get his art tattooed on their bodies. In October, in partnership with Instagram, Clayton, who has been compared to Dr. Seuss, unveiled murals dedicated to "Kind Comments" in Washington, DC, and Chicago. (Instagram does not have an ongoing relationship with Clayton.) Amy Poehler and Pixar also recruited Clayton to design a mural at Disneyland, and a video he made with BuzzFeed in 2014 has 450,000 views. He started to expand his portfolio recently, writing a drama called Sister with recording artist Sia, a close friend. The film stars Kate Hudson and is scheduled for release next year.
Since Batson posted her story to Instagram four weeks ago, several companies have taken steps to distance themselves from Clayton, including Vans, Rudy's Barbershop, and Girlboss. Talent management companies Creative Artists Agency and 3 Arts Entertainment also stopped working with Clayton in the past month, BuzzFeed News has learned. Clayton, meanwhile, has remained silent on social media.
Rudy's Barbershop, a hip salon with shops in Seattle, Portland, New York, and Los Angeles, cut ties with Clayton upon learning of the allegations and stopped selling a tote bag that Clayton had designed for Rudy's. Upon learning of the allegations, Rudy's said it would donate proceeds from prior sales of the bag to the "It Gets Better" campaign and make an additional donation to the Rape Abuse Incest National Network.
Sophia Amoruso, the founder of Girlboss, painted over a mural Clayton had done on a building her company occupies in Los Angeles, after she saw Batson's Instagram post. She then placed a sign on the outside of the building that stated "Rape Culture Ends Now."
Vans has removed all of its shoes designed by Clayton from its website since Batson posted her accusation on Instagram, though it did not respond to multiple requests asking if this was a direct result of the allegations.

The LAPD declined to release a copy of the police report to BuzzFeed News through an official records request, and it has not given a full copy of the report to Batson. (Police gave Batson a one-page document including the report number, which she provided to BuzzFeed News, which cites "rape" as the "type of crime" alleged.)
Batson told BuzzFeed News that she reported to police that Clayton raped her in November 2011 after they used a drug similar to ecstasy together. Batson said Clayton began performing oral sex on her without her consent. He refused to stop when she told him to and tried to push him off, but he began having intercourse, she said she told police.
"I turned my head and put my face in the pillow and just couldn't believe that I didn't have control over my body," Batson told BuzzFeed News, echoing what she said she told police. "And that's when he started having sex with me. I remember being creeped out by how angry he seemed."
Three friends of Batson's who spoke with BuzzFeed News recall her describing that evening to them in nearly identical detail at various points over the years. One said Batson told her about it days later in November 2011. Another said they first learned about it three years ago, and a third friend said Batson relayed details to them two years ago. They all also recalled Batson describing the day she went back to Clayton's house, a few days after the night of the alleged rape, to confront him.
Brettler, Clayton's attorney, said Batson's claims "seemingly came out of nowhere."
"Indeed, for the past five years, Ms. Batson and Mr. Clayton have been friends," Brettler said. "Text messages exchanged between the two of them show that Ms. Batson enjoyed spending time with Mr. Clayton and cared about him. She invited him to tea months after the alleged incident, and in both December 2012 and September 2014, she was a gracious and eager host to Mr. Clayton at the Chateau Marmont, where she worked, assisting him with reservations and security, and even sending flowers to his hotel room when he celebrated his birthday there."
Batson confirmed to BuzzFeed that she interacted with Clayton a few times in the intervening years, both over text messages and at her job, and said she was afraid if she treated him coldly, she'd face repercussions. But she remembered the interactions as upsetting, including on the night she arranged a good table and flowers for him at the restaurant where she worked.

"I went back to the host stand and my whole body was shaking," Batson said. "I was thinking, I don't know why I'm being nice to him, he raped me ... I was also just so afraid. I remember being terrified that he'd know I was talking about him and he was going to sue me." A coworker of Batson's from the time, who was also working that night, told BuzzFeed News she remembered Batson seating Clayton at the table with flowers and then referring to him as her "rapist."
Batson said she wanted to go public now to make people "aware of who he is if they're going to be alone with him." Batson said she's angry that Clayton continues to portray himself as a messenger of love and hope: "I feel like I gave him a chance."
UPDATE
This story has been updated to clarify that Sophia Amoruso is the founder of Girlboss, which has distanced itself from Clayton in recent weeks.