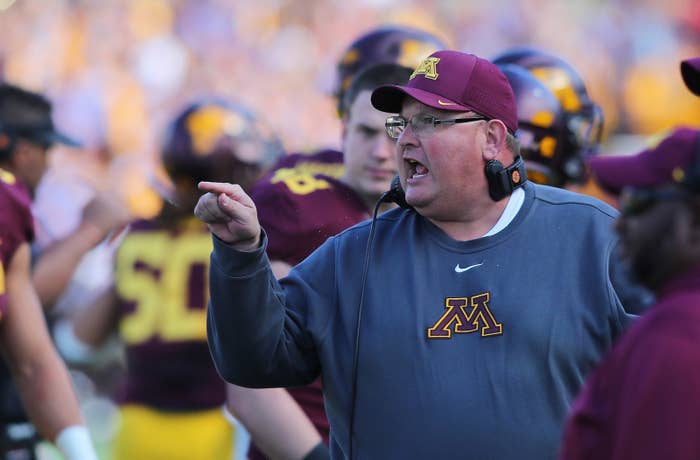 Tracy Claeys, head coach of the University of Minnesota's football team, has been fired along with "most of the rest of the coaching staff," the school's athletic director announced Tuesday. The sacking follows a controversy over an alleged gang rape involving multiple Gophers players.
Mark Coyle, the university's athletic director, cited "recruiting, ticket sales and the culture of the program" as reason for relieving the coaches.
"Moving forward, we need a leader who sets high expectations athletically, academically, and socially," Coyle said.
Claeys had just completed his first full season as head coach, and was contracted through 2018. His team had a 9-4 record this season, and won their bowl game last week.
The team went on a brief boycott in mid-December after a university investigation into a sexual assault case resulted in 10 players being suspended from football activities. The school's inquiry was the result of a female student reporting to police and the university in September that she was raped by multiple football players.
The prosecutor declined to press charges in October after a police investigation that involved interviewing six players and the alleged victim. But a university probe, which included interviews with 29 people, resulted in the school concluding that nine players were responsible for sexual assault or harassment, and an additional student athlete was responsible for "willfully providing" university officials with "false, misleading and incomplete information."

Boycotting football players said they wanted more information about the school's investigation, and claimed their suspended teammates did not receive due process, though they did not state what specifically was unfair to the accused men.
Claeys offered support in a Dec. 15 tweet, saying, "Have never been more proud of our kids. I respect their rights & support their effort to make a better world!"

However, Coyle said in his statement Tuesday that he and another top athletics officials met with Claeys before the 10 players were suspended, and the head coach never objected to benching the athletes.
"And let me be clear: this was the right thing to do," Coyle said. "Coach Claeys' Tweet later that week was not helpful. I accept that Coach Claeys intended it to support the boycotting players. Understandably others did not see it that way."
Claeys explained in an interview after the boycott that he understood why the players were suspended when he read the university's investigation report, but he "also knew the players," and supported their argument for due process.
Coyle defended the decision to bench the football players, despite the prosecutor declining to press charges, noting that they also suspend athletes for just having attitude problems.

"We suspend student-athletes when University investigators present credible evidence of inappropriate conduct," Coyle said. "What happens in a student conduct process is not for me to say. Like the U and all involved, I simply want a just and fair process. That is not determined by who prevails; if justice is done, then the University of Minnesota and the public win, no matter the outcome."

The 10 players were suspended from the football team pending the final outcome of their campus judicial process. According to the Star Tribune, the accused men will have their appeal hearings this month.