Michigan State University is under investigation regarding whether it violated federal law in connection with its handling of Larry Nassar's years of sexual abuse when he was a school athletic trainer and the USA Gymnastics doctor, BuzzFeed News has learned.
The US Department of Education notified the school on Jan. 18 that it was opening an investigation into MSU's compliance with the Clery Act, a federal law requiring colleges to track and disclose crimes reported on campus and warn communities about safety concerns. A Clery Act investigation led to Penn State University being ordered to fork over a record $2.4 million penalty in 2016, in part due to failures handling former assistant football coach Jerry Sandusky's child abuse.
Nassar, who worked at the school from 1997 to 2016, was reported for sexual assault to MSU's Title IX office in 2014, but the university cleared him of wrongdoing at the time, and a related campus police investigation did not result in charges. Nassar resumed seeing patients until late summer 2016, when more victims came forward, sparking a new criminal investigation that ultimately led to charges of possessing child pornography and sexually assaulting eight women and girls during medical appointments.
Federal investigators will review what Michigan State University did with every single complaint about Nassar. The investigation will also look at how campus police handled crime reports dating back to 2011, and how the university worked with USA Gymnastics to protect athletes. The university, which has maintained it did not believe Nassar committed an assault until 2016, has to turn over an extensive list of documents to investigators by Feb. 2, according to a copy of a letter sent to MSU by the Education Department, and obtained by BuzzFeed News. The letter requested on-site access to the university starting Feb. 19.
The inquiry should reveal "what university personnel knew and when they knew it" when it came to Nassar's crimes, said S. Daniel Carter, a campus safety expert. MSU's investigation won't be as wide-ranging as Penn State's, which included complaints made over a two-decade period, "but it does sound like one of the department's more extensive Clery reviews," Carter told BuzzFeed News.
Many people have drawn comparisons between Penn State's handling of Sandusky's abuse and MSU's response to reports of crimes committed by Nassar, who was an athletic trainer and professor at the school. The Education Department ripped Penn State in a 2016 report for missing red flags about Sandusky, failing to warn the community about the convicted pedophile, and for mistakes made back as far as 2000 in documenting crimes reported to the university.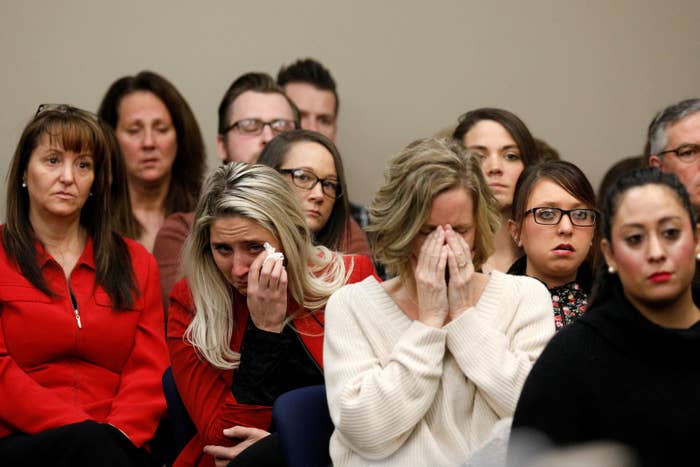 Michigan State University rejects the comparison with the Penn State–Sandusky scandal. Jason Cody, an MSU spokesperson, told BuzzFeed News on Thursday that the university "will be cooperating fully" with the federal inquiry.
Clery investigations take years to complete. The Education Department usually does not reveal when a Clery investigation is underway, but it confirmed the MSU probe.
"My heart breaks for the survivors of Larry Nassar's disgusting crimes," Secretary of Education Betsy DeVos said in a statement to BuzzFeed News. "What happened at Michigan State is abhorrent. It cannot ever happen again — there or anywhere. Students must be safe and protected on our nation's campuses. The Department is investigating this matter and will hold MSU accountable for any violations of federal law."
Michigan State University was notified last week as 133 victims began reading statements in court about Nassar's assaults, some of which took place at Michigan State University. Nassar was sentenced to 60 years in prison for child pornography, and up to 175 years for his assaults.
The president of MSU resigned this week under pressure from state lawmakers, students, and local newspapers, following reports that women had told employees at MSU about Nassar as far back as 1997. The National Collegiate Athletic Association also announced this week it will investigate MSU's handling of Nassar's crimes.
A separate office of the Education Department is already investigating MSU for its compliance with the gender equity law Title IX. Unlike Clery investigations, Title IX investigations usually only result in demands for policy changes, not fines. In 2015, for example, the feds found that MSU violated Title IX by taking too long to adjudicate student sexual misconduct cases, and ordered reforms to university policies.