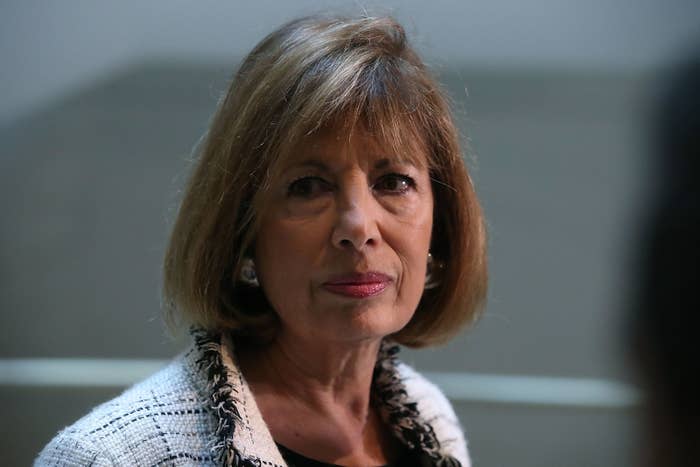 A group in Congress will announce the formation of a bipartisan task force on sexual violence this week at the start of Sexual Assault Awareness Month, something that will reassure advocacy groups who've worried about losing support in Washington since the election.
President Donald Trump on Friday issued a presidential proclamation marking April as sexual assault awareness month, continuing an 8-year tradition started by President Obama in 2009. But advocates say there's no indication where Trump and Vice President Mike Pence stand on specific policies.
The White House hasn't said if it intends to appoint an adviser on violence against women, a position in the vice president's office created by Joe Biden in 2009. It's also unclear whether the Trump administration will create a group like the White House Council on Women and Girls, which worked on sexual assault issues in the Obama years.
In Congress, about a dozen members are expected to join the Bipartisan Task Force to End Sexual Violence. A press conference is planned Wednesday to formally announce the panel.
"It's sad to say, but this is not an issue that's going away, it's not getting better."
The task force is modeled after the one started two years ago in Congress to work on opioid addiction. Members say they intend to focus on addressing sexual violence in the military and on college campuses, rape kit backlogs, law enforcement training, cyber harassment and revenge porn, as well as whatever else pops up. It will be co-chaired by Democrats Jackie Speier of California and Ann Kuster of New Hampshire, and Republicans Patrick Meehan of Pennsylvania and David Joyce of Ohio.
"It's sad to say, but this is not an issue that's going away, it's not getting better," Kuster told BuzzFeed News.
By forming a task force, they'll be able to conduct hearings on topics not tied to existing committees, allowing members more freedom to work on specific sexual violence issues.
Speier began discussing the idea last year after she organized a reading on the House floor of the statement by Brock Turner's victim, but it became a priority after the election. The task force is not a replacement for the White House adviser on violence against women, a Congressional staffer told BuzzFeed News, "but it's more important than ever under the current administration."
About a dozen members will be part of the task force to start, and if others want to join they have to find someone from the other political party to join with them.
The Obama administration made an unprecedented effort to use federal policy to address sexual violence. Many advocates attribute this to Vice President Joe Biden, the original sponsor of the Violence Against Women Act. Biden appointed Lynn Rosenthal to become the first White House adviser dedicated to this issue. The adviser served as a point person looking at how federal initiatives, policies, and legislation would impact sexual assault and domestic violence victims, and bringing the information to the president and vice president's desks. The adviser also played a big role on the White House task force to address campus rape that launched in 2014.
In 2010, Obama directed each cabinet member to take action on policies and personnel under their authority to address sexual assault and harassment, according to former administration officials. This resulted in the FBI updating its definition of rape to be more expansive and gender-neutral, and led to a 2011 directive telling colleges they must investigate student sexual assault reports. Many of the public events in Obama's second term focused on combating campus rape, including launching the It's On Us awareness campaign and moving it to a nonprofit agency so it could continue after the administration.
Starting in mid-2016, Obama White House officials, including the adviser on violence against women, were directed to begin preparing materials for their successor.
"We wanted to pass this along and hope that it would be maintained," said Carrie Bettinger-Lopez, who was the second White House adviser on violence against women under Obama.
A report from The Hill in January — that the Trump administration could follow the Heritage Foundation's recommendation to gut VAWA grant funding — spooked domestic violence shelters, though no actual proposal has followed.
Advocates say they've gotten reassurances from GOP Senate leadership that VAWA funding is protected. But they worry about other looming policy debates in Congress, like health care for example, that can have a huge impact on how victims are treated.
"Survivors often require a vast array of services and assistance to get healthy and to get safe, and many times those are things that fall outside the programs that are funded in the Violence Against Women Act," said Kristen Houser, spokeswoman for the National Sexual Violence Resource Center.
Members of the Congressional task force on sexual violence told BuzzFeed News they hope to play a role reviewing policy and legislation for impact on abuse victims. For instance, they're likely to review how the federal budget shapes up, and whether any proposed cuts would worsen services for victims or affect law enforcement responses to sex crimes.
"Congress is paying attention" to victims, Rep. Patrick Meehan, one of the task force co-chairs, told BuzzFeed News. "While we've done important things, we appreciate it's an ongoing challenge, and we haven't forgotten about them. Their voices will be heard."