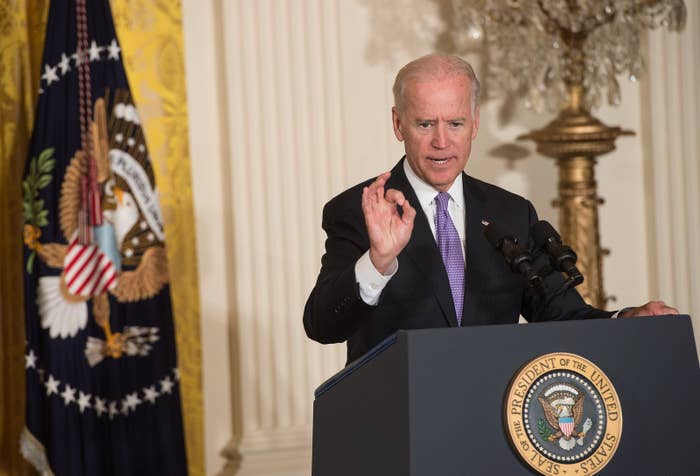 Former vice president Joe Biden urged more than 800 activists on a Friday phone call to pressure their universities and the Trump administration to uphold protections for rape victims.
"This Administration does not speak for the American people on this issue," Biden said on the call, according to a readout obtained exclusively by BuzzFeed News. He told the activists, many of whom are students, to "demand — of your college president, your provost, your deans — demand that they step up. They know we're right. This is no time to turn back."
Secretary of Education Betsy DeVos announced Thursday in a speech that the department intends to revoke Title IX guidance on how schools should deal with sexual assault that was issued by the Obama administration. DeVos took no questions from reporters assembled at the speech. The department told BuzzFeed News that it has no timeline on when the overhaul process — which will include a notice-and-comment period for the public to submit their suggestions on the topic — will begin, but confirmed that a major 2011 directive will be rolled back.
Biden, the original sponsor of the Violence Against Women Act as senator, made combating campus sexual assault a hallmark of his work as vice president. He personally announced the 2011 guidance at an event held at the University of New Hampshire.
"I know many of you are survivors, I know how you might feel betrayed today," Biden told people on the call. "Your government's let you down. Well, I want you to know that not only I stand with you but the majority of the American people stand with you. I believe you. I'm in awe of the courage you have shown in speaking out and telling your stories in hopes of making a difference."
The call was organized by the advocacy organization End Rape On Campus. Along with groups like SurvJustice, Know Your IX, It's On Us, the National Campus Leadership Council, and the United State of Women, they are planning a national day of action to pressure the Education Department against changing key elements of Obama-era Title IX policies.
Democrats widely condemned DeVos's announcement. Sen. Bernie Sanders said on Twitter that Congress should act to prevent DeVos from rolling back the guidance. In the months leading up to the announcement, members of Congress from both parties urged DeVos to keep the 2011 directive in place.
The 2011 directive was widely celebrated by victims advocacy groups as providing a roadmap for students about what they are owed by their schools if they report a sexual assault. But law professors, conservatives, attorneys, and families of accused students argued that it resulted in unjust findings without due process.