Court Says "Expulsion After Graduation" Was OK In Sexual Assault Case
A federal court dismissed a lawsuit over James Madison University's unusual and widely criticized punishment.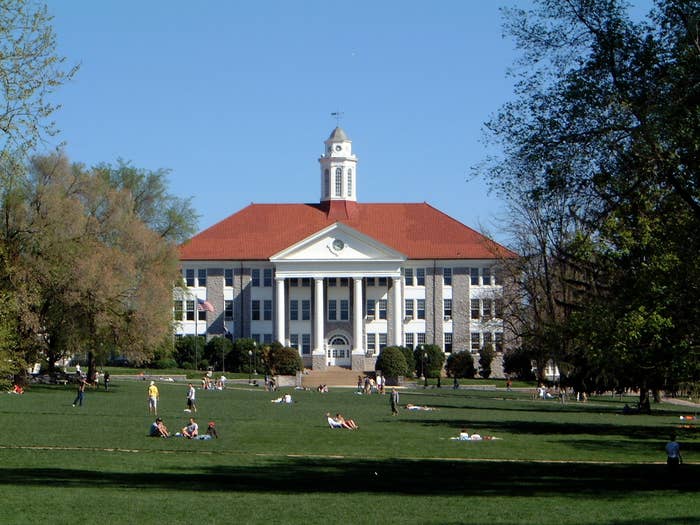 During a 2013 spring break trip to Panama City, Florida, after a day of drinking on the beach with fellow James Madison University students, Sarah Butters went inside a condominium with three guys she considered trusted friends. Butters, who was heavily intoxicated, was sexually assaulted by those three men, she said. They videotaped part of it on a cell phone, and it quickly circulated within their social circles.
A few weeks later, at the university's campus in Harrisonburg, Virginia, Butters reported what happened to university officials as well as Sigma Chi, the fraternity the men belonged to. She initially declined to participate in a school judicial process because she just "wanted it to go away," according to court records, but she changed her mind and moved forward with the process in January 2014. That April, the school found the three fraternity brothers — Jay Dertzbaugh, Nick Scallion, and Mike Lunney — responsible for the sexual assault and harassment.
But Butters was astonished at the punishment.
The university decided that the students would be "expelled upon graduation," meaning they could complete their studies but couldn't walk at commencement, participate in student clubs or organizations, or return to campus after they got their degrees. Additionally, they had to make a 30-minute sexual assault presentation in front of administrators.
Experts at the time said they'd never heard of such a sanction in college sexual misconduct proceedings. Butters filed a federal complaint with the US Department of Education that month and sued the university for damages in federal court in March 2015. Once the case became public, the university's punishment attracted widespread criticism, even prompting ridicule in a segment on The Daily Show with Jon Stewart.
Despite the outrage, US District Court Judge Elizabeth K. Dillon dismissed Butters' civil suit this week, writing that her allegations against the university didn't meet the legal standard under Title IX.
"Butters must show that JMU was 'deliberately indifferent' or that its actions were 'clearly unreasonable,'" Dillon wrote. "A showing that JMU did not employ the best practices or even that it was negligent is insufficient." Dillon decided a jury could not find that the university "acted in a manner that was clearly unreasonable," and she dismissed the case on Thursday.
Butters argued that the school should have put more effective temporary measures in place, such as suspending the men or launching an immediate investigation after she reported the assault. She also insisted that the university's punishment showed "indifference to sexual assault and harassment within its student body."
The university responded in the court proceedings that because it investigated once Butters agreed to participate and because it ultimately did punish the men, it had showed it was not "indifferent." During a July 2015 hearing, a lawyer for the university defended the sanctions: "These punishments were immediate and they were permanent and they were thoughtful."
The court sided with the school. Dillon noted that the court was not deciding whether the school issued an "appropriate punishment," and that JMU cannot be held liable just because Butters wanted a stronger punishment for the accused.
"We are satisfied that the court considered all arguments in the case and are confident in the process and resources that we have in place to deal with the issue of sexual assault," the university said in a statement Friday.
Butters' attorneys did not respond to a request for comment.
The university remains under federal investigation by the Education Department's Office for Civil Rights. The agency could still find that JMU violated Title IX, but it would not come with a financial penalty, as the civil lawsuit would have. In the past, federal investigations routinely have resulted in orders to reform policies and procedures for handling sexual misconduct cases, and occasionally have led to tuition reimbursement for the victim.