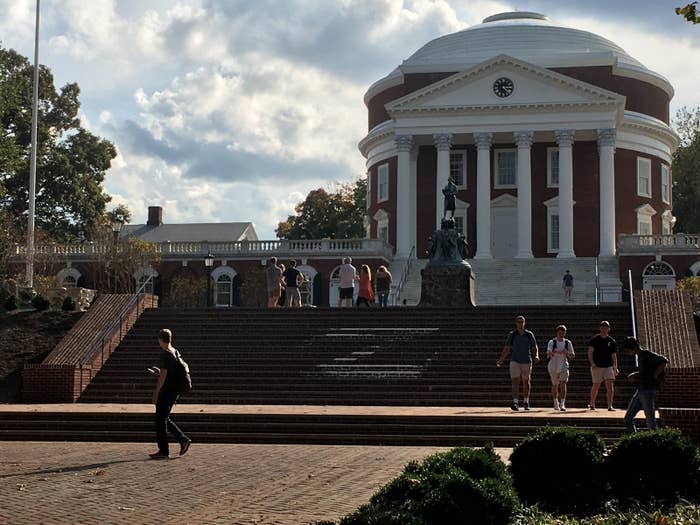 Three days into the trial against Rolling Stone magazine for its story about an alleged rape at the University of Virginia, a document was displayed on the courtroom's widescreen TVs and the jurors' personal monitors. Libby Locke, a lawyer for the plaintiff in the libel case, quickly saw a mistake and ordered her colleagues to take the document down.
Attorneys realized they'd done one thing that both sides in this contentious case vowed not to do: identify the woman whose rape allegation is at the center of the trial.
The trial, which opened one week ago, stems from former UVA dean Nicole Eramo's portrayal in the story of the university response to an alleged gang rape of a student named Jackie in 2012. Eramo is suing Rolling Stone and writer Sabrina Rubin Erdely for defamation, and much of the trial in the first week focused on inaccuracies in the article.
The original article only used Jackie's first name and pseudonyms for her former friends and the alleged assailants. But when her former friends came forward and challenged Jackie's account, the story unraveled and was retracted. Despite the version of events surrounding Jackie's alleged attack largely being discredited, the court is still considering her a sexual assault victim, and so the judge has agreed to maintain her anonymity.
False rape reports are rare, but making a false claim to police can lead to criminal charges for the accuser even when no specific person is named as an alleged assailant. In the Duke lacrosse rape story from a decade ago, which is often compared to the Rolling Stone–UVA story, the accuser, Crystal Mangum, was initially kept anonymous. Mangum was outed widely after the state not only dropped charges against her alleged assailants but also declared them innocent.
Jackie never filed a police report about her alleged assault at the Phi Kappa Psi frat house. The Charlottesville Police Department's investigation of her case in 2015 was conducted at the request of UVA. Although police found no evidence to support her rape claims as described in Rolling Stone, the cops avoided saying that Jackie was not assaulted at some point. They never officially closed the case.
Just because they couldn't find evidence to support the events described in the article, Charlottesville Chief of Police Tim Longo said at the time, "that doesn't mean something terrible did not happen to Jackie on Sept. 28, 2012. We're just not able to gather sufficient facts to determine what that is."
"That's such an important reason for having anonymity for survivors, so they can feel comfortable and not face retaliation or backlash."
Testimony during the trial so far has revealed the inner workings of Rolling Stone, and how UVA handled reports of sexual assault. But the court took extra steps to conceal Jackie's last name and what she looks like from courtroom spectators for reasons largely stemming from agreements struck before the trial started.
On Monday, the court began playing prerecorded video depositions from Jackie. However, the video monitors in the courtroom were turned off for the gallery, which is where the public and press sit.
At another point in court, lawyers questioned Erdely on what Jackie told her about an April 2014 incident — separate from the alleged rape — in which she was attacked by men outside a bar. They showed jurors a photo that Jackie had sent to Erdely, supposedly taken soon after the men threw a bottle at her. The photo showed what appeared to be a large dark mark around Jackie's eye, but the monitors for the gallery were turned off to hide her appearance. These steps are taken even though cameras, cell phones, and recording devices are not allowed in the courtroom.
In her deposition played for jurors Monday, Jackie said she stands by the account she gave to Rolling Stone of being gang-raped at a UVA fraternity. Lawyers for Jackie maintain that she is a rape victim and repeatedly refer to her in legal filings as a sexual assault survivor.
Eramo and her attorneys have said in court papers that "Jackie's claims were entirely false, and that she likely invented the supposed gang rape in order to gain the sympathy of a man she was romantically interested in and to cover for her failing grades." Still, they agreed to keep her anonymous "in the continuing spirit of cooperation and good faith."
Ebony Tucker, advocacy director for the National Alliance to End Sexual Violence, says that is the right approach. If Jackie were outed against her wishes while maintaining that she was a sexual assault victim, it could send a message to survivors that if people doubt their rape report, they too could be publicly identified, Tucker said. That could deter people from reporting rapes.
"That's such an important reason for having anonymity for survivors, so they can feel comfortable and not face retaliation or backlash," Tucker said. "Once we start compromising that, we start compromising safety for all survivors."
"She's not responsible for the journalism mistakes."
During questioning on the stand, Eramo said she doesn't believe "this particular incident occurred," but still thinks Jackie was traumatized by some event. "I don't know what happened to her at this point," she testified.
No mainstream media outlet at the local or national level has published Jackie's full name or image, though some far-right blogs have. None of the publicly available court documents or police reports use Jackie's full name, show her email address, or display her phone number. Long-standing journalistic conventions call for news outlets to avoid using a sexual assault victim's name unless they expressly give permission.
When the Columbia School of Journalism conducted a review of Rolling Stone's errors, it did not use Jackie's name. Steve Coll, the school's dean and a veteran journalist, told the Washington Post earlier this year that he didn't think Jackie should be exposed. "She never solicited Rolling Stone to be written about," Coll said. "She's not responsible for the journalism mistakes. To name her now just feels gratuitous, lacking sufficient public purpose."