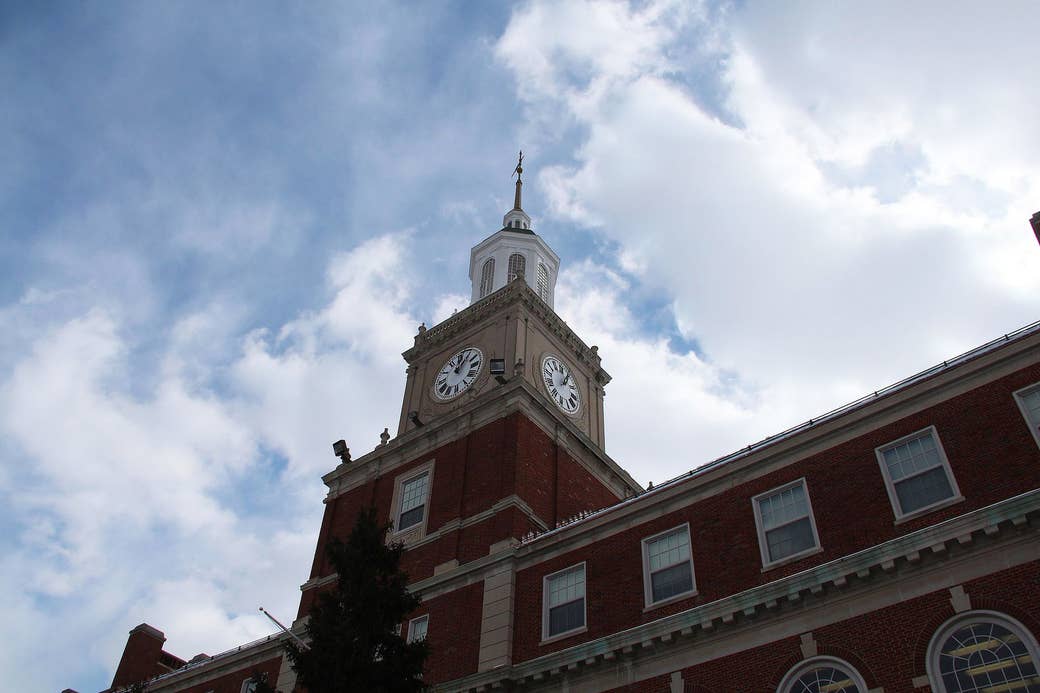 Howard University failed to swiftly handle sexual assault reports, leading to at least one assailant raping on campus again, a federal lawsuit claims. What's more, the Washington, DC school refused to provide the help that suicidal rape victims requested and let an accused rapist who was an RA have access to a key to his alleged victim's dorm room, according to the complaint filed Wednesday.
The university's handling of the sexual assault cases pushed two of the plaintiffs, referred to in the suit as Jane Does 1 through 5, to leave Howard's campus due to concerns about safety and their mental health.
"If my case was handled the way it was supposed to be handled," Jane Doe 2 told BuzzFeed News, echoing the allegations in the complaint, then Jane Doe 1 "would've never met her assailant. He would've been dismissed."
Doe 1 and Doe 2 say in the suit they were raped by the same male student — who allegedly transferred to Howard after being accused of sexual misconduct at UCLA — but the university didn't act until one of the women went public in March 2016 in a series of tweets, which prompted a campus protest. After the tweets appeared, the civil complaint states, Howard's Dean of Student Affairs told her, "You embarrassed your family by doing that."
Doe 1 says in the suit she was also fired as a resident assistant after reporting her rape, while Doe 2 says the university took away her financial aid and threatened to refer her debt to a collection agency.
The lawsuit also accuses Candi Smiley, the Howard official in charge of dealing with sexual assault cases, of going weeks or months without responding to emails and phone calls from alleged rape victims and their advocates. Multiple officials in the complaint are similarly accused of not returning phone calls or emails from women checking for updates on their investigations, asking for counseling, or requesting extensions for class assignments as they dealt with their cases. However, the complaint only names Howard University as a defendant.
The university and officials mentioned in the suit did not comment on the lawsuit on Wednesday. A Howard spokesperson said it is university policy to not comment on pending litigation.
Jane Doe 5 was just a month away from graduation when she reported to the city police and the university in April 2015 that a fellow student assaulted her, the complaint states. She did not feel safe at Howard anymore and asked to finish her credits at another campus. According to the suit, it took Howard official a month to reply: She needed to provide a police report to show "that this incident happened" before they would decide. An administrator then told Doe 5 to go ahead and take those classes that summer, the complaint claims, but after she completed her courses, the university took seven months to confirm it would count her credits and let her graduate.
"You have black men and women applying and going to HBCUs, believing that they're going to be safe, but they're only thinking honestly about racism."
"This is an egregious case," said Linda M. Correia, the DC-based attorney representing the five plaintiffs. "These young women are living on a campus where they have reached out for help from the school, and the passage of time is just compounding the harm that they feel. They should feel safe on their campus, safe in their classrooms, in their dorms, and Howard has not ensured that they do feel safe."
The federal lawsuit touches on a number of key criticisms of how colleges handle sexual assault reports. However, experts briefed on the allegations say there's an added sense of betrayal for Howard students that these allegations come out of such a prominent historically black college, or HBCU.
"I think that's the travesty: that you have black women and men applying and going to HBCUs, believing that they're going to be safe, but they're only thinking honestly about racism," said Aishah Shahidah Simmons, a visiting scholar at the University of Pennsylvania and filmmaker whose documentary NO! focused on black female rape survivors. Simmons noted that HBCUs have seen a spike in enrollment in recent years, amid the rise of the Black Lives Matter movement and racial turmoil at predominantly white institutions, or PWIs.
"It's unfortunate they are applying, trying to escape the other forms of violence on PWIs and still confronted with this form of violence," Simmons told BuzzFeed News. "This notion that an HBCU is a safe space in terms of race — it is a safe space, but until they incorporate anti-rape work, it is not a safe space on gender-based violence."
Among the more than 100 HBCUs, Howard is considered one of the most elite, sometimes referred to as the "Mecca" of black education because of how many African-American PhDs, lawyers, and prominent graduates it has produced. But like many of its HBCU peers, it has struggled financially over the past several years, due to funding declines, its troubled hospital, changes to a type of federal financial aid that many students use, and — some critics argue — leadership problems. Trying to address its dire finances, Howard laid off hundreds in recent years, resulting in censure by faculty and trustees.
The financial issues at HBCUs create major roadblocks in addressing sexual assault, a team working with the US Department of Justice's Office on Violence Against Women recently found. HBCUs need more counseling staff and advocates focusing on sexual violence, the team concluded, and more training for faculty and staff about how to deal with these issues — and improvements like those aren't free.
Still, Howard has received over $1 million in the past decade from the US Department of Justice specifically to address sexual assault. The DOJ money requires grantees to make key improvements, including training campus officials about how best to respond to rape reports.
Howard has promoted resources it says it offers victims of assault and has prevention programs meant to help stop abuse in the first place. But according to the federal lawsuit, the university is falling far short when cases crop up in real life.
"When both people involved are students, the men are always treated with a level of protection that the women are not."
When Doe 1 reported her assault to Smiley, Howard's Title IX Coordinator, on Feb. 28, 2016, according to the suit, her goal was to not see her assailant in her classes or living space. Smiley said they couldn't remove him from her classes until an investigation was complete, the complaint states.
Despite several calls for updates on the investigation, according to the suit, Doe 1 didn't hear from Smiley again for a month, except for once in March when Smiley asked Doe 1 if she was talking about her rape report in text messages with her friends. Several days after Smiley asked Doe 1 this, the legal filing says the university fired Doe 1 from her RA position.
Doe 1 decided to vent about how the university was treating her on Twitter, starting what the lawsuit describes as a "Twitter storm" on March 21st, outing the alleged assailant, and remarking "this is why people don't say nothing. they wanna avoid all this unnecessary bullshit." Dozens of students offered support for Doe 1, and around 100 students protested on campus on March 22, 2016 in response to her tweets.
In response to the Tweets, the lawsuit says, Doe 2 privately messaged Doe 1 that the same male student raped her and that she had reported it to Howard in October 2015, about five months before Doe 1's report.
"Initially I was enraged, but I also had this weird feeling of vindication," Jane Doe 2 told BuzzFeed News. "When I was there, I felt like no one believed me. I felt like they were always on his side, they always believed his story, they were protecting him. It was all him, him, him."
Doe 2 said her attack occurred in a school parking garage on May 1, 2015, but she didn't report it immediately because she thought the assailant was about to graduate and leave campus, the complaint states. When she moved onto campus in the fall, however, the suit says she learned that the alleged attacker would be an RA in her dorm. The complaint says he began to stalk her by following her on campus, trying to talk to her about the assault, and attempting to join the same school clubs that she was in. Eventually, she reported her assault to city police and the university. Smiley told her Howard could not move him out of her dorm until the investigation ended, according to the suit, meaning he was left in a position that granted him access to a key to Doe 2's room. Doe 2 moved to a different dorm and was charged for it, the lawsuit alleges.
The lawsuit said Doe 2 didn't hear anything from Howard about her case for the rest of 2015, except for once when Smiley asked her to re-send copies of text messages exchanged with the alleged rapist. Her grades suffered, "she was on the brink of losing her scholarship, and she was depressed," according to the suit, so she left Howard and moved home to Alabama. Howard allegedly removed her Pell grant and need-based scholarship from her account, and the university's records claimed Doe 2 owed a "significant amount of money." The university later sent Doe 2 letters threatening to send her debt to a collection agency in 2016 and 2017, according to the complaint.
After the protest and the tweetstorm, the complaint says Smiley contacted Doe 2 and said the school was still waiting for her to send the corroborating text messages, even though Doe 2 had sent those to Smiley twice. In April 2016, the university concluded the accused assailant "engaged in non-consensual sexual contact" with Doe 2, according to the suit. He was suspended for two years, but the lawsuit says Howard never told Doe 1 the man was given the boot and to this date has not told her the outcome of her case.
According to the only study of sexual violence focused on HBCUs, 14.2% of women on these campuses experience an attempted or completed sexual assault during college, putting them on par with populations from PWIs. But the study found that victims were more likely to be satisfied with how their cases were handled off-campus than by people at their school. Fear of how campus officials would respond was a major reason why black college women who were sexually assaulted did not make a report, a 2008 study found.
The lawsuit against Howard argues that administrators disregarded attempts by one rape victim who said she was depressed and suicidal and wanted private counseling sessions.
Jane Doe 3 dated a Howard University police officer who sexually assaulted her, "hit her, pushed her, strangled her, and threw things at her," the complaint states. She told the school in November 2014 that she was suicidal and wanted private counseling, according to the suit, but Howard officials ignored her calls for weeks and never arranged a session for her. She's now on academic probation and fears losing her ROTC scholarship, which would kick her out of school, the complaint states.
"The emails and the calls to the university from our clients are well-documented and on their side of it they just were met with silence and inaction," Correia said.
The university gave a letter to Doe 3 and Jane Doe 4 that they could show to professors as they tried to get accommodations for exams and deadlines. But when faculty didn't adjust due dates enough for the women, the complaint claims, Howard administrators said they couldn't force the professors to make changes and suggested it was better not to "push" one male teacher in particular.
Doe 4 and her attorney also asked if the no-contact order between Doe 4 and the accused student could stipulate that they have to use campus facilities, like the rec center, at different times to avoid running into each other, according to the complaint. But Howard officials and lawyers took three months just to tell Doe 4 no, the suit states.
After the university found in August 2016 that the accused student in Doe 4's case violated their sexual assault policy, it banned him from campus for one semester, the suit says. But when she later saw him at a homecoming pep rally in October and asked university police to remove him, according to the court filing, a campus cop said they needed proof he was banned, because the Title IX office doesn't tell campus police about these punishments. Once she showed him information on her phone, the suit says, the officers escorted him out.
Simmons has screened her documentary about violence against black women at several HBCUs. One common cultural theme she's picked up is that black women who come forward about being sexually assaulted by black men are sometimes viewed as "traitors to the race," Simmons said.
"What bothers me with these college assaults when both people involved are students, the men are always treated with a level of protection that the women are not," Simmons said.
Doe 2 said that Howard was her dream school since she was in the 7th grade for its sterling academic reputation among the HBCUs.
"When I had to leave this university because I didn't feel supported, it crushed my whole outlook on the university as a whole," Doe 2 told BuzzFeed News. "You built this legacy, but you don't protect the students that are continuing the legacy. That is one of the biggest points that bothers me about this whole situation."
At HBCUs, there's also a desire to protect black men stemming from both the unequal gender ratio on campus (women largely outnumber men) and the country's long legacy of criminalizing black men.
In Doe 5's case, the university took over seven months to finish its investigation, according to the complaint, and eventually suspended the man for two years after finding he violated the sexual assault policy. When the city police later requested records from the university investigation, the lawsuit states that weeks later, Howard still had not responded, leaving the criminal case "at a stand-still." The accused student was later convicted in a separate rape case in DC.
It's unclear if Howard ever turned over those documents to the Metropolitan Police Department, Correia said, "but we're going to find out."