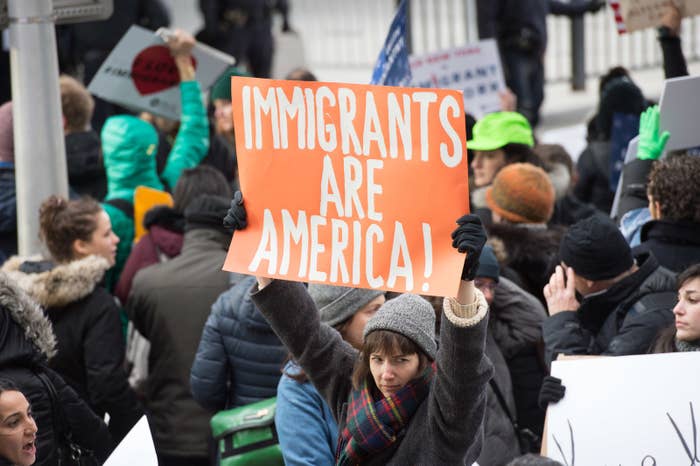 President Donald Trump's order blocking Muslims from several countries from entering the United States sparked a spontaneous and fast-growing protest at JFK airport Saturday that drew hundreds of people and that was quickly repeated in airports across the country.
From Los Angeles to Chicago to New York, demonstrators crowded major airports, chanting "Let them in!" and waving signs denouncing the move. Trump's order, signed Friday, indefinitely banned refugees from Syria from entering the country and blocked all people from Syria, Iraq, Iran, Sudan, Somalia, Libya, and Yemen from entering for 90 days.
In New York, taxi drivers joined in the demonstration, announcing a suspension of pickups for an hour in solidarity with immigrants who've been at least temporarily blocked from coming into the country. As the windchill dropped to 29 degrees outside Terminal 4, protesters shared packs of hand warmers and passed out bottles of water and Gatorade, as well as pizzas, doughnuts, and cookies. Some protesters brought instruments -- a trumpet, a saxophone, a small drum -- and played them to the beat of the chants.

By Saturday evening, a protest at John F. Kennedy international airport in New York City had grown to several hundred people. Most people there said they'd heard about the protest on Twitter or through other social media and decided to join, even if they had no personal connection to anyone affected. The crowd grew steadily from about 150 at 4 p.m. to surpass 600 within a couple hours, though official estimates were not immediately available. Their homemade signs expressed opposition to Trump's plan to build a wall along the Mexican border and to his restrictions on Muslims from certain countries entering the U.S.
Protesters compared the orders to the United States' initial reluctance to open its doors to Jewish refugees fleeing the Nazis. At least a dozen signs quoted from the Statue of Liberty's inscription: Give me your tired, your poor, your huddled masses yearning to breathe free.
"You wake up with this terrible news it's like you're waking up from a bad dream, and then you realize it's real life," Chang Kim, 32, told BuzzFeed News. Kim said he'd heard about the protest at about 12:30 and decided on the spur of the moment to join it. He carried a sign that quoted from the book of Matthew and read: "Christians Against Muslim Ban."

"I was feeling terrible this morning and looking for something to do, to get involved."

"He's doing everything he said he was going to do, and by this point, we shouldn't be surprised anymore," Kim said of Trump. "He said he was going to build the wall, and he's going to build it. He said he was going to ban Muslims, and he's gone and done that."
Many protesters noted the irony of a country built by immigrants now trying to block so many of them.
"It's like you're waking up from a bad dream, and then you realize it's real life."
"The U.S. is still built by immigrants," said Stan Narten, a 37-year-old who immigrated from Bulgaria to Tennessee in 1986, when his mother fled Communist rule in their homeland. Trump's orders go "completely against why my mom came to America in the first place," he said, "so I feel like it's my responsibility to be here."
Justin Hendrix, 29, held onto his young daughter as he took part in the protest, which took place as lawyers worked to assist several Muslims who were being held inside the airport after arriving as the ban went into effect. "I have friends that are Muslim. I work with people who are Muslim and from the Middle East," he said. "I mean, if you're a New Yorker, you ride the train every day with people from elsewhere."
Mary Cash, 56, held up a sign that showed a Syrian boy whose body was found lifeless on a beach in Turkey in September 2015.
"This is what the alternative is to helping people in desperate need," she said.
"They need to feel like they're safe here, and I don't know that anyone can provide that for them right now."
Britt Fremstad, 32, held a sign showing part of a letter from a Yemeni student of hers. "Dear Donald Trump, I am a Muslim American," the letter began. "Why do you create problems between people?" the letter continued. "I love freedom. I am a human being, and I do not like racism."
Fremsead said the letter was written as part of an assignment she'd given to her students in October. All of them are immigrants, she said.
"They need to feel like they're safe here, and I don't know that anyone can provide that for them right now," Fremsead told BuzzFeed News. "But they want to feel like they or their families will not be deported, and they want to feel like they can become part of America."
At Washington Dulles International Airport outside the nation's capital, hundreds gathered to welcome people coming in from international flights alongside lawyers at the ready to provide free legal assistance. Many protesters held flowers to give to people arriving in the terminal.

Two lawyers told BuzzFeed News they did not have access to people who were being detained. "They're not letting lawyers back, which is problematic," said Andy Mahler, one of the attorneys. "So everything we're hearing is coming from people who either were detained or who have kind of been able to see numbers… We're really disappointed that we're just in the dark here."
It was clear from the signs that protesters were not only troubled over the refugee order but the entire Trump presidency. One George Washington University student carried a giant cutout of Sen. Bernie Sanders' head. Some demonstrators sang "This Land Is Your Land."
Cat Clark, an organizer with a northern Virginia chapter of Showing Up for Racial Justice, told BuzzFeed News the group announced their rally earlier in the day.
One woman named Jinan told reporters she had been traveling in Iraq. Jinan, who did not give her last name, said she and her husband, Alaa, live in Virginia. She said she has a green card, and she said she was detained for several hours in the airport. Demonstrators erupted in cheers as the couple made their way into the arrivals section, pushing their luggage.
"Are we going to blow off our system because we are afraid?" Alaa said. "Then you know, whoever we are afraid from are winning."
Police in San Francisco told BuzzFeed News the crowd at San Francisco International Airport was up to 1,500 by Saturday evening. The crowd filled the road outside the international arrivals section, leaving passengers to be picked up outside the departures area instead. People eager to join the protest poured down escalators and out onto the road as the demonstration spilled from inside the airport to outside.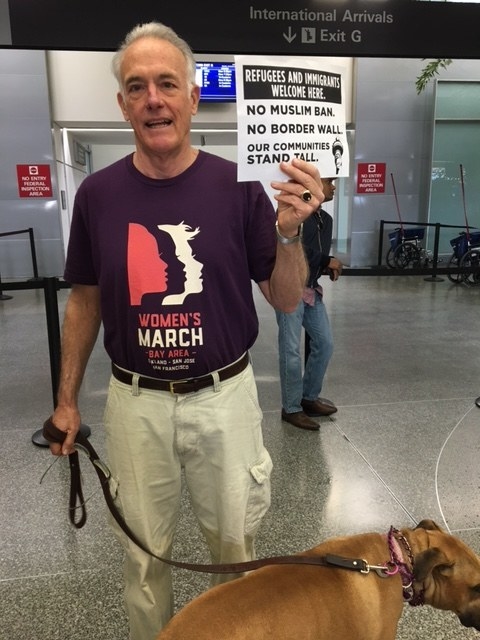 "Donald Trump out, refugees in!" they changed. "No hatred, no fear, refugees are welcome here!"
Howard Dernehl, 67, joined the protest before picking up his daughter, who was to arrive later in the day after a three-week trip volunteering at a refugee camp in Chios, Greece.
"Lawmakers need to reverse this. Our country needs to stand up to protect citizens and people from all over the world," he told BuzzFeed News. "We're supposed to be a world leader."
Steve Streza, a long-time tech employee in San Francisco, said he came to the airport to protest Trump's executive order and TO say "this is not who we are as a country."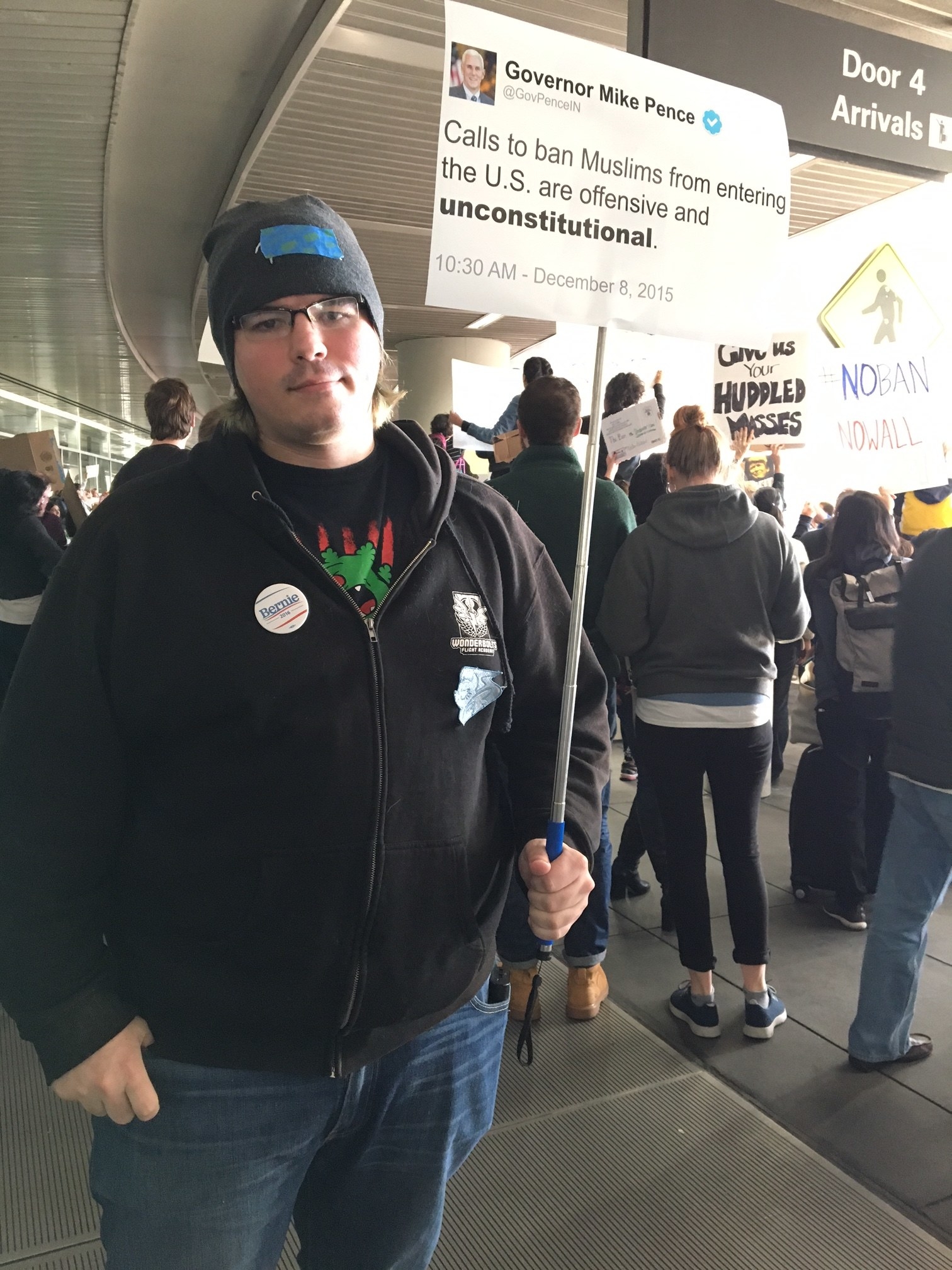 "It is un-American and unconstitutional of any president or any member of our government to impose such a blanket ban that specifically targets people of other religions from entering the country," said Streza.
As the afternoon wore on in New York, inside JFK's Terminal Four, the tables and chairs outside of Central Diner turned into a makeshift legal clinic. Under the diner's blue neon lights, family members who had turned up expecting to hug loved ones instead sat across from lawyers who counseled them on their options to release them from detention.
Since Friday night, volunteer lawyers from different organizations, including the International Refugee Assistance Project, had arrived to offer legal counsel as Trump's order went into effect.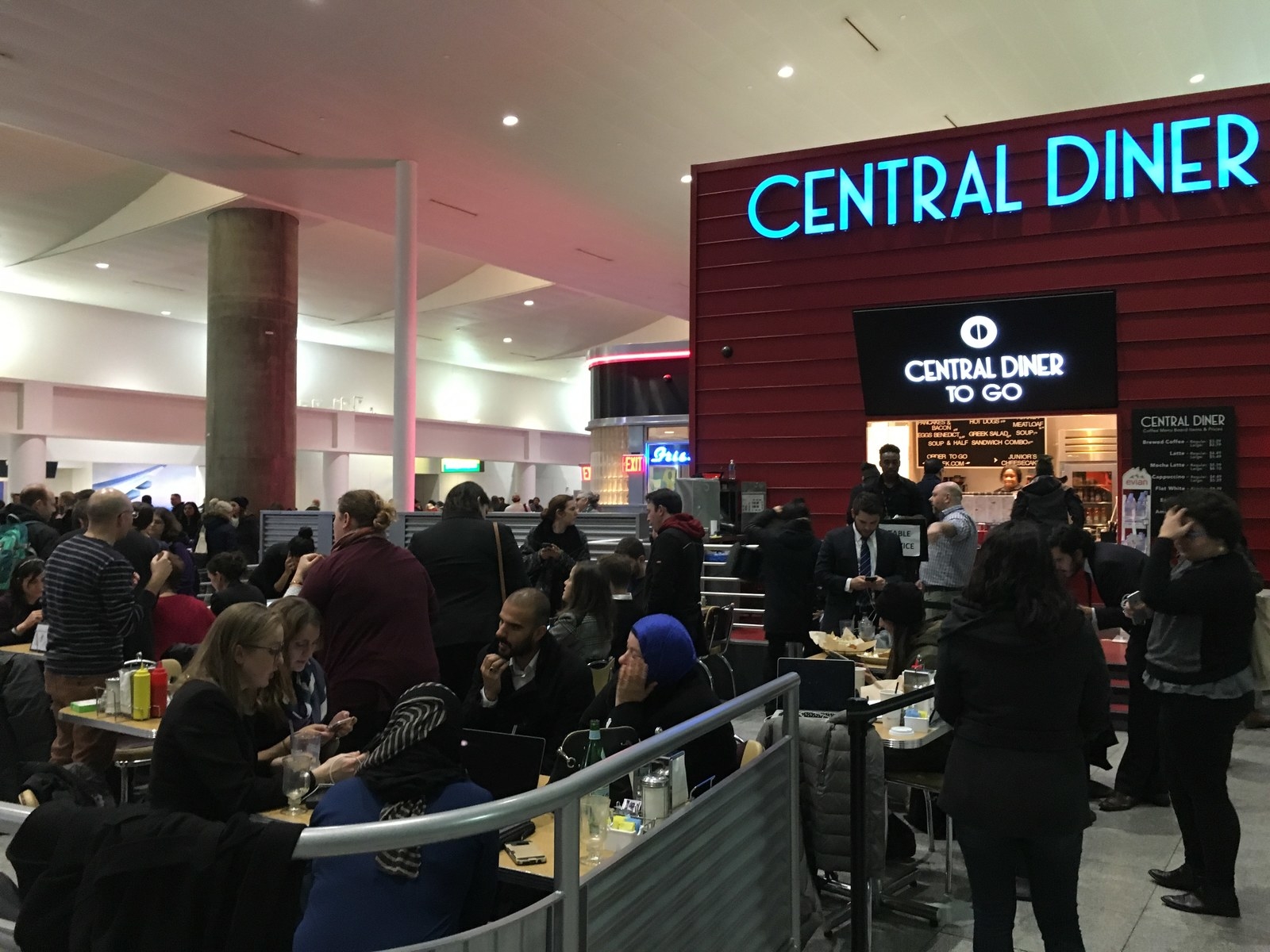 At the arrival gate, the volunteers began canvassing the crowd, trying to determine who had family members who had been detained and qualified for legal assistance. Over glasses of iced tea and huddled over laptops, some worked to file petitions with New York's Eastern District court to try to get them released.
"The worst part honestly is we're not given access to them," said Zahra Cheema, one of the lawyers.
"They just have no rights back there. How do you prevent someone's human rights from being violated if you don't give them the assistance that they need?" she added.
Instead, lawyers had to work only from the the information that filtered in through text messages and phone calls to the families.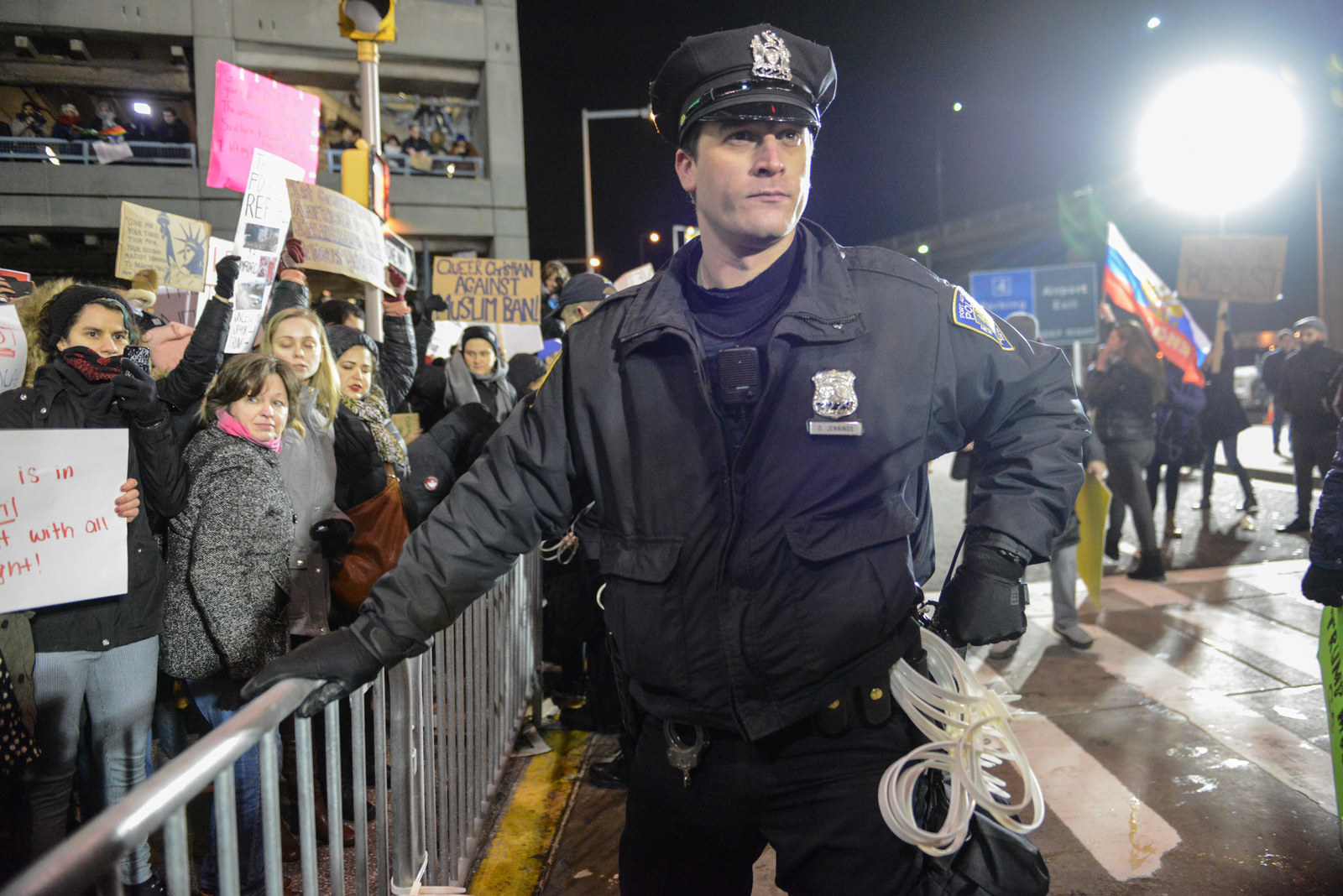 A mother in a royal blue headscarf lamented that her son's wedding had been set for March 3 and she no longer knew if it would happen. Her son's fiancé had arrived on a plane from Iraq and had been detained. With the help of volunteers, the family had decided to file a petition to try to get her released.
With the future so uncertain, people said they weren't sure what the right move was for their family members.
"We have to consider everything," said one Iranian woman who lives in Queens. She and her sister were consulting with lawyers about filing a petition after their relative had been detained that morning. "No one seems to have enough information. We don't know what's going to happen."
As night fell, protesters took up positions on different levels of the four-story parking garage next to the epicenter of the demonstration. A few state troopers stood guard.
An activist group called The Illuminator sent up a projector to display words on the parking garage, including "Resist," "No Hate, No Fear," and "Fuck Your Wall," all things that protesters either had on their signs, chanted, or both.
Police in riot gear formed around the perimeter of the protesters and cut off access to the terminal entrance to all but those who held airline tickets.

"Donald Trump could not be more out of touch with what New York actually is and what it's made of," said Maeve Adams, 39, as she stood near the parking garage and watched passing cars honk their horns in support of the demonstration. "Donald Trump is happy to live in his penthouse apartment and never ever get to know who New Yorkers actually are," Adams continued. "Donald Trump is not a New Yorker."

"And it's always been that way," her friend Michael Kranz, 38, added. "This guy has always been who he is, and who he is does not represent New York, and he does not represent America."
This post has been updated to include protests in San Francisco, Dulles, and other airports.