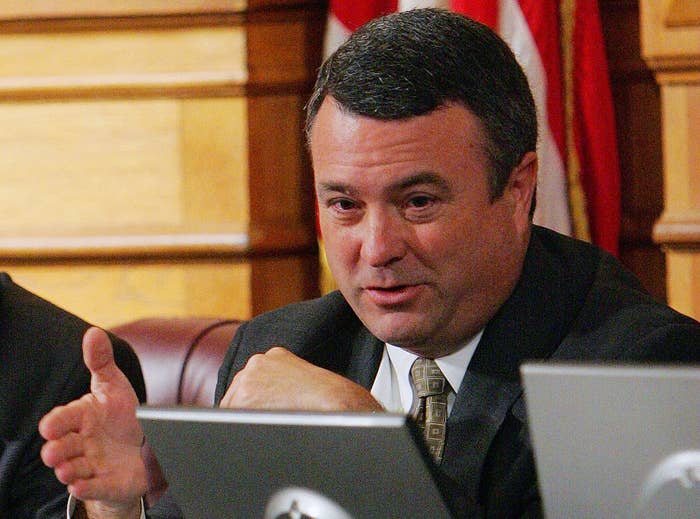 A Georgia politician is looking to put campus sexual assault investigations into the hands of law enforcement, clashing with existing rules laid out by the US Department of Education.
Under legislation introduced Wednesday by Earl Ehrhart, a Republican state representative in Georgia, colleges would not be able to punish a student accused of rape until they were found guilty or entered a guilty plea in criminal court. Employees at colleges and universities in the state would also have to turn over information and "all evidence" related to sexual assault claims against students to law enforcement.
The bill would allow schools to suspend accused students "while felony criminal charges are pending" if the alleged perpetrator "poses an immediate threat to the life, health, or safety of the student body," but colleges would still need to hold a due process hearing in order to do so.
Preventing colleges from investigating sexual assault incidents until the conclusion of a criminal case, which typically takes anywhere from six months to three years, sometimes even longer, would directly conflict with what the US Department of Education's Office for Civil Rights says schools must do under the gender equity law Title IX.
"When you limit when schools can take action, and how schools could take action, there would be a lot of questions for me about what schools could do to promptly address [sexual assault allegations]," Anne Hedgepeth, a lobbyist for the American Association of University Women, told BuzzFeed News. "It is longstanding OCR policy that you can't defer to law enforcement."
But Ehrhart told BuzzFeed News he isn't worried about that conflict, because he doesn't think the department's current stance on Title IX is "going to hold a heck of a lot of water" with the Trump administration. Ehrhart intends to press the Education Department on whether that will still be the policy once Trump takes office. "I don't think it will be," he said. "I've had preliminary discussions. I'm hoping to be in DC at the end of the month to meet with the department."
Many victims' advocates are worried that the Trump administration will rescind documents outlining requirements for how colleges must handle sexual assault. Neither Trump nor his pick for education secretary, Betsy DeVos, have commented on this possibility, but the 2016 GOP platform called for campus rape cases to be handled by law enforcement, and not school administrators.
One of the most consequential documents activists and critics alike are keeping an eye on is a 2011 "Dear Colleague" letter issued by the Education Department that describes the standard of evidence colleges should use to comply with the law, among several other major policy prescriptions.
Campus investigations of sexual violence cases often lack key due process protections, Ehrhart said, like the right to be represented by a lawyer, or a guaranteed ability to cross-examine witnesses. Ehrhart sued the Education Department last year, arguing that it issued the 2011 "Dear Colleague" letter illegally because it did not effectively solicit public input first.
Erin Buzuvis, a professor at the Western New England University School of Law, isn't sure if Ehrhart's bill would escape conflict with federal law even if Trump's administration rolled back the "Dear Colleague" letter. This is because the actual statutory regulations of Title IX require schools to provide "prompt and equitable resolution" to complaints of sexual harassment or violence.
"This is an important point because it means that even if the 'Dear Colleague' letter were repealed, Title IX would still require schools to take action independent of local law enforcement, because avoiding that responsibility in cases that law enforcement has not decided to pursue is not an 'equitable' response," Buzuvis said.
Ehrhart said schools could still issue no-contact orders between alleged victims and accused students, and he's open to tweaking the language based on feedback from colleges in his state. He hopes to reroute money spent on Title IX investigators toward prevention efforts and counseling for sexual assault victims.
Ehrhart also noted that colleges and universities are increasingly facing criticism from both victims and accused men who say they were mistreated in how schools responded to sexual assault reports. His legislation, he argued, would present a concrete framework of what schools should do and what they cannot do.
"What I'm saying you cannot do is create this special investigatory and adjudicatory system," Ehrhart said. "I want to put it the hands of special victims units in the DA's office."
Charles Sutlive, a spokesman for the University System of Georgia, told BuzzFeed News that "while we have not taken a position on the bill at this time, we are planning to follow up with the bill's author to share our concerns."