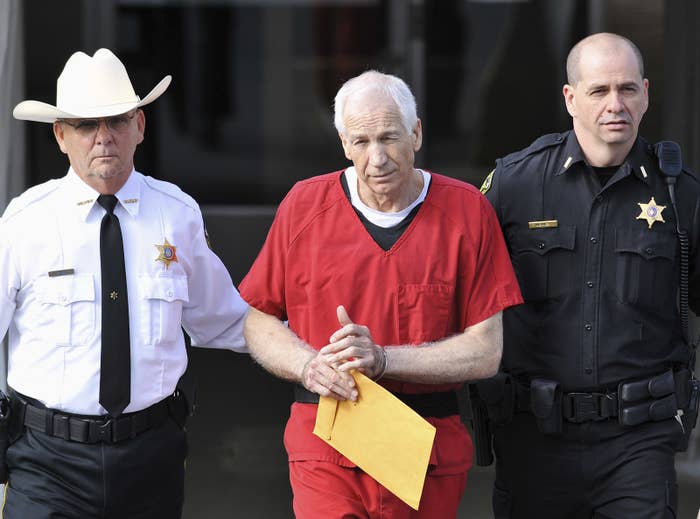 The U.S. Department of Education announced Thursday it will levy a record-setting $2.4 million fine against Penn State University following an investigation spurred by sex crimes committed by former assistant football coach Jerry Sandusky.
In addition, the department cited Penn State for a "longstanding failure to comply with federal requirements on campus safety and substance abuse," and for failing to maintain an accurate and complete daily crime log, as required by the Clery Act.
The investigation of Penn State started in November 2011 after Sandusky was indicted for sexually abusing minors. He was convicted in 2012 on 45 counts tied to his decades-long molestation of young boys. The investigation reviewed Penn State's compliance with the Clery Act, which requires schools to track and disclose crimes on campus and to warn of ongoing safety threats.
The fine is the largest ever handed down against a higher education institution for violations of the Clery Act. Until now, the biggest Clery fine was a $350,500 bill paid by Eastern Michigan University. Penn State can appeal the fine through the Department of Education or through an administrative judge.

"When we determine that an institution is not upholding this obligation, then there must be consequences," U.S. Education Under Secretary Ted Mitchell said in a statement.
A majority of Penn State's fine — $2,167,500 — stems from failures to properly classify reported incidents and disclose crime statistics from 2008 to 2011. Penn State was also cited for failing to publicize the availability of its annual security and crime report to current and prospective students.

Penn State said it would comment further after it reviews the 239-page report from the department but for now noted that it had made a number of reforms since 2011. The university frequently disagreed with the findings during the investigation, but the department said in many cases it lacked documentation to support that it acted properly.
Penn State also came under scrutiny recently for its handling of a sexual assault case involving filmmaker Nate Parker, who attended the university in the 1990s. Parker was acquitted of a 1999 campus rape, but there have been questions over whether the school went easy on Parker, who was a member of its wrestling team. Parker's film, The Birth of a Nation, sold for $17.5 million at the Sundance festival earlier this year.
"These findings reflect a fundamental change in how the Clery Act will be enforced by the Department of Education," said S. Daniel Carter, a longtime campus safety expert and board member of the nonprofit SurvJustice. "That enforcement is, with this report, taking on a much more serious stance."
One of the most notable findings, Carter said, is that Penn State should have issued a campuswide emergency notification after learning about Sandusky's crimes. Emergency notifications have long been thought to be limited to incidents like active shooters or weather emergencies, Carter said, but here, the Department of Education recommended Penn State use it to address an ongoing epidemic of sexual violence.
The letter noted that top brass at Penn State, including some trustees, were aware that Sandusky had failed a routine background check in 2010 and that the state attorney general had begun asking about the sex crime allegations for more than a year before Sandusky's indictment. But the university didn't do anything to limit his access to campus or warn the community about him. "In short, a man who was about to be charged with violent crimes against defenseless minors was free to roam the Penn State campus, as he pleased," the department wrote.
Alison Kiss, executive director of the Clery Center for Security on Campus, said this element of the report could spur colleges to review how they alert students about incidents of dangerous behavior on campus.
"Colleges are certainly going to go back and review how they handle emergency notifications," Kiss said.
The findings stretched beyond the Sandusky crimes. The department said Penn State failed to report dozens of crimes between 2008 and 2011, including sex offenses, aggravated assaults, liquor violations, car thefts, and burglaries. It faulted the school for not including crimes reported to its Fraternity & Sorority Life office in its overall security statistics. Penn State police also misclassified crime reports. Two sexual assault reports in 2000 and 2001, involving victims who each consumed alcohol, passed out, and woke up nude to discover they'd had intercourse, were labeled "unfounded" without any explanation for why police concluded the reports were false.
For years, the university's administration also did not have control over its athletic programs, especially the football program, the department said. In 2002, a football player was suspended for two semesters for sexual assault but was allowed to play in the Capital One Bowl. Student conduct officials learned the student was in the game when they saw him on TV.
The department found multiple examples of athletics officials interfering in cases involving alleged student misconduct. This included them defending players accused of sexual misconduct, attempted stabbings, and burglaries and football administrators providing team members with names of prominent attorneys to deal with campus conduct or legal issues.
Joe Paterno, the famed football coach who died in 2012, told players in one instance not to cooperate with the judicial affairs office when facing campus misconduct charges, a memo included in the investigation results showed.
"The findings letter is an indictment of the systemic failure at Penn State to have the proper procedures in place to protect their campus, and that's what came to light as a result of the Sandusky case," Carter said.
This story has been updated to include interviews with Carter and Kiss.