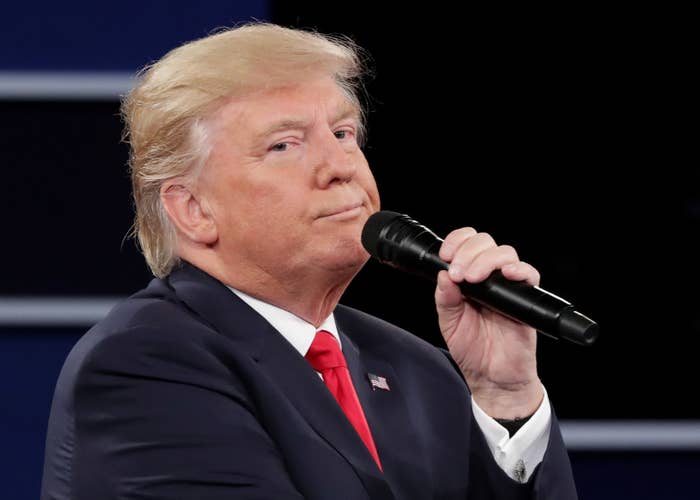 Donald Trump's Twitter account became one of the top search results on Twitter when looking up the hashtag #rapeculture on Sunday night during the second presidential debate.
Early in the debate, Trump was asked about recently revealed comments he made in 2005 wherein he said his celebrity status allows him to kiss women without consent and "grab them by the pussy." Trump said he was embarrassed by it.
"This was locker room talk," Trump said in the debate. "I apologize to my family and to the American people. Certainly I'm not proud of it. ... I hate it but it's locker room talk and it's one of those things."
He then moved on to discussing allegations against Bill Clinton, and how he'd deal with ISIS.
Sexual assault survivors, activists and victims' advocates quickly responded on Twitter by pointing out that Trump's excusing of his comments as "locker room talk" is an example of rape culture. Mindy Finn, an independent vice presidential candidate with Evan McMullin, chimed in by saying on Twitter, "Glorifying sexual assault is not #lockerroomtalk."
By 9:30 p.m. ET, a search of #rapeculture on Twitter brought up Trump's account as one of the top three results, however, it's unclear when exactly his Twitter account began showing up in the search results. BuzzFeed News tested this on multiple internet browsers and got similar results each time. A screenshot can be seen below, followed by a sampling of sexual assault survivors and advocates responding to Trump's "locker room talk" answer on Twitter.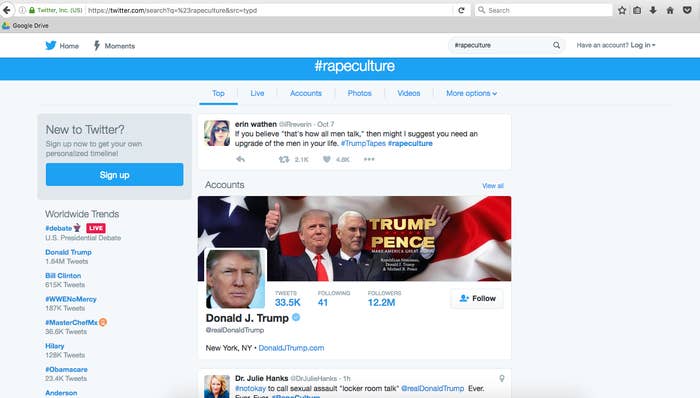 Many survivors were unimpressed with Trump's initial reaction to the Friday release of the video that showed him making the groping comments. Trump previously evoked ire in September when he stood by a tweet he posted in 2013 suggesting that sexual assault in the military was the result of including women in the armed forces. Over half of the victims of sexual assault in the military are male.
Seven of the largest nonprofit organizations that work on sexual assault and domestic violence issues have told BuzzFeed News that the Hillary Clinton presidential campaign has reached out to them this year for briefings, but none of them heard from the Trump team.
A sample of survivors and activists responding to Donald Trump's defense of his comments as "locker room talk."