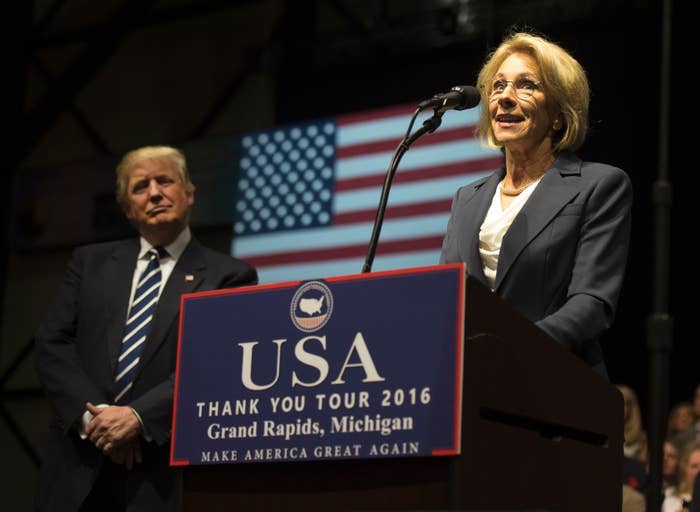 Facing anxiety that the Trump administration will scale back efforts to combat sexual violence in schools, activists launched a campaign Monday called "Dear Betsy" aimed at bolstering support for Title IX protections for rape victims and LGBT students.
Two groups, End Rape On Campus and Know Your IX, launched the campaign ahead of the Senate confirmation hearing for Betsy DeVos, nominated by president-elect Donald Trump to be Secretary of Education. DeVos will testify Wednesday before the Senate's Health, Education, Labor & Pensions committee. Activists are encouraging people to share tweets and videos explaining why Title IX is important to them and to promote them using #DearBetsy.

"The goal is for her to commit during her hearing to upholding these really important provisions for students," Sofie Karasek, an End Rape On Campus co-founder, told BuzzFeed News. "We wouldn't want to make this issue even more complex for schools to deal with and even more painful for survivors to go through."
So far, conservative lawmakers and interest groups have jockeyed to get Trump's attention to roll back several significant moves taken by the Obama administration on Title IX, a gender equity law.
Under President Barack Obama, the US Department of Education pressured schools to reform how they handle sexual assault and harassment and placed hundreds of institutions under investigation over concerns they mishandled these cases. The Education Department also joined with the US Department of Justice to declare that Title IX extends to protect against discrimination based on students' sexual orientation or gender identity.
But federal actions to protect LGBT students riled religious conservatives who disagree with the Obama administration's interpretation of Title IX. And critics have argued the Obama administration skipped legally-required steps before issuing Title IX regulations on how colleges should handle sexual assault, while some schools disregarded due process for accused students.

DeVos has not offered her position on Title IX issues. Yet advocates are concerned given her ties to religious conservatives in her home state of Michigan, and her donations to the Foundation for Individual Rights in Education, or FIRE, a civil liberties group suing the Education Department over its Title IX guidance. Officials at FIRE told BuzzFeed News the group hasn't had "substantive" conversations with DeVos since her nomination, but will be writing "to the incoming administration to outline our concerns and proposed solutions," as it has after every presidential election.
Democrats who have previously sponsored legislation to toughen campus rape rules only recently started organizing opposition to potential Trump administration shifts on Title IX. Last week, Sens. Bob Casey of Pennsylvania and Patty Murray of Washington sent a letter to Trump emphasizing they do not want him to repeal a mandate that colleges must use the "preponderance of the evidence" standard — which means having at least 50% certainty of someone's guilt — in sexual assault hearings on campus. The preponderance standard is used in most civil trials and carries a much lower burden of proof than the "beyond a reasonable doubt" standard used in criminal court.
"Any elected official would be mistaken to roll back critical protections for students and assault victims."
"In Congress, there has been broad, bipartisan concern about tragic incidents of campus rape — any elected official would be mistaken to roll back critical protections for students and assault victims; we are all too aware of support these victims need and deserve," Democrat Rep. Carolyn Maloney of New York told BuzzFeed News. "There's no question that the current system has its flaws. That is why I am committed on working with colleagues on both sides of the aisle on a comprehensive solution to the scourge of campus sexual assault."
Rep. Jackie Speier, a Democrat from California, is currently rounding up colleagues in the House to form what might become a coalition or working group on sexual assault to tackle such issues, including how it's addressed under Title IX, Congressional aides told BuzzFeed News. The group would "be ready to do a rapid response whenever these things come up," an aide to Speier said.
Speier also plans to reintroduce several pieces of legislation addressing sexual assault on campuses, including the HALT Act. That bill would allow students to sue colleges for violations of their rights under the Clery Act, an existing campus safety law.
The "Dear Betsy" campaign asks DeVos to uphold 2011 and 2014 guidance from the Education Department on how schools should address sexual assault and harassment, as well as 2016 guidance on transgender students. The groups also want the Education Department to continue publicizing the names of schools under investigation for violations of Title IX, and to maintain a public list of schools that have requested religious exemptions to Title IX. In addition to the public campaign, End Rape On Campus and Know Your IX sent a letter of testimony emphasizing these points to leaders of the Senate HELP committee. Seventeen other rape victim advocacy groups co-signed the testimony.
There is a "misperception that the Obama administration 'created' survivors' rights," said Sejal Singh, a policy coordinator for Know Your IX. But without federal enforcement and guidance, Singh told BuzzFeed News, it will make it more difficult for young college students to know their rights.
"I also fear that, if the guidance were repealed, some schools would incorrectly believe that they were no longer required by law to respond promptly and equitably to gender violence," Singh said.
Unlike executive orders, Trump cannot unilaterally rescind Education Department guidance documents. The US Department of Education would need to issue new guidance and state that it was replacing previous documents issued by the Obama administration. The Education Department could also decide to "archive" the previous guidance documents, by deleting them from its website so officials could no longer refer to them for policy questions.
Rape victim advocates' approach to DeVos, since she has virtually no record on these issues, stands in contrast to how they have approached Sen. Jeff Sessions' (R-Ala.) nomination as attorney general.
Know Your IX, the National Alliance to End Sexual Violence, and the National Task Force to End Sexual and Domestic Violence have issued statements opposing Sessions' nomination, largely due to his 2013 vote against the Violence Against Women Act's reauthorization, and because he did not agree that Trump saying he could kiss women and "grab them by the pussy" counted as sexual assault. Sessions's confirmation hearing starts Tuesday.