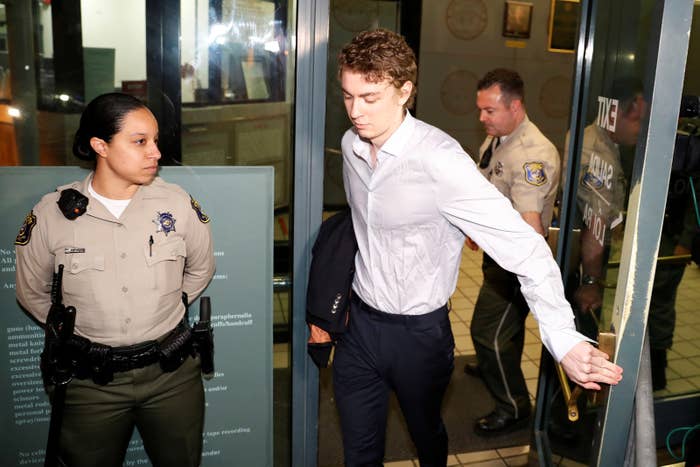 California Gov. Jerry Brown signed legislation Friday inspired by the case of convicted sex offender Brock Turner that stiffens penalties for people convicted of sexually assaulting an intoxicated or unconscious person and redefines rape.
One bill, AB 2888, mandates prison time for people found guilty of sexually assaulting an unconscious person. It was aimed at correcting what many people felt was too lenient of a sentence for Turner, who was convicted of sexually assaulting an unconscious woman on the Stanford University campus last year. Turner was ordered to serve six months in jail in June, a sentence that ignited national outrage, especially after a statement by his victim was posted on BuzzFeed News.
Though existing law required prison time for sexual assaults that involved force, it did not mandate prison time for sexual assaults of people who were unconscious or so intoxicated that they could not consent, as in Turner's case. AB 2888 was proposed by Santa Clara District Attorney Jeff Rosen to close the gap between the two types of offenses. The bill passed the State Assembly 66–0 in August.
A second bill signed by Brown, AB 701, expands the legal definition of rape in California to include "all forms of nonconsensual sexual assault." Previously, state law defined rape as an act of sexual intercourse accomplished through force, under duress, or lack of consent.
Both laws take effect Jan. 1, 2017.
A coalition of 29 anti-rape and student activist organizations had urged Brown to veto AB 2888, arguing that mandatory minimum sentences could discourage some victims from coming forward.
Mandatory minimums can deter victims — the vast majority of whom were assaulted by a friend, partner, or family member — from reporting an assault and seeking resources," the coalition said in a letter this month. "When survivors do come forward, mandatory minimums deter prosecutors from pressing charges against particular defendants — namely those who, like Turner, are white and wealthy — and make juries less likely to convict."
Brown, in his signing statement, said he had some concerns about the legislation but signed it into law because "I believe it brings a measure of parity to sentencing for criminal acts that are substantially similar."
Turner was released on Sept. 2 after serving three months in jail.