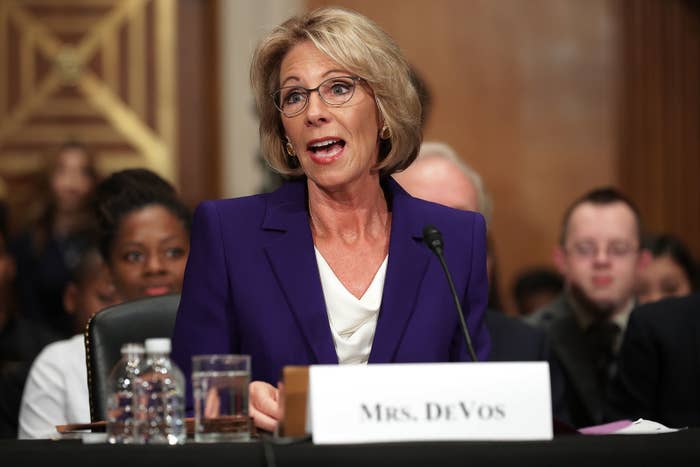 Betsy DeVos would not commit in a Senate hearing Tuesday to keeping federal rules in place for how schools must address sexual violence if she's confirmed as secretary of education, or that she wouldn't scale back federal Title IX investigations.
Sen. Bob Casey (D-Penn.) used all of his time during a Senate Health, Education, Labor & Pension Committee hearing to ask DeVos, Donald Trump's nominee for education secretary, about what she'd do to address campus rape.
The Obama administration ramped up federal enforcement of how colleges address sexual violence, starting in earnest with a 2011 Dear Colleague letter that dictated key policies that schools must have in place. Those policies included how long school investigations of sexual assault cases should take, what standard of evidence to use, what information should be shared with the alleged victims and accused students, among other items.
DeVos, however, said "it would be premature" for her to commit to keeping that 2011 letter in place.
"I know that there's a lot of conflicting ideas and opinions around that and, if confirmed, I would look forward to working with you and your colleagues and understand the range of opinions, and understand the views of the higher ed institutions that are charged with resolving these and addressing them, and I would look forward to finding some resolutions," DeVos further told Casey.
DeVos declined to say whether the preponderance of the evidence standard, which means at least 50% certain of someone's guilt, should be used in campus adjudications of sexual violence. Most colleges used that standard prior to 2011, but there were still some holdouts until the Education Department issued its Dear Colleague letter.
"If confirmed, I look forward to understanding the past actions and the current situation better, and to ensuring that the intent of the law is actually carried out in a way that recognizes both the victim, the rights of the victims as well as those who are accused as well," DeVos said.
Casey quickly turned to Twitter to voice his reaction to DeVos's answers.
The ranking Democratic member of the committee, Sen. Patty Murray (D-Wa.), also raised concern in her opening remarks about how DeVos will deal with sexual assault issues.

"I'm very interested in your thoughts on Title IX and how we can do everything possible to end the scourge of campus sexual assault," Murray said. "I was not happy about how you talked about this issue when we met. I'm hopeful you have learned more about it since then and are prepared to address it seriously."

Democrats repeatedly complained in the hearing to Sen. Lamar Alexander (R-Tenn.), chairman of the committee, that they were not allowed more than five minutes of time to question DeVos.
Casey and Murray sent a letter to Trump earlier this month asking that his administration not roll back Title IX guidance documents sent by the Education Department under President Obama, particularly the the 2011 Dear Colleague letter.
At the end, Murray brought up Trump's remarks about how he's able to grab women "by the pussy," and asked DeVos, "If this behavior, kissing and touching women and girls without their consent, happened in a school, would you consider it sexual assault?"
"Yes," DeVos responded.
Murray then asked if DeVos she would promise not to "rein in" the Office for Civil Rights, the department's agency that investigates whether schools mishandled sexual assault cases.
"Senator, if confirmed, I commit that I will be looking very closely at how this has been regulated and handled with great sensitivity to those who are victims and also considering perpetrators as well," DeVos said.

Advocates for sexual assault victims have increasingly voiced concern that DeVos has donated thousands to the Foundation for Individual Rights in Education (FIRE), a civil liberties group that sponsored a lawsuit last year charging that the 2011 Dear Colleague letter was issued illegally. Top officials at FIRE told BuzzFeed News that they haven't had substantive conversations with DeVos since her nomination. Robert Shibley, the executive director of FIRE, said he's never met her.
FIRE has repeatedly criticized the Obama administration's crackdown on how colleges handle sexual violence. But Ed Patru, spokesman for a group called "Friends of Betsy DeVos," noted FIRE doesn't just focus on sexual assault.
"It's a mistake to cherry pick a single issue, from any multi-issue organization, and extrapolate from that a conclusion as to how she may come down on a hypothetical public policy question," Patru told BuzzFeed News on Tuesday.
Other critics, like groups of law professors at Harvard and the University of Pennsylvania, have charged that the policies prescribed by the Education Department do not provide enough due process protection for accused students.
In the past five years, DeVos has also donated to Rep. Patrick Meehan (R-Penn.) and Sen. Marco Rubio (R-Fla.), who were original co-sponsors of recent legislation to increase rules on how colleges deal with sexual assault, according to paperwork she filed for the Senate HELP committee.
There are currently 301 federal investigations ongoing into how 222 colleges and universities handled sexual assault cases, and another 110 K-12 school districts under similar Title IX probes.