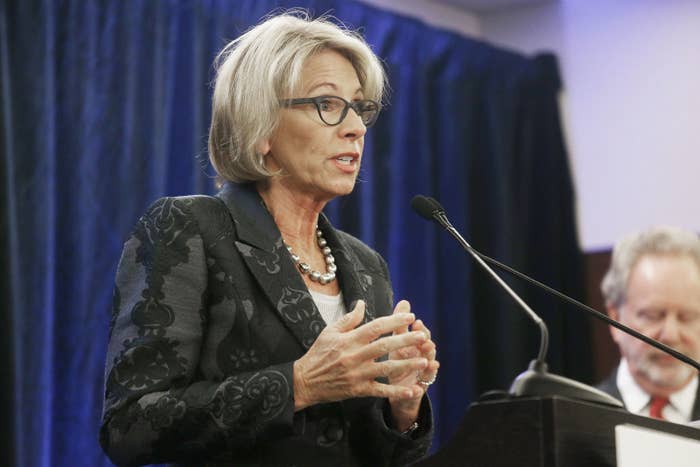 US Secretary of Education Betsy DeVos is planning to make a major announcement on Title IX, the campus gender equality law, on Thursday at George Mason University, BuzzFeed News has learned.
DeVos will speak at George Mason's Antonin Scalia Law School, named for the late conservative Supreme Court justice, according to a source with knowledge of the event and preliminary planning reviewed by BuzzFeed News. Federal officials have described Thursday's event to school officials as focused on Title IX policy "centered around equal opportunity and equal protection for all."
Insiders expect this to be an announcement regarding what the US Department of Education will do regarding Obama-era directives on campus rape. A representative for the department did not immediately return a request for comment about the event. The department is expected to make a public announcement on Wednesday evening about the event at the school's Arlington, Virginia campus, the source told BuzzFeed News.
People in the education policy world are closely watching what the administration will do with a 2011 directive, called a Dear Colleague letter, issued by the Education Department that prescribed what schools must do when a student reports a sexual assault. The 2011 directive laid out how long campus investigations should take, what standard of evidence to use, and that schools could not simply defer to police to handle reports of sexual assault.
Advocates for rape survivors say the letter has been key in getting colleges to crack down on sexual assault and treat victims better. But critics, including law professors, attorneys, and some members of Congress, have said the letter pushed schools toward practices that didn't give students accused of sexual misconduct a fair shot at defending themselves.
Under DeVos's leadership, the department has signaled significant changes are coming to federal policy on how schools deal with sexual violence under Title IX. She declined during her confirmation process to commit to keeping the 2011 guidance in place, and said in July, after a day of meeting with attorneys, survivors, and students accused of assault, that changes to Title IX policy needed to come "quickly."
Sources recently told BuzzFeed News that Candice Jackson, the acting head of the department's civil rights office, wants to open up the 2011 directive for changes by putting it through a process called notice-and-comment. The process allows the public to weigh in on what aspects of the directive should be changed or kept. Critics have argued that the directive was invalid because it didn't go through this process to begin with. The department recently asked for lawsuits that challenged the directive's legality be put on hold while it reviews the guidance.
Stakeholders are also watching to see whether the department will stop publicly disclosing which schools are under investigation for potentially violating Title IX in handling sexual assault complaints. Jackson has referred to this as a "list of shame," and suggested that people could still file Freedom of Information Act requests to find out which campuses are being investigated, according to sources who've met with her in recent weeks.
In February, the department withdrew Obama-era Title IX guidance on transgender students. DeVos defended the move, saying the directive on trans students was an "overreach."