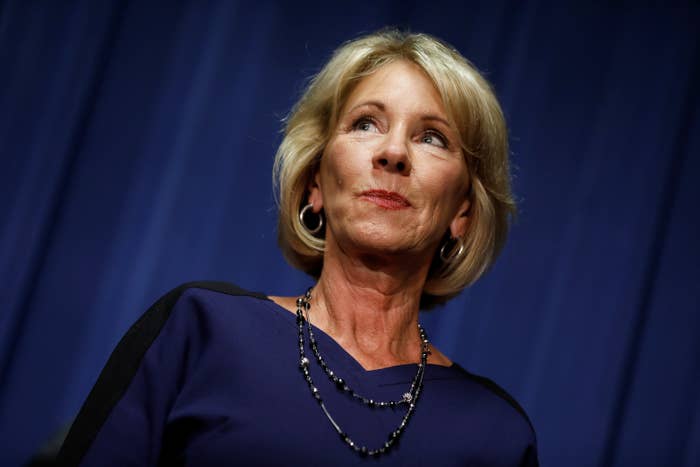 The top prosecutors for 19 states and the District of Columbia sent a letter on Wednesday to US Secretary of Education Betsy DeVos demanding she keep Obama-era campus rape rules in place.
The 20 attorneys general, all Democrats, said they worried DeVos would rush through reforms undermining protections for rape victims in college. New Mexico Attorney General Hector Balderas said DeVos has taken a "reckless approach to governing," and that rolling back mandates put in place under the Obama administration would "put students in danger."
"It's consistent with the new Trump policies where they are really leaving vulnerable populations to fend for themselves, and that's simply un-American," Balderas, the letter's coauthor, told BuzzFeed News.
DeVos is considering changes to how the department enforces the gender equity law Title IX as it pertains to school responses to sexual assault reports. Last week, she and Candice Jackson, the department's top civil rights official, met with rape survivors, students accused of assault, and attorneys to discuss sexual violence on campuses. One of those meetings included members of a men's rights group, outraging victims' advocates and Democratic lawmakers.
Josh Shapiro, Pennsylvania's attorney general who organized the letter, told BuzzFeed News the signatories were prepared to take legal action to ensure Title IX protections stay in place. "The 20 AGs who signed that letter were putting Secretary DeVos on notice that we support the current regulations, and if she rolls them back, then she will have us to deal with further," Shapiro said. When asked what he meant by that, Shapiro replied, "We'll see what actions she takes. What I can tell you is we are committed to ensuring these protections stay in place. And if need be, we'll take legal action to try and protect victims."
The state attorneys general want DeVos to retain a 2011 directive that laid out rules for how schools should handle sexual assault cases. They also want the department not to roll back a 2014 document issued by the White House's now-disbanded campus rape task force that expanded on the 2011 mandates.
Critics claim the Title IX rules have skimped on due-process protections for accused students, while victims' advocates have insisted the federal directives are critical in providing rights for campus rape victims.
"While we recognize that there is a great deal more that can be done to protect students and agree on the importance of ensuring that investigations are conducted fairly, a rushed, poorly-considered effort to roll back current policies sends precisely the wrong message to all students," the attorneys general wrote in the letter to DeVos. "Yet there is every indication that is exactly the approach your Department is taking."
The attorneys general focused on comments Jackson made last week to the New York Times, suggesting that 90% of campus rape cases were instances of drunken regret. Jackson apologized and said her remarks were "flippant." The third-ranking Democrat in the Senate, Patty Murray of Washington, called on DeVos to fire Jackson over the comments.
The group stopped short of calling for Jackson's resignation, writing, "we have serious concerns as to whether Ms. Jackson can be entrusted to oversee a fair, thorough process in evaluating the Department's policies in this area."
The attorneys asked DeVos not to take any significant steps without further input from people affected by the policies, and suggested convening a bipartisan group of state attorneys general.
Many of the attorneys general are also part of a lawsuit against DeVos over changes to college financial aid rules that were meant to protect defrauded students.