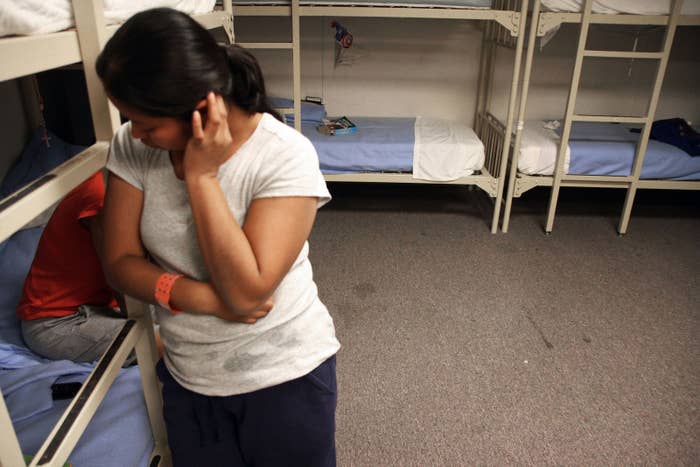 Asylum-seekers who are victims of domestic abuse, sexual assault, and human trafficking are listed in a new online searchable database launched by the Trump administration, according to an advocacy group, which calls the practice both dangerous and illegal.
The US Department of Homeland Security rolled out the Victim Information and Notification Exchange, or VINE, last month, with a stated purpose to allow victims and witnesses of crimes to be notified when a detained immigrant is released or moved. However, the Tahirih Justice Center, a nonprofit that assists immigrants experiencing abuse, said it identified a major privacy concern that would let assailants track their victims.
Immigrants listed in the database include those who have applied to stay legally in the US as victims of domestic violence, sexual assault, and human trafficking under the U or T visa program and the Violence Against Women Act, the Tahirih Justice Center found. But under federal law, DHS is generally prohibited from releasing any information about immigrants applying for these protections to third parties.
"We are extremely concerned about this unlawful disclosure of victims' federally protected information," the Tahirih Justice Center wrote to DHS on Thursday. "Their listing in the public database is a violation of federal statute which carries significant penalties under the law, and puts survivors' lives in danger."
Advocates flagged another major privacy concern with VINE last month quickly after the rollout. The Los Angeles Times reported that names of minors, including children as young as 3 months, were included in the database. DHS called it a lapse and fixed the problem. But immigration attorneys say the inclusion of names of asylum-seekers remains a major issue.
The people in the database are currently being held in DHS custody. It's an automated system, so people booked for major criminal offenses are dumped into it along with people detained due to their immigration status, or because they were busted with a minor crime like a traffic violation. It lists where they are located, their custody status, and additional immigration history.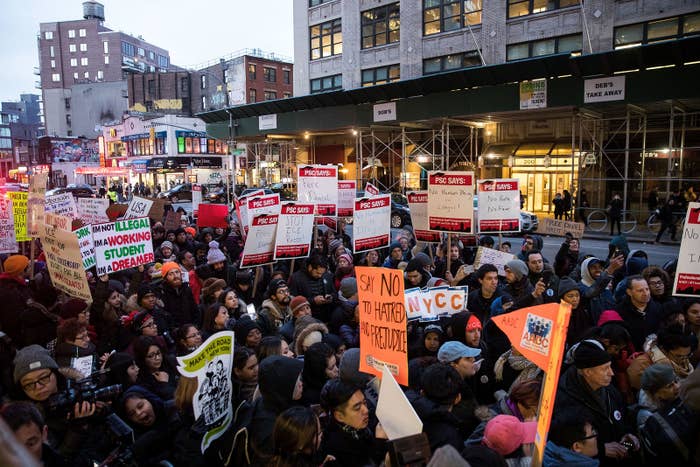 On May 12, Tahirih sent a letter to DHS demanding that Immigration Customs Enforcement immediately remove the asylum-seekers from the database. It sent a second letter Thursday after the organization found this week that the abuse victims were still listed.
"ICE continually strives to ensure that information protected both by policy and law is never divulged," Thomas Byrd, an ICE spokesman, said in a statement to BuzzFeed News. "When the agency receives evidence suggesting that non-releasable information is unintentionally available, immediate actions are taken to ensure proper mitigation both to correct and to prevent further disclosures."
Recent ICE raids and arrests of abuse victims by ICE agents are scaring domestic violence victims from seeking help, advocates for immigrants have warned. Police in two major cities, Houston and Los Angeles, have said fewer Latinos are reporting sexual assaults, possibly due to deportation fears. Several other cities contacted by BuzzFeed News in recent weeks, including Omaha and Philadelphia, said they were not seeing a similar drop. However, about 3-in-4 victim advocates and attorneys recently surveyed by seven national organizations, including Tahirih, reported that immigrant victims of abuse have expressed fears of deportation if they go to police to report the abuse or go to court to press charges or seek restraining orders against their abusers.
Many abusers of immigrants, advocates say, often threaten their victims with deportation as a way to prevent them from reporting the assaults.
Archi Pyati, Tahirih's chief of policy and programs, told BuzzFeed News the Tahirih staff began finding their clients' names in the database and asked other attorneys around the country who do similar work if they were seeing this as well; they were. It's both genders from a range of ages at different types of facilities, Pyati said, but "all of them are victims of crimes."
"When an abuser or a trafficker or someone else is interested in finding out where that individual is being detained, and when that person is released, they can now find out that information," Pyati said.
A DHS privacy assessment from January said the agency was mitigating this risk by requiring people who use the database to check a box verifying they are "eligible registrants," defined as "victims and witnesses associated with aliens charged or convicted of a crime."
If DHS can't find a way to filter out these abuse victims, the Tahirih Justice Center wants the department to shut down the database entirely.