A Professor Who Faced Losing Tenure After A Sexual Harassment Case Just Quit Instead
The case of Andrew Escobedo at Ohio University underscored what some critics say is a problem in the tenure system: the protection of professors accused of sexual misconduct.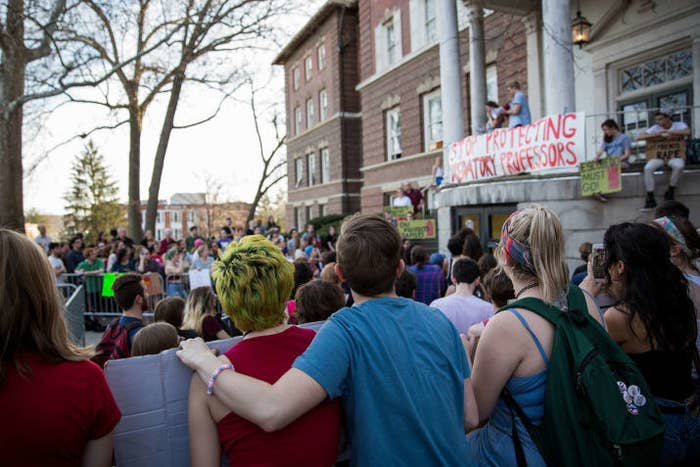 A professor accused of groping and sexually harassing female students will quit after a months-long effort to keep his job at Ohio University, where administrators had recommended he be fired.

Andrew Escobedo, a tenured English professor at Ohio University, submitted his resignation on Friday, school officials said. Escobedo's resignation came a day after BuzzFeed News reported on how academic tenure sometimes protects professors found to have violated sexual misconduct rules. The story focused on two women who reported early last year that Escobedo had groped them in December 2015. The women, Christine Adams and Susanna Hempstead, wanted to see Escobedo lose tenure and be fired, rather than just quit, so that he couldn't retain his academic reputation and move on to a job at another campus.
Ohio University President M. Duane Nellis said on Friday that he accepted the resignation after a "deliberative and thoughtful review of what is best for our university community" that included consulting with other top administrators.
"Brave women and other people in our community stepped forward to bring intolerable behavior to light," Nellis said in a statement. "The healing process I envision is not one that will dim this light but rather intensify our efforts to ensure our community is a safe place to learn and work."
A university investigation concluded in December 2016 that Escobedo violated the school's sexual misconduct policy, substantiating claims that he made unwanted advances to multiple women as far back as 2003. Top administrators, including the previous president of the university, all agreed that Escobedo should be terminated. But because Escobedo had tenure, he remained on paid leave until he could plead his case before the faculty senate. That hearing was scheduled for Sept. 1.
Escobedo's resignation takes effect Nov. 1. That's the same day as the university board of trustees' next meeting, at which they could have confirmed his firing if the faculty senate recommended it.
Escobedo will not receive severance or compensation after his resignation takes effect, a university spokesperson said.
Escobedo "violated the professional, ethical responsibility he owed you as a student," administrators wrote in emails to the two grad students who first reported Escobedo, triggering the investigation. "As a result of your courage in coming forward, the University was able to hold Professor Escobedo accountable for his actions."
In a statement Monday, Escobedo maintained he'd done nothing wrong and said the claims against him "are not fair." He said the university had "made clear to me and my lawyers that they planned to fire me no matter what," and that he had decided to resign based on what was "in the best interest of my family and my finances."

This story has been updated to include comment from Andrew Escobedo.