At the end of a daylong volleyball tournament in Milwaukee, Erich Vlach walked up to Gina Pernacciaro and handed her a large envelope full of papers, with instructions to read them when she got home. Pernacciaro thought it was very odd, but not nearly as odd as what was in the documents themselves.
They included a handwritten, 31-page, signed mea culpa with a startling confession: Vlach had sexually assaulted Pernacciaro while she slept three years earlier. In between bizarre mentions of his mother's breasts, God, Thomas Edison, and mozzarella sticks, the manifesto described how Vlach had groped multiple women — at least four, including Pernacciaro — while they were unconscious or asleep, and how he didn't think he'd done anything wrong.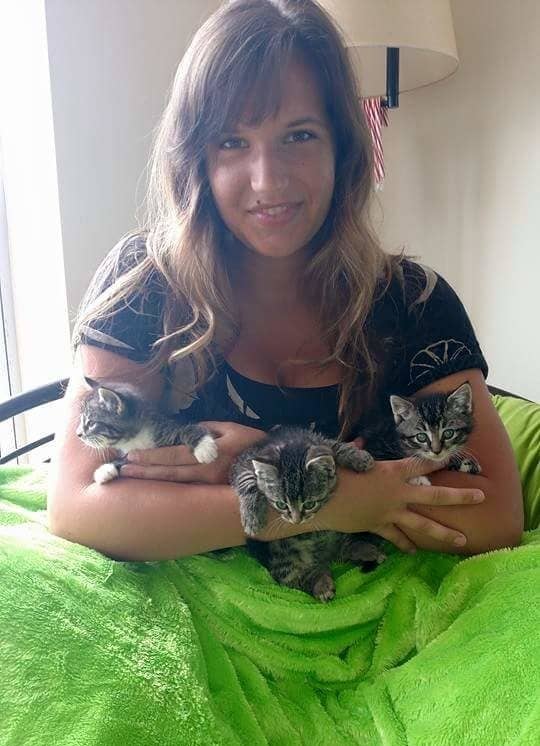 "I never knowingly did anything wrong in my life," Vlach wrote in neat block letters as he detailed the instances of groping, beginning with Pernacciaro in 2013 and ending in the fall of 2015. That's when a woman known in court documents as JEK woke up to find Vlach fondling her breasts and crotch and reported him to police in Madison, Wisconsin, where both were staying that night. Vlach, in the manifesto he gave Pernacciaro, defended his actions in that case, saying he was merely trying to warm up his hands. "I did not see any harm in what I had done since I did not do anything to physically cause injury" to JEK, wrote Vlach, whom JEK considered a platonic friend.
"Regardless of what female was lying next to me in that hour of the morning," Vlach added, "I would have done exactly the same thing to them too."
Despite his rambling confession, Vlach is free, and he's unlikely to face much prison time if convicted of assaulting JEK. That's because, just like in the cases involving Pernacciaro and another unnamed woman, prosecutors have only charged Vlach with fourth-degree sexual assault, a misdemeanor that carries a maximum nine-month sentence. The way things are going, Vlach, whose next court date is Aug. 4, might avoid ever appearing on the sex offender registry. That enrages Pernacciaro, who says attorneys' explanations are that Vlach, now 23, was a smart kid with a supportive family, and that at least one of the cases involved alcohol.
"This really did kind of change my whole life," Pernacciaro, 25, told BuzzFeed News. She studied criminology at Marquette University in Milwaukee, but says this experience has led her to drop her plan for a career in law enforcement. "I don't want to tell future victims that it's going to be better and it's going to be OK, because it wasn't for me."
On Sept. 20, 2015, JEK said she woke up before dawn to find Vlach with a hand up her shirt, fondling her breasts under her bra, according to the criminal complaint. She and Vlach were classmates at Marquette with no romantic history and had attended a party together, she later told police. JEK fell asleep that night on a futon on the porch of the house where the party was held. After waking up to Vlach pawing her, JEK told police she shifted her body to get out of Vlach's grip, but that he moved his hand down her body to her genital area. Because Vlach is 6 feet 4 inches tall, and because the two were alone on the porch, JEK — who was 18 at the time — told police she was concerned about what might happen if she told Vlach to stop.
JEK didn't immediately report the incident, which isn't unusual in sexual assault cases. But two weeks later, she told officials at Marquette University, and a victim's advocate on campus contacted police. The university ordered Vlach to stay off campus, and he was arrested and put in jail when he was accused of violating that order. It was during his days behind bars that Vlach wrote the 31-page confession, which he called his "mea culpa" and which BuzzFeed News obtained.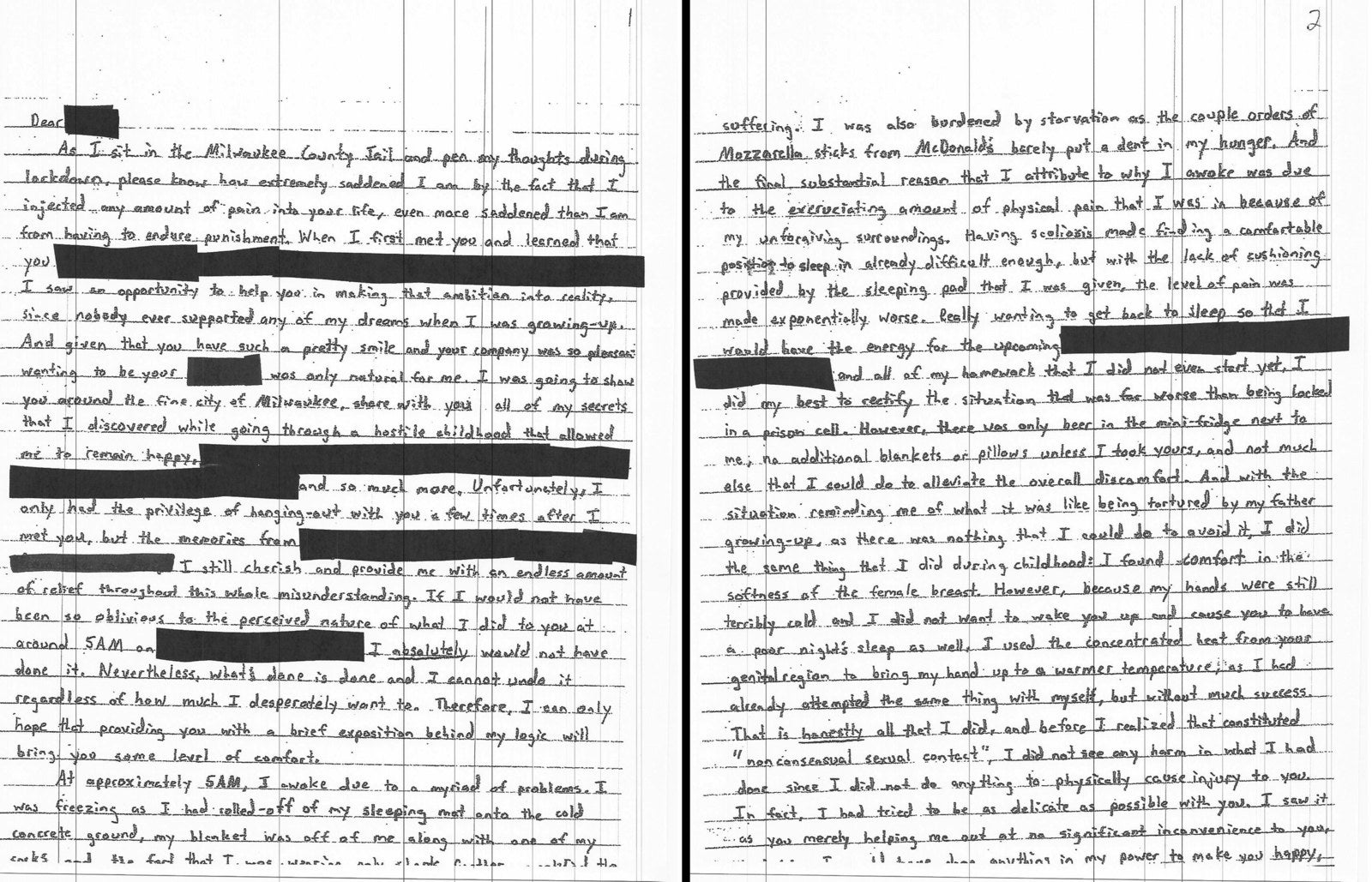 "I found comfort in the softness of the female breast," Vlach wrote as he described waking up with cold hands and searching for relief. When JEK's breasts did not warm up his hands, Vlach wrote, "I used the concentrated heat from your genital region to bring my hand up to a warmer temperature." Vlach had done the same thing to other sleeping women and didn't consider it a crime, he said. In fact, Vlach portrayed himself as a guy who opposed sexual exploitation of women's bodies in the porn, entertainment, and advertising industries, and who sympathized with the "Free the Nipple" movement, a gender-equality campaign to let women go topless.
"If I were to run for office in the upcoming presidential election in an attempt to make America great again, this is the platform that I would stand firmly behind: remove the laws prohibiting exposure of the female breast," Vlach wrote.
"People I'll train will say, 'Well, our DA's office won't take a case if the victim's been drinking,' which baffles me."
Vlach's rambling manifesto was an apparent attempt to explain himself, perhaps to persuade people to forgive him. But in the process, he confessed to several sexual assaults. And when he got out of jail after his arrest for allegedly violating Marquette's trespassing rule, he gave a copy of the confession to Pernacciaro in January 2016 after the two had played at a volleyball tournament. The confession wasn't the only thing in the envelope. It also contained a six-page document he had written titled "Inside the Mind of Erich Vlach, Chapter 1: Gina Pernacciaro."
It opened with the words, "I am a weird person."
"The assault was three and a half years ago, but I found out when he handed me those documents," said Pernacciaro, who went to police.
The criminal complaint says that Vlach confessed to fondling Pernacciaro's breasts while she slept in November 2013. He also confessed to a detective that, after a furry convention in late February 2015, he fondled the breasts of a woman identified in court documents as LW when she was passed out in a vehicle. The complaint says that Vlach told an officer he believed LW was sexually active with others, and so he thought, "Why don't I try? There's no harm in it." LW didn't know about this until police contacted her.
In his two decades practicing law, Ryan Harrington had never seen a criminal case that started when the defendant wrote down an admission to crimes no one knew about.
"If Erich wouldn't have said anything, none of this would've happened," Harrington, Vlach's defense attorney, told BuzzFeed News. "Nobody would've knew what happened."
Vlach was charged in January 2016 with two counts of second-degree sexual assault in connection with the groping of Pernacciaro and LW. The felony charges could have landed Vlach in prison for up to 40 years, but under a plea deal the charges were reduced to two counts of fourth-degree sexual assault. Vlach pleaded no contest.
Michael Schindhelm, the assistant district attorney, said during the July 15, 2016, plea hearing that he reduced the charges in part because the case "relies almost entirely" on Vlach's admissions. Since Vlach's confession "notified the victims that anything had happened in the first place, I do give him some marks for character on that," Schindhelm said at the hearing.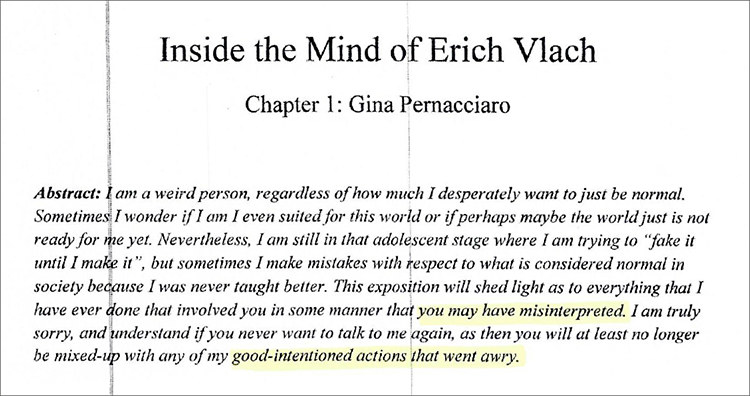 Harrington called the assaults "inexcusable" in court, and said Vlach was "mortified" at his behavior. He described Vlach as a "defense attorney's dream," as someone who is "bright and articulate," "well educated," "motivated," and with a great family support system. If Vlach hadn't been kicked out of Marquette, he would have graduated with a 3.5 GPA, Harrington said.
Pernacciaro objected to the plea deal, but the judge presiding at the hearing, Ellen Brostrom, accepted it. "Given all the positive things about the defendant, the state probably wanted to give him a chance at rehabilitation," Brostrom said.
"The reality is felony convictions have a pretty destructive effect on people's lives," she added.
"I truly believe that Erich is capable of darker things, and if given the opportunity he will reoffend."
Experts briefed on the Milwaukee charges said the plea deal made sense under the circumstances. Since Pernacciaro and LW had no memory of the assault, they said, it would have been difficult to win a conviction since the victims could not provide testimony.
"Yes, you want the victim to feel happy," said Dana Nessel, a Michigan defense attorney and former prosecutor. "But at the end of the day, you don't just represent that individual victim."
At Vlach's Aug. 2, 2016, sentencing hearing, his mother and sister begged Circuit Court Judge Jeffrey A. Wagner to not "treat him like a common criminal."
He was a dean's list student who volunteered at homeless shelters, and he deserved leniency, they argued. Wagner accepted the prosecutor's recommendations of four months in jail, sex offender treatment, and two years' probation. Wagner also declined to put Vlach on the sex offender registry, because a psychologist's report estimated that Vlach had a less than 3% risk of reoffending.
"I never knowingly did anything wrong in my life."
"Between the confessions to police and what he wrote, I just felt like there was so much evidence," said Pernacciaro, who hoped for a longer sentence and for Vlach to be added to the registry of sex offenders.
The Milwaukee County District Attorney's Office declined to comment.
Vlach was released in late 2016 after serving his four months. Pernacciaro then contacted detectives handling the case involving JEK. That case, like the other two, had been charged as a misdemeanor fourth-degree sexual assault, and Pernacciaro wanted to know why. According to Pernacciaro, a detective told her that prosecutors in Madison, where the incident with JEK occurred, generally don't like to take sexual assault cases in which both parties were intoxicated to trial, because it's a college town. JEK had acknowledged drinking the night she awoke to find Vlach groping her.
Anne Munch, an attorney and prominent consultant on sexual assault prosecutions, said that attitude was not unusual.
"I don't want to tell future victims that it's going to be better and it's going to be OK, because it wasn't for me."
"People I'll train will say, 'Well our DA's office won't take a case if the victim's been drinking,' which baffles me," Munch said. "What we know from studying offenders is alcohol is absolutely what they intentionally use to make victims vulnerable."
"To be frank, I think it's bullshit," Pernacciaro said. "I'm sorry, I know you can't use that word, but sexual assault is sexual assault. It doesn't matter your upbringing or if you have a 4.0 — you still can't commit sexual assault. Just because we're in college or on a college campus, that doesn't make it less so."
Pernacciaro was so determined to make sure JEK's case led to greater punishment for Vlach that she emailed the manifesto to a Madison detective. Up until that point, she says, the Madison detective in charge of Vlach's case hadn't been told of the document. "I truly believe that Erich is capable of darker things, and if given the opportunity he will reoffend," Pernacciaro wrote to the detective. "Erich should be on a sex offender registry so this doesn't happen to someone else."
A little more than a year ago, people across the country were outraged by the six-month sentence given to Brock Turner, a Stanford University student caught sexually assaulting an unconscious woman on campus. Turner was released after three months. Critics said his privileged background ensured lenient treatment.
Since the Turner case, similar ire has been directed at other young white men like John Enochs in Indiana and Austin Wilkerson in Colorado, who both avoided prison after facing rape charges. In Dane County, Wisconsin, where Vlach's case involving JEK is being adjudicated, a college student named Nathan Friar was last month spared jail time for a second-degree sexual assault conviction.
During Friar's sentencing, Judge Josann M. Reynolds cited three other cases in Dane County in which defendants had sexual assault charges lowered to misdemeanors. In one, a 21-year-old who allegedly had intercourse with a woman while she was unconscious was allowed to plead guilty to two misdemeanor charges and have his felony charge dismissed after two years' probation. In two other cases, adults — a 23-year-old and a 31-year-old — who were accused of assaulting teenage minors had their second-degree charges lowered to fourth-degree assaults.
"Indeed, the college campus culture of alcohol, hormones, [and] impulsive behavior is not a good combination," Reynolds said during Friar's sentencing. "In this instance, as in numerous other circumstances, it has resulted in poor choices; [the victim] being traumatized and Nathan Friar being a convicted felon and a registered sex offender. Any period of incarceration will not serve to deter him or others similarly situated."
Friar, a 4.0 student, high school valedictorian, and prom king, received eight years' probation.
"For Nathan Friar to walk away with eight years of probation when people go to prison for less severe crimes is absurd," Friar's victim told BuzzFeed News. She said the judge's attitude could discourage other victims from coming forward, "because in a sense she is saying that the perpetrator's life is more important than the victim's."
Ismael Ozanne, the Dane County district attorney, said he could not comment on specific cases. He also noted that his office has prosecuted a number of sexual assault cases that involved alcohol use.
"We as the state need more than just a confession to issue a charge and be able to prove a violation of the law occurred, we also need corroborating evidence," Ozanne told BuzzFeed News in a statement. In deciding whether to press charges, Ozanne said, it's crucial that prosecutors believe they can prove beyond a reasonable doubt that the alleged crime occurred.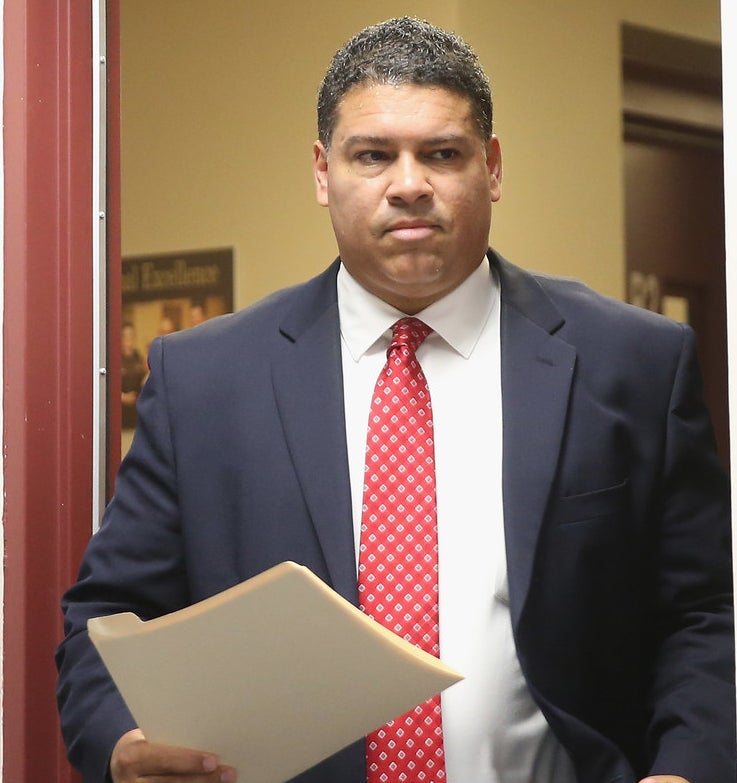 Harrington, Vlach's defense attorney, said negotiations remain ongoing about whether a plea deal will be offered.
At this point, many people have weighed in on what should happen to Erich Vlach. Cops from three police departments — Marquette University, and the cities of Glendale and Madison — investigated the allegations against Vlach and referred them to district attorney's offices in two separate counties: Dane and Milwaukee. Prosecutors in both counties moved forward with indictments. Multiple judges have reviewed the cases at this point. Psychologists have had their say. Vlach now has a criminal record and a collection of mugshots, and he has spent more time in jail than Brock Turner. And he still has a case open that could bring more punishment.
Yet Pernacciaro doubts that will happen, given the way Dane County has treated other convicted sex offenders, and given the fact that Vlach avoided being put on the sex offender registry after his earlier convictions.
While the prosecutor, defense attorney, and judge in Pernacciaro's case say Vlach would never have faced charges if he hadn't confessed, Pernacciaro says he only got caught because JEK woke up. Pernacciaro turned down job offers from two different police departments in the past year, she said, and now works in real estate. She's lost faith in the justice system.
"I studied the law, I understand it," Pernacciaro said. "I understand what should happen, and it's just not happening." ●