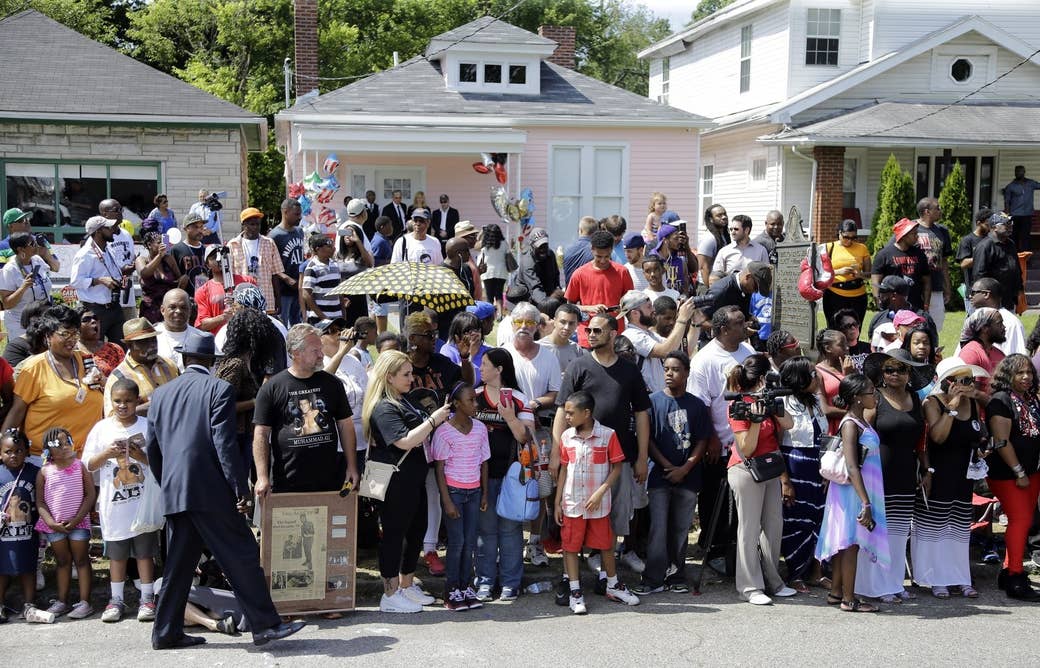 Being black in Louisville sometimes feels like being invisible. When I tell people outside of the state where I am from, the response is often some form of "There are black people in Kentucky?!" And it makes sense. When you think of Kentucky, you think of white people in camouflage and cowboy boots and belt buckles that are way bigger than they functionally need to be. In the segregated South, the image that wins out is usually the white one.
The visibility of black Louisville is an issue inside the city, too. I was born and raised in the West End of the city, which is predominantly black, and it often feels like we've all been tossed inside a box and left to fend for ourselves as the murder rate creeps ever higher. Louisville is one of the cities regularly featured on A&E's true crime show The First 48, and I have lost count of all the times I've recognized a street or house near my own in an episode. When I'm driving through the same streets, the asphalt crumbles into potholes because all the attention is focused on the other end of town. Factor in a history of tense race relations with the police and that feeling of invisibility increases; when the ones who are supposed to protect you are the ones killing you, whom do you appeal to for help?
Some days people see us, usually during the Kentucky Derby when the world turns its attention to the state for two minutes. The "most exciting two minutes in sports," sure, but two little minutes that nonetheless emphasize the horses more so than the people. Other days, we are phantoms, we are rumors, people the rest of the city and world have heard whispers of but never bothered to look for.
This isn't unique to Louisville, of course — to be black in any society still strangled by the toxicity of segregation and white supremacy is to be cast aside and forgotten — and it isn't all there is to the city. Louisville is also a joy, a bright, clean, artsy city full of warm and helpful people and some of the best food you'll ever eat in your life. It's a gem of a city that most people won't even see because there's not exactly a line waiting to go visit any place in Kentucky just for fun. And that's OK. That's y'all's loss. I didn't appreciate my city myself until I left it, and that was partially out of stubbornness; once I moved to the East Coast I double-downed on my Southernness as I noticed that people liked to try to discount me because of it, pat me on the head and tell me how cute my accent is when I'm trying to tell them something important or make a point, ask me if I have a horse and if the grass is really blue. I have become loud about where I am from, singing its praises every time I get the chance. Just like Muhammad Ali did.
When I heard that he died, I nearly collapsed beneath the weight of the fear that I might not be able to go home to send him off with my folks, but a few days later I was on a plane to Louisville for his burial and memorial service.
And as soon as I landed, I could feel a vibration that seemed to come up from the ground.
When you're from a town where nothing really happens, where national attention is rare, the day before a big event is a big deal. And as soon as I landed, I could feel a vibration that seemed to come up from the ground. A hum so constant and faint that I wasn't sure if I could actually hear it or not: the sound of blood rushing inside everyone's eardrums as they planned where to go, what to do, what time to do it, what to wear while doing it; the tinkling of gossipy whispers trying to figure out what celebrities we'd be sharing the air with for the weekend. It's exactly what the day before the Kentucky Derby feels like, everybody prepping for the one day of the year the world will see them before all the fun is over and we sink back into the bog.
Everyone in the airport looked like they were there for Muhammad Ali, either as press to cover the event or fans who felt honor- and duty-bound to come and pay their respects, and the airport welcomed them all with a banner that read "Louisville Honors #TheGreatest, 1942-2016, Muhammad Ali." But I was an insider. I didn't need maps or GPS. I was home. I had the advantage. I smiled to myself and wondered if this is what Ali felt like when he proclaimed Louisville "the greatest city in the world."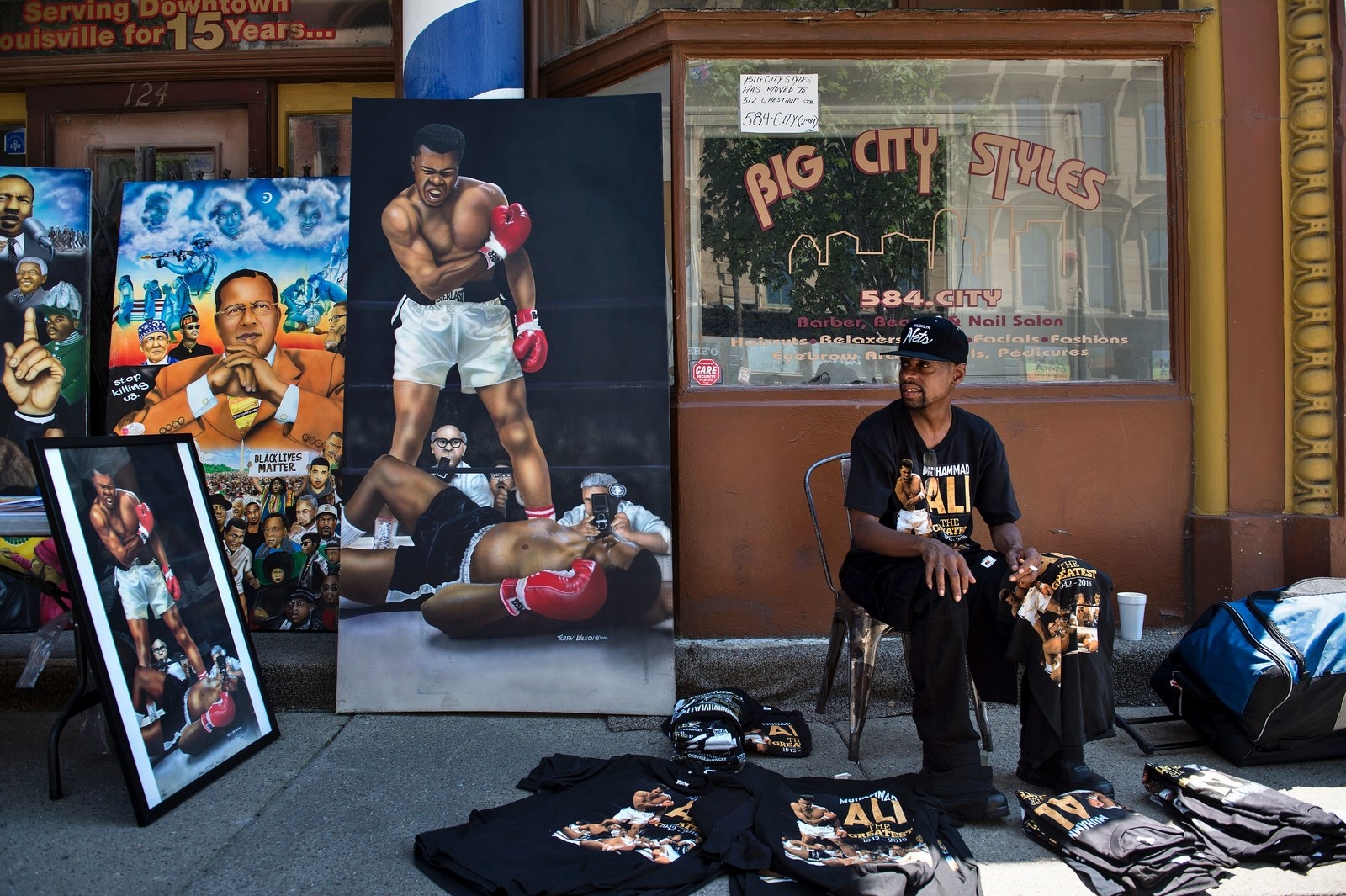 When I drove to my mother's house, the house where I grew up in the West End of Louisville with my mother, brother, and grandmother, I opted to skip the highway and cut through the streets of Louisville to get there. I love driving through the streets of the city from end to end. It is nostalgic and uncomfortable, watching the scenery go from clean, manicured, and freshly paved in the East End of the city to scrappy, potholed, and dotted with fast food wrappers in the hood. With a city as segregated as Louisville has been (and still is), you learn to love the whole of it, to shake your head at its shortcomings and praise it for its grit. You want to dismantle it and start all over and you also want to protect it from the opinions of people who don't understand its beauty or how to appraise it. Muhammad Ali was a perfect illustration of this complicated relationship. The same man who was driven to throw his Olympic medal in the Ohio River because of his city's toxic racial climate loved it openly and passionately. Like him, I believe that Louisville is one of the greatest places on earth, even as I whipped down Broadway cursing the city for continuously building dollar stores in the West End when what we really need is another functioning grocery store, for wagging its finger at us because of the litter while completely ignoring the dearth of trash cans they've given us.
But I smile as much as I cuss. The street is dotted with dusty marquees that wish the Champ a peaceful rest. Handmade "RIP" signs stand watch in the windows of beauty salons and check-cashing stores. Men sell black T-shirts emblazoned with Ali's face beneath white tents on every other corner or so. Things could be better, but there has always been a spirit of gratefulness here, the kind that can only come from a people who knows how crucial taking inventory of your blessings is to survival.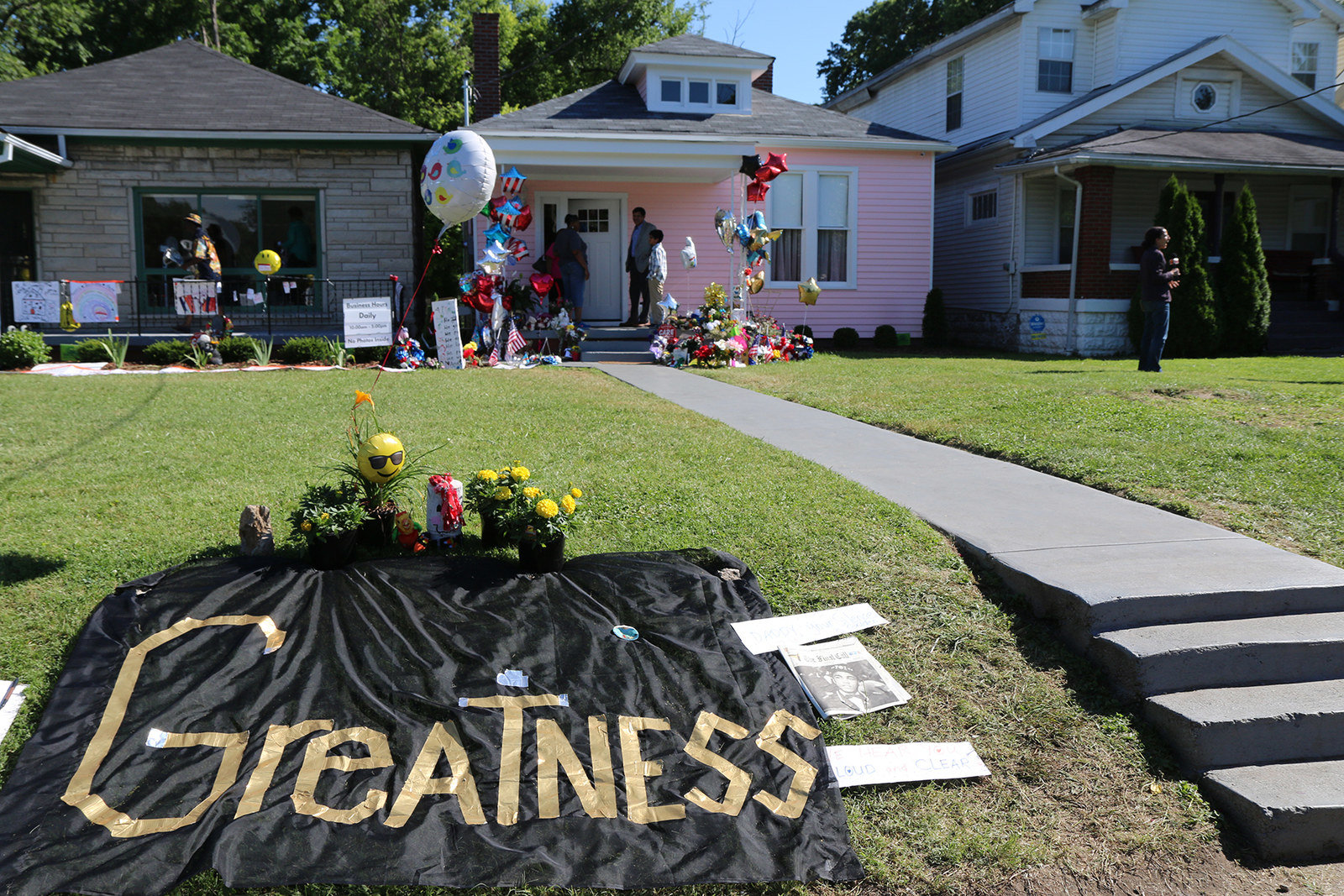 Muhammad Ali's childhood home is located at 3302 Grand Ave., not far from my mother's house. It took me a while to convince my mother to come with me to Ali's home, which was finally preserved after it sat dilapidated for an embarrassing number of years. Grand looks like every street I ran down barefoot as a child: tree-lined with small houses of one or two stories held in place by neat little lawns of the greenest green, sidewalk stained with mulberries. While the surrounding streets were oddly empty, Grand was bustling. Three news satellite vans had taken up residence in a driveway across the street from 3302. A woman a few doors down sold Afrocentric wares beneath a gazebo in her front yard, African black soap, adinkra-inspired jewelry, pro-black T-shirts. A small crowd gathered around a man helping her sell the shirts, gushing compliments. Up and down the street, people sat on their porches taking refuge from the hot Kentucky sun, sipping cold drinks and watching cars go by, one of my favorite hobbies. The bulk of the group assembled on the lawn and sidewalk of the house was black. I counted a total of eight white people in my 40 or so minutes there, and was surprised to see that many.
I wondered if there was any possible way he could have known who he would become.
The house itself is small, modest, and shockingly pink. A powder pink that you'd find at a baby shower. A convention of dried bouquets, balloons, American flags, and handmade signs covered the ground near the porch. There was a black sheet with the word "GREATNESS" spelled out in gold duct tape (black and gold are the school colors of Ali's alma mater, Central High School), and next to it, a piece of poster board appealing to President Obama to create a national holiday for the Champ, a petition all of us there would gladly sign. A tall black man in a black Ali shirt barked at people in a gravelly voice: "The next tour starts in 'bout five minutes! No cameras, no recorders! Eight dollars for everybody who ain't senior!"
I decided to fork over the 8 dollars to take a tour of the house. Once inside, I learned that the items in the house weren't originals, but vintage items that best matched the memory of Muhammad Ali's younger brother, Rahman Ali, who grew up in the house as well. It was a guided tour led by a woman who explained the significance of each room: the one Ali shared with his brother, the kitchen where their mother prepared meals to keep them healthy and strong (Rahman — then named Rudy — was a heavyweight boxer). Ali family photos adorned the walls between white canvases covered in black lettering that told Ali's story. The picture that stood out to me the most was of Muhammad Ali as a baby, likely too young to even walk, dressed in white, clear-eyed and so very small. He looked exactly like himself and I wondered if there was any possible way he could have known who he would become.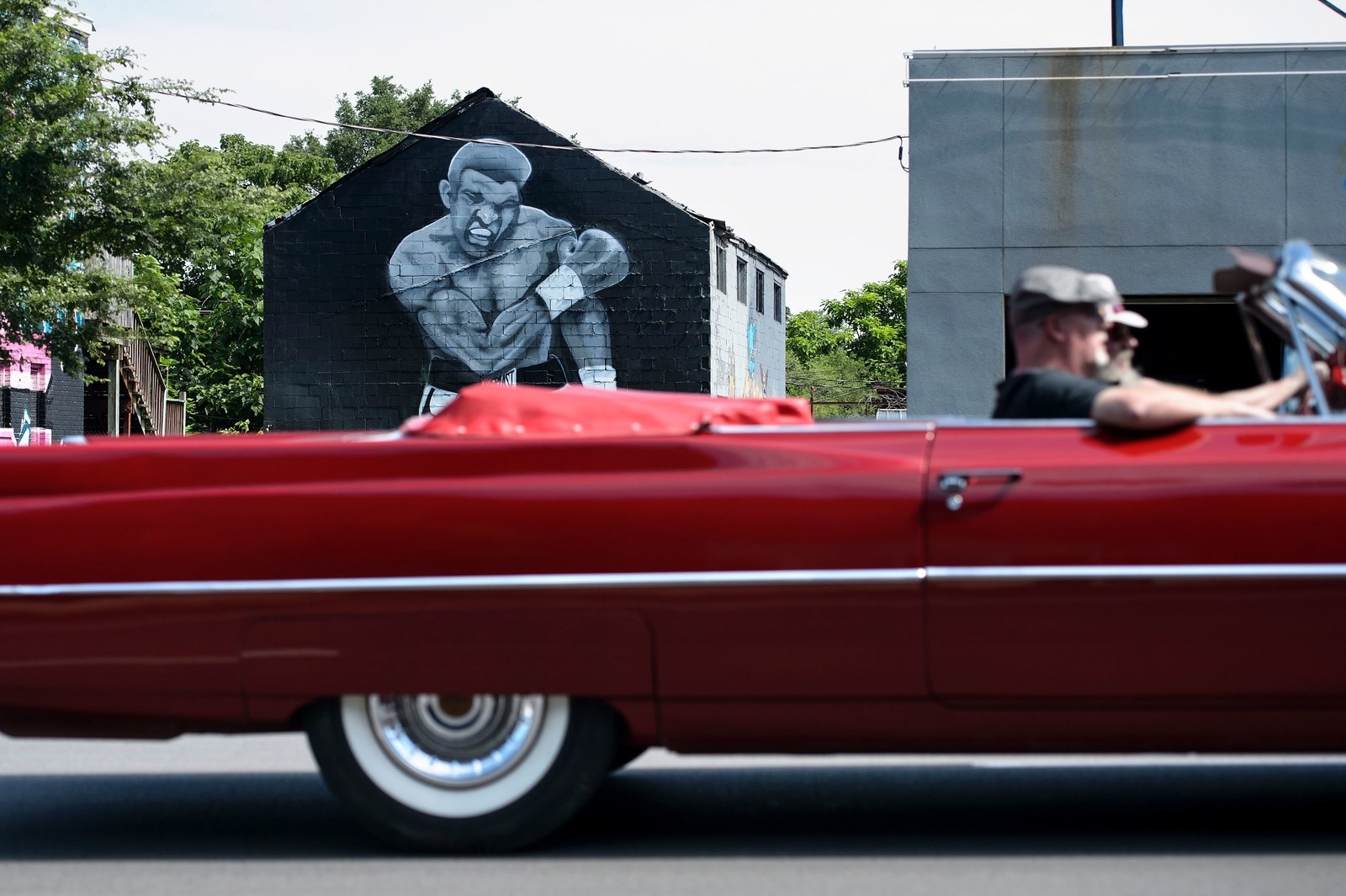 The day of Muhammad Ali's funeral and memorial service began quietly. There was to be a funeral procession that Ali himself had planned, traveling a route east to west through the city that wound through important landmarks that punctuated his life — the Ali Center, his alma mater, Muhammad Ali Boulevard, his childhood home — and ending at Cave Hill Cemetery, his final resting place.

Before I staked out a spot on the procession route, though, I decided to walk the 15 or so minutes to the Muhammad Ali Center. I found the streets emptier than usual, but slowly I began to notice small couplets and triplets of people popping onto 6th Street as I walked, many wearing Ali T-shirts, some with washrags hanging from their back pockets. It was hot and only expected to get hotter, and indeed, this day became the first 90-degree day that the city had seen this year. I soon noticed that we were all going to the same place and we arrived together, taking the concrete steps one at a time.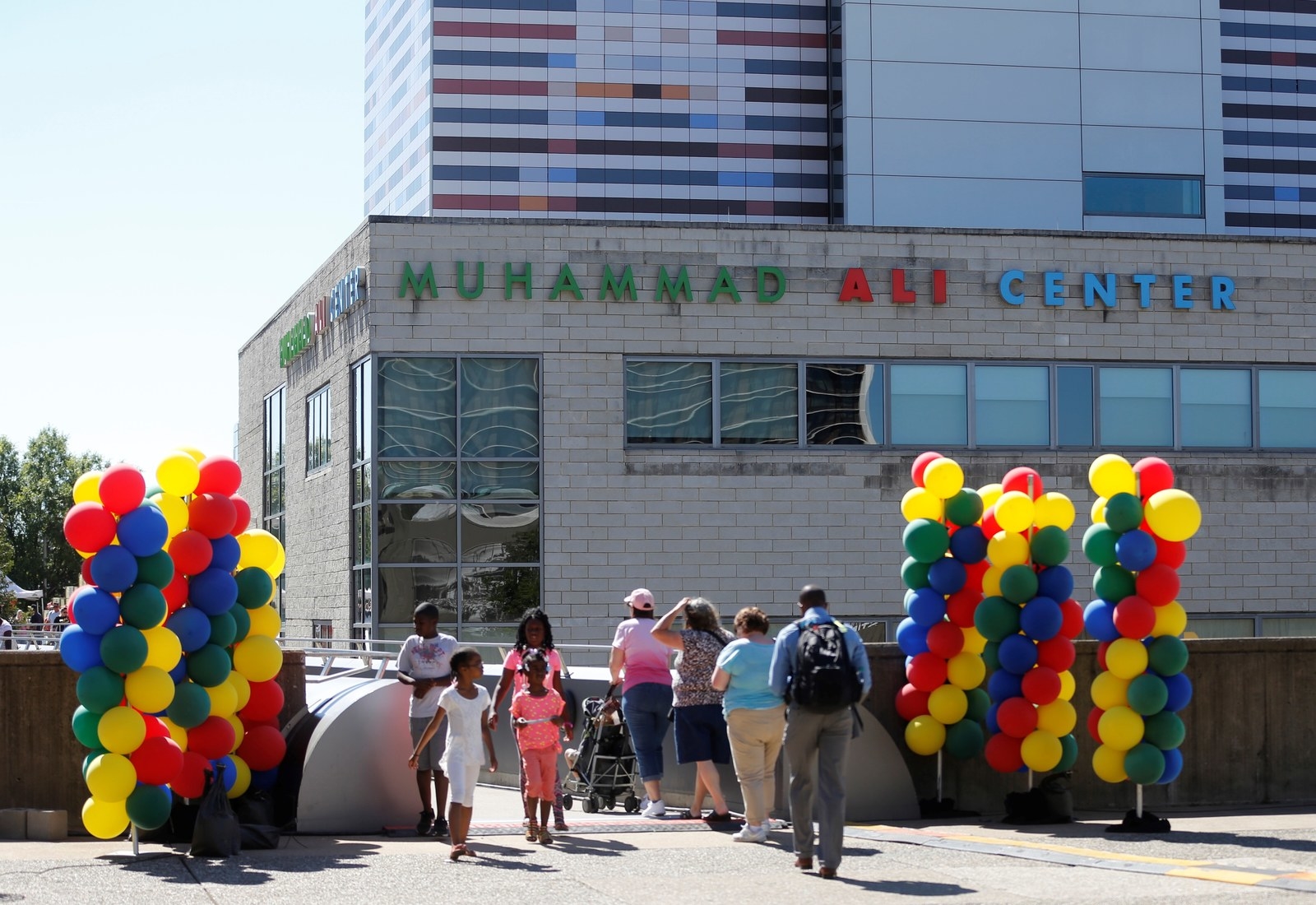 The Ali Center is a beautiful building built nearly 10 years ago, situated along the banks of the Ohio River, hidden snuggly in the city's skyline. Two sides are covered with mosaic murals of Ali's face in different expressions and dancing in the ring, respectively. It's an amazing building, so big and so full of information and bravado it's intimidating, not unlike the Champ himself. Very fitting, said some. Took them long enough, said others.
The fountainlike art display outside the center's doors was covered in tributes to the boxing great: flowers, boxing gloves, balloons, posters, stuffed animals, photos. I walked around snapping pictures of all the gifts left from out-of-towners. A flower wreath from Pakistan, a flag from Britain. Boxing gloves from Fort Worth. That all these people know that the city even exists humbles me, pushes me into a quiet space where I consider how very, very big the world is.
We were told that the procession would start at 9:30 and that those wishing to see the motorcade should be in place by 9:00 a.m. I hustled down to the corner of 9th and Market at around 9:30, panicked that I would miss it since that stop was pretty early on the route. I could have taken my sweet time, though, because it would be after 11 before the Champ finally passed us by. As the minutes ticked by, some started to complain. It was hot, our feet were tired, some hadn't slept the night before because they were on the road headed here. But no one left.
I stood and sweated out the minutes with the crowd, a group so diverse it would be easy to assume all we had in common was our love for Ali. The topic of conversation drifted to where everyone was from. There was a man and his girlfriend who had driven down from Indianapolis immediately after a 12-hour shift at work. He spoke so often about how tired he was I began to worry about whether he'd still be standing once Ali came through. There was a man there, short and brown with the most perfectly round head I think I've ever seen who was so inspired by the man we were there to honor that he named his son after him. Little Ali was there, too. They had flown out the day before.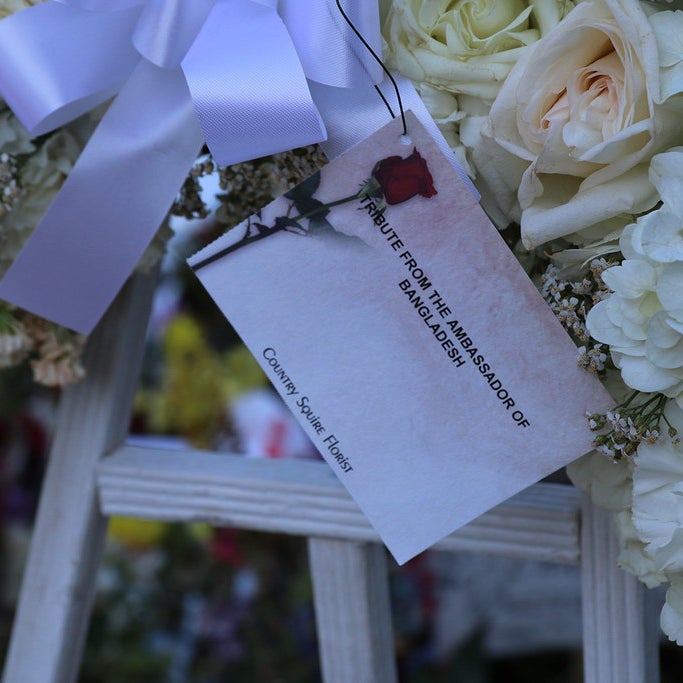 Tributes from around the world at the memorial for Muhammad Ali.
There were a couple of guys from Britain who flew all the way across the pond without tickets to the memorial who happened upon a nice motherly woman who happened to have two extra. She was there with her grandson and they were both impeccably dressed, so much so that I looked down at my own purple tennis shoes (known elsewhere as "sneakers") and low-cut tank top and felt self-conscious. She wore a knee-length black dress beneath a white jacket with a flowered collar, and he was in a three-piece suit pulled together by the brightest, crispest white oxford shirt I'd seen since I landed. She ushered him through the thicket of sun-fatigued people up to the curb. "I want to make sure you see this," she said.
"THE CHAMP IS HOME! THE CHAMP IS BACK HOME!"
The crowd passed the hour volleying between getting irritated and getting acquainted. We laughed, joked, whispered, introduced ourselves. The girlfriend or wife or whatever of the man from Indianapolis sat first on the grass, then on the curb watching news coverage of the procession on the news live-streaming from her phone, updating the crowd around her, and with each new development the crowd stirred a little more, inched just a bit closer to the curb. They're still at the funeral home. They haven't left yet. Wait, now they're gearing up. They're leaving in five minutes. They're 9 miles away. Some in the crowd tried to organize a chant of "Ali, bomaye!" Across the street from where I stood, a man I never saw with a booming voice yelled "THE CHAMP IS HERE!" then switched it to "THE CHAMP IS HOME! THE CHAMP IS BACK HOME!" "That's right!" someone else in the crowd yelled, moving everyone else to cheer. Cops walked the length of the street, firmly telling people to get back onto the sidewalk, but they were gentler than I'd anticipated. We soon saw the first three police cars coming slowly down the highway ramp, lights on, establishing the space that the cars to follow would need. The crowd filled the outer lanes with a gentle but urgent push. I turned to my left to make sure that little Ali could see; I wanted him to have the best seat there.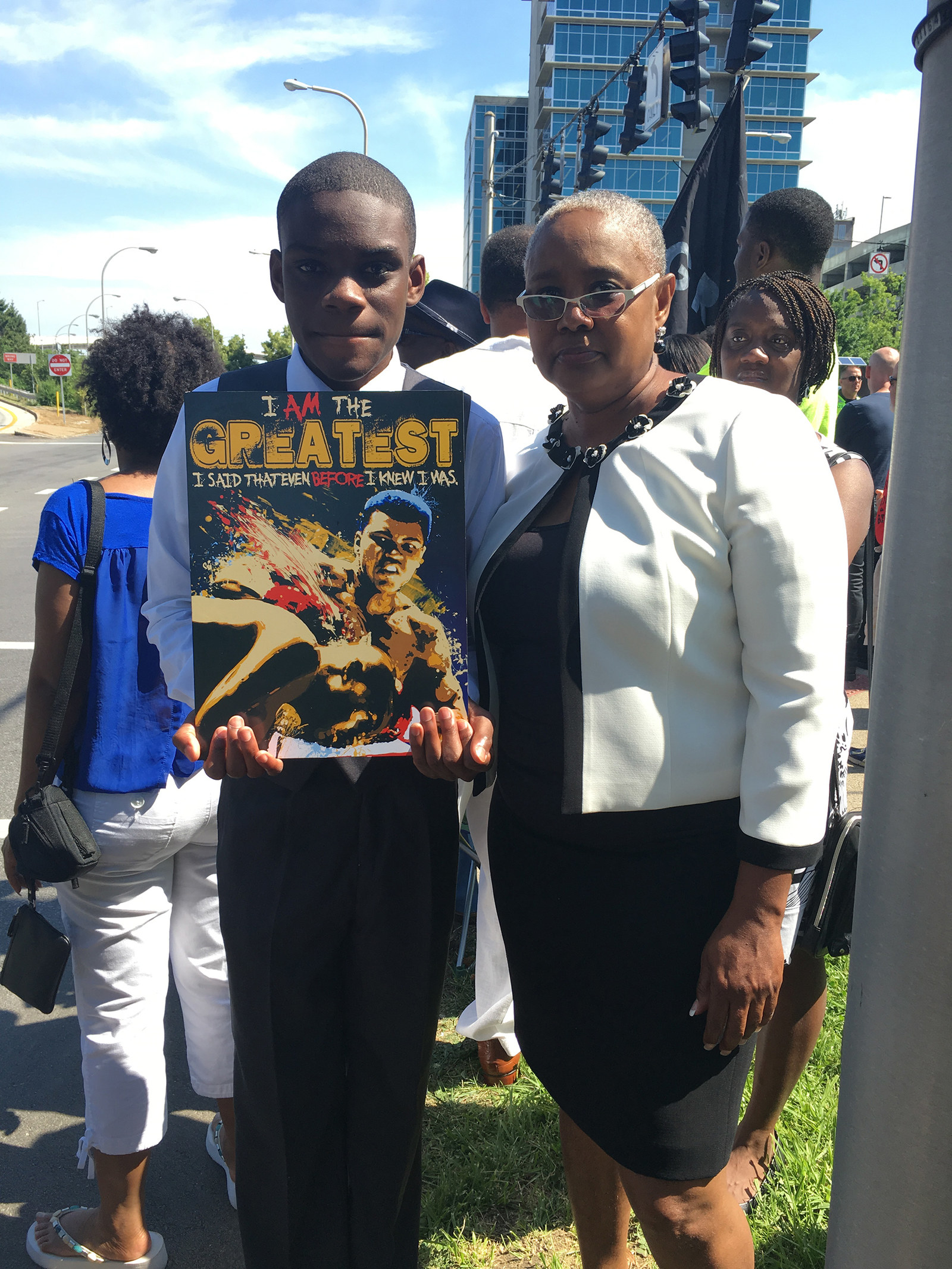 I was more moved than I expected to be. I was surprised to hear myself cheering along with the crowd. I was there as a journalist, to be objective, but in that moment I was definitely a Louisvillian first, cheering along with the rest of the crowd. I craned my neck to see who was inside the limousines that followed. All I caught was flashes of lipstick, a few out-turned palms waving to the throng, a couple of phones capturing the madness from inside. The caravan of limousines carried the Ali family and all their famous friends. "Ali!" the crowd yelled in disjointed unison. A woman next to me shouted "Ali, kum-ba-ya!" instead of "bomaye" and I chuckled.
And just like that, they were gone and it was over. As the crowd dispersed, I made my way to the impeccably dressed woman and the young man she was with.
She told me her name was Delores. She wasn't originally from Louisville but had lived there for 30 years, and she was with her 14-year-old grandson Dillon. I told her that I had noticed the urgency with which she ushered him to the front of the crowd, pushed through to get him a good spot on the curb. I asked her why that was so important to her.
"It was absolutely important to me that he was a part of this history... Even before Ali knew that he was great, he said that he was the greatest. He knew this ... sometimes you have to speak your future into existence; you speak it into the atmosphere and so it is, and so it was, and then he did the work ... that's what I want him to learn from this." Later we talked about how it made her feel to live in the city that gave birth to one of the greatest men in the world. "I'm so proud," she said and repeated it twice more with passion and emotion.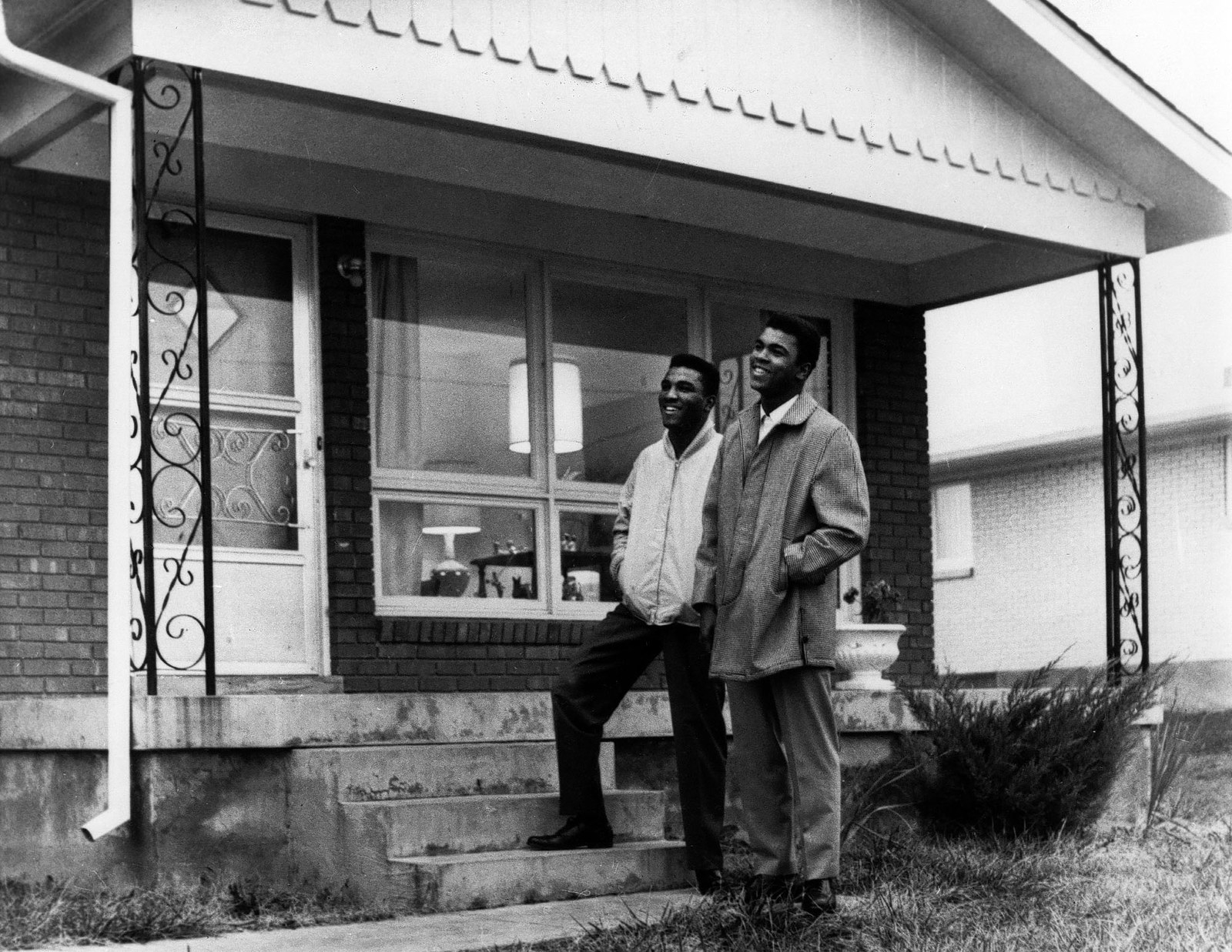 I went back to where I was staying to recharge and watch the rest of the motorcade coverage on television. The route continued on from my spot downtown into the west of the city, entering the hood headed to his childhood home. I watched the Cadillacs crawl through the outstretched aisle of spectators, by this point mostly black, and it wasn't long before I felt the stinging formation of tears behind my eyes. "The whole world is watching the neighborhood where I grew up," I said, and wiped at the tears cascading down the side of my nose. I felt so seen right then, and not because of some two-minute horse race. The lines of the route that Ali's body traveled made up the borders of myself, thick black lines that finally gave form to me, to all of us living in Louisville's West End.

The memorial ceremony was beautiful, full of exciting speakers of varying faiths and races as Ali himself had designed. A rabbi electrified the crowd with his calls for change and peace and his condemnation of mass incarceration, which I particularly enjoyed because former president and patron saint of mass incarceration Bill Clinton was in attendance. Actor Billy Crystal tickled the crowd with hilarious stories of their decades-long friendship and his spot-on impersonation of the Champ. Bryant Gumbel kind of bummed everyone out by reminding us that "our beloved champion is down. And for once he will not get up. Not this time. Not ever again" — as if we needed such a depressing reminder.
Though there was no choir or organ, it felt like being in a church congregation.
Though there was no choir or organ, it felt like being in a church congregation. We were engaged and supportive, verbally responding when we heard something we liked, much like the call-and-response of a black Sunday service. We cheered and whooped wildly whenever a speaker called the city by its name or said something nice about it. There was big applause for Valerie Jarrett, who came to deliver the statement that President Obama himself set aside the time to write. When Attalah Shabazz, the daughter of the man once known as Malcolm X, got emotional reminiscing about her father's good friend, someone sitting near me said, "That's all right. Take your time," even though we were far too high up for her to have heard. Being seen or heard by the family wasn't the point. When you love someone, you look for ways to be in service to them; you appreciate opportunities to go out of your way to express that love. That's what this was.
On the way back to my quarters, I found myself walking in front of a group of three or four white men in suits. "I wish they would have left politics out of it," one said to the other, mostly in regard to Billy Crystal saying that we should "build bridges, not walls." The others mumbled their agreement. I turned and shot them an annoyed yet pitying look and contemplated correcting them by saying, "But these were Muhammad Ali's politics, not just his. You don't get to forget that. You don't get to ignore the parts of him that make you uncomfortable; if you love him, you are to love all of him." But I didn't. After hearing two hours of stories about Ali's kindness, patience, and compassion, I decided to try some out for myself.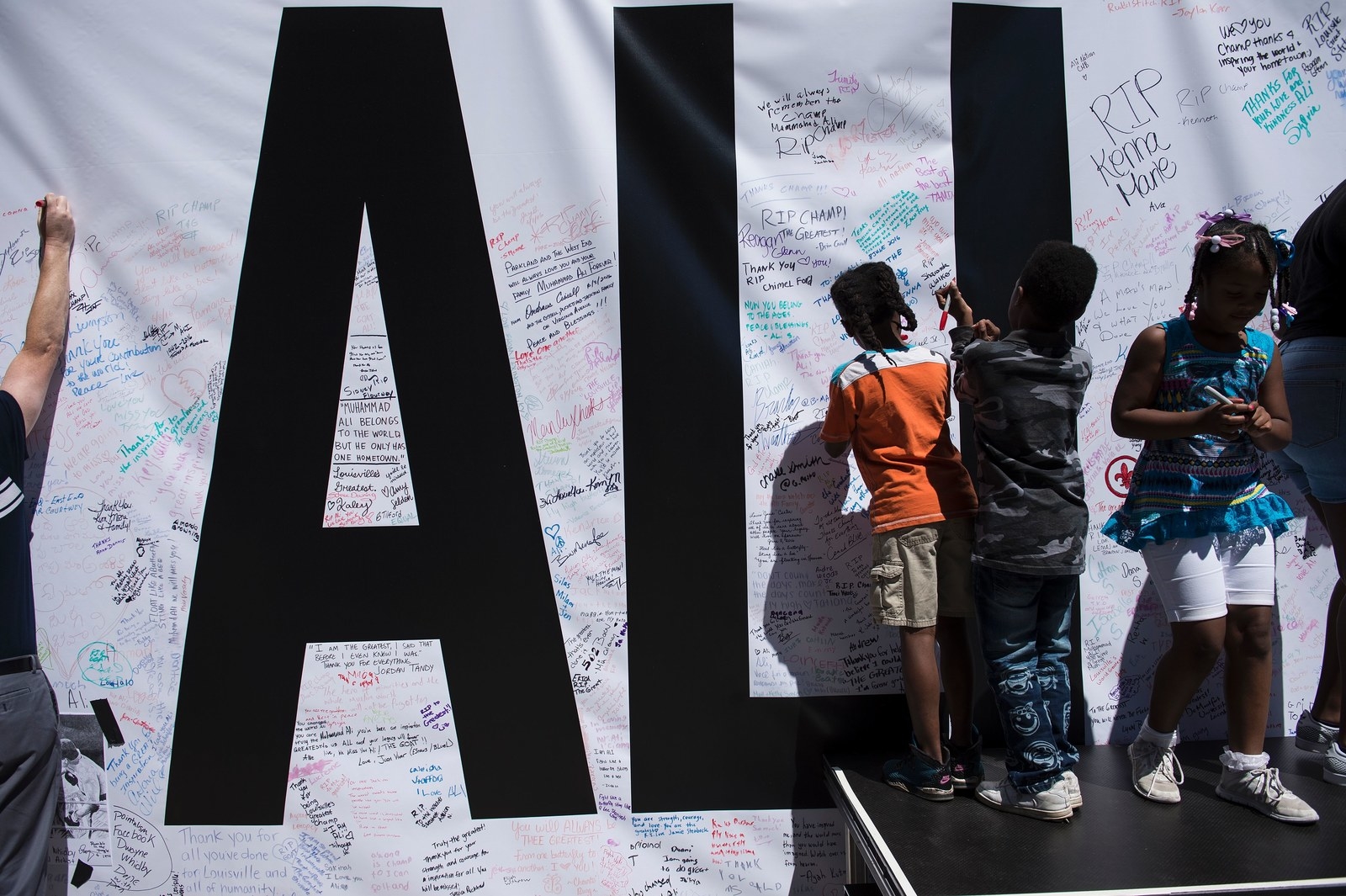 On my last night in Louisville, I again drove the three miles to my mother's house for dinner. She chirped that the city had gone four whole days without a single murder as we laid our champ to rest. "That's Ali's impact," she said.
After we ate, I asked her if she had any stories about Ali. It seems that everyone in the city does; an aunt (like mine) who went to school with him and his brother, an uncle who used to see him jogging in Chickasaw Park. "It's boring," she said of her story. I bugged her until she told me anyway.
"Well, you know your aunt Pauline and cousins Dorothy and Earlene went to Central with him," she began. I nodded. "One day I was over Dorothy's, I think, and I saw this big, beautiful convertible with two black men in it, and it was him and his brother, I think his name was Rudy. That's it." I looked at her, waiting for more. "I told you it was boring," she said.
"What did you think when you saw him?" I prodded. "How did you feel?"
"They were standing outside talking and I was in the house watching from a window. It was the first time I had ever seen black people in anything that fine before."
Later that night, I turned on the local news. A police officer had just gotten shot in the chest in the West End on a corner that I had driven past just moments before. Elsewhere in the city, a young woman was gunned down in front of her infant child. "Back to business, I guess," I sighed to no one.
But that isn't fair. It's too cynical a stance to take, to pretend that Muhammad Ali's impact and influence dies with him. That is unequivocally untrue. The way to create change is to disrupt, to challenge, to make the benefactors of injustice uncomfortable, to shake them at their core. Muhammad Ali did this by defining who he was for himself and forcing his various oppressors to bend to his borders and erase their own, to teach their tongues his new name and accept each and every syllable along with every part of him: Black. Muslim. Arrogant. Southern. Louisvillian. He was all those things and he was those things on purpose.
Hear Tracy talk about Muhammad Ali on BuzzFeed's Another Round podcast