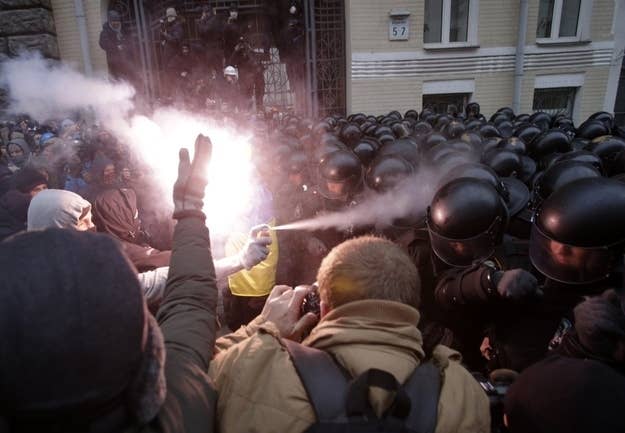 Hundreds of thousands of pro-European Union protestors in Ukraine continued demonstrations in Kiev's Independence Square Sunday, clashing with riot police and reportedly storming government buildings, according to RT News.
Demonstrators in the city, who demanded the country's president resign over halting preparations to sign an associations deal with the EU, refused to relent, despite a court-ordered ban on rallies imposed on Nov. 30. Some 700,000 people gathered in the city, according to Ukrainian media, making it the largest protest since the country's Orange Revolution in 2004.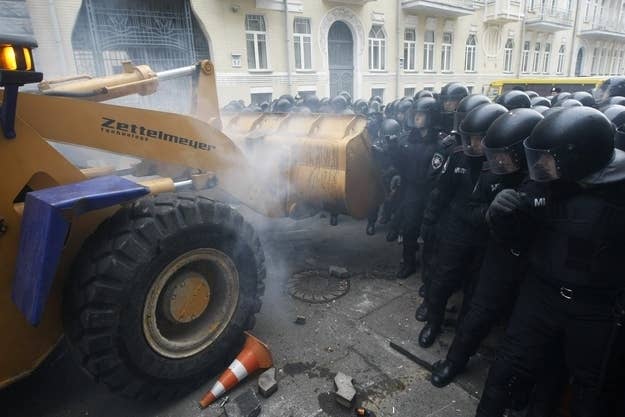 At one point, the protesters used a bulldozer in an attempt to break through a line of riot police near the offices of President Viktor Yanukovych, Reuters reported. Riot police swept through the city and broke up demonstrations on Saturday, further angering protestors and causing additional clashes.
The protestors also stormed the Kiev city council building, BBC news reported.
Protestors spray painted "Revolution Headquarters" below a sign at the city council building.

Other clashes with police involved tear gas, protesters throwing stones and reports of gunshots and smoke, resulting in reports of several injuries.
Yanukovych backpedalled from signing an associations deal with the European Union late last month, instead siding with Russia after months of intense pressure from Moscow. The EU deal would bolster trade among neighboring nations and ease travel restrictions at its borders and was seen as a major setback for the EU's Eastern Partnership program.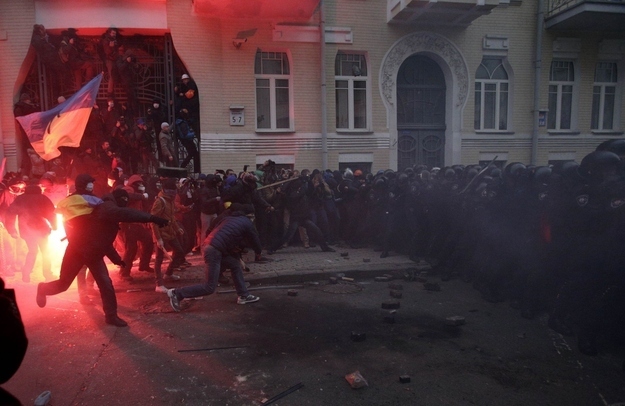 Protesters opposed to the pro-Russian deal quickly denounced the president's action and took to the streets of Kiev Nov. 24.
"They stole the dream. If this government does not want to fulfill the will of the people, then there will be no such government, there will be no such president," said Vitaly Klitschko, heavyweight boxer-turned-opposition politician, at the massive rally. "There will be a new government and a new president."