FEMA Denies Aid Request For Illinois Towns Devastated By Tornadoes
Gov. Pat Quinn to appeal the decision, saying federal support would help local governments in nine counties recover expenses from the deadly storms in November.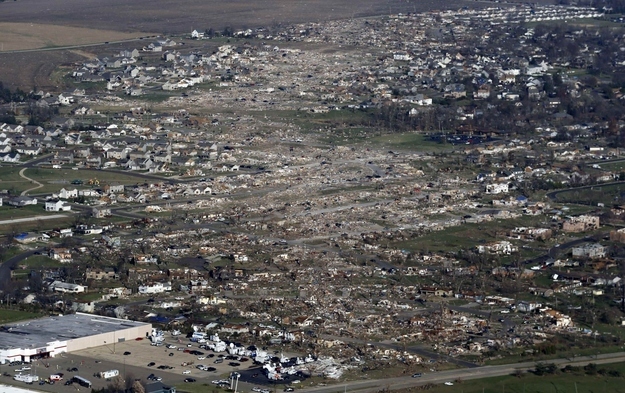 Illinois Gov. Pat Quinn announced Thursday he is appealing the federal emergency management agency's decision to deny aid to the state's recovery efforts after deadly storms Nov. 17.
FEMA's decision negatively impacts how local governments recover expenses, according to a statement from Quinn's office.
The federal government has already approved millions in support for small businesses as individuals impacted by the storms, which spawned dozens of tornadoes and killed eight across the Midwest.
"While we appreciate FEMA's partnership in helping individuals and businesses recover, I'm disappointed in this decision," Gov. Quinn said in the statement. "My Administration will immediately work to develop a strong appeal that demonstrates how much this assistance is needed."
Last month, Quinn requested federal assistance for local governments in nine counties to cover the costs of storm-related damage such as emergency protective measures, debris removal, and repair or replacement of government-owned facilities. Those costs have totaled at least $6.1 million, according to a joint damage assessment conducted by FEMA and the Illinois Emergency Management Agency (IEMA) early that month.
That number falls short of the Illinois' federal aid threshold of $17.8 million, which is determined on the state's population — a calculation Quinn suggests is unfavorable to geographically large states like Illinois with massive population centers like Chicago.
The federal government has already approved more than $10 million in support for businesses and individuals, including over $2 million in grants for survivors of the storms.
Quinn's office will submit the appeal within the next 30 days and emphasized Thursday the need for assistance in tornado-ravaged areas due to wintry weather that followed the storms, which hindered recovery and rebuilding efforts. The request also asks FEMA to consider the fact that some of these areas were already grappling with flood damage form April 2013.
In the days after the tornado outbreak, Quinn declared 13 counties as disaster areas.
"The state of Illinois will continue doing everything necessary to help our hardest hit communities rebuild and recover from these historic tornadoes," Quinn said.