109 People Dead After Stampede Near India Temple
Warning: Graphic images. Panic broke out as masses of worshippers crossed a bridge near a temple in central India, according to reports. Thousands gathered in the area for a Hindu festival.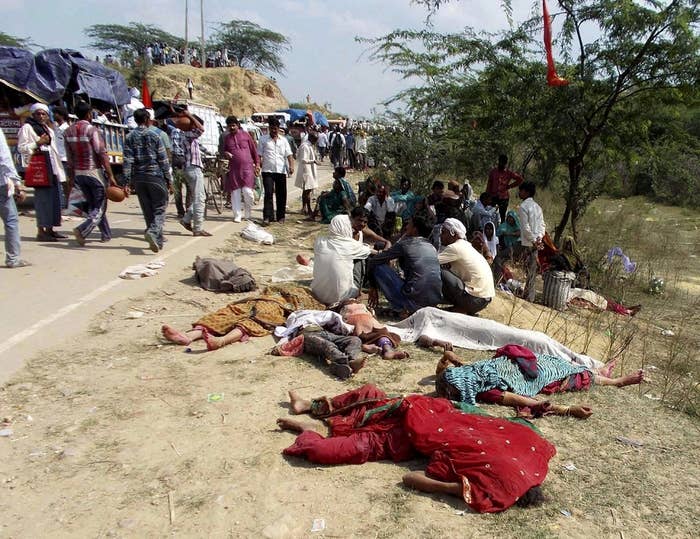 Eighty-nine people were killed in a stampede near a Hindu temple in India's central state of Madhya Pradesh on Sunday, BBC News reported.
Crowds of pilgrims crossing a bridge over the Sindh River to the Ratangarh temple for a Hindu festival panicked when rumors spread the bridge was collapsing, resulting in dozens crushed by the crowds and many more dead after jumping from the bridge.
In the aftermath of the incident, it was unclear how many people were on the bridge at the time, but officials warned more dead could be found near the bridge. Police searched the river as loved ones looked for the missing among the bodies on the bridge -- some 42 women, 30 children and 17 men were originally said to have been killed, according to the report.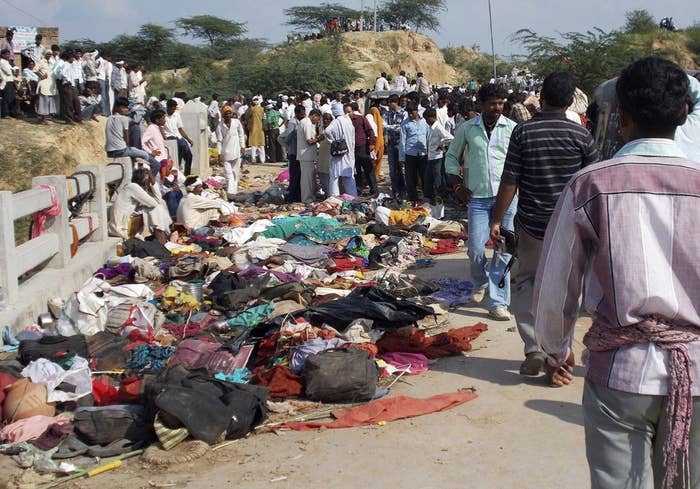 India Prime Minister Manmohan Singh reacted to the tragedy on Twitter:
"On this day of festivities, our hearts and prayers are with the victims and their families," Singh said in a statement to press.
A witness who survived the stampede said he heard screams as the crowd rushed to get off the bridge.
"Several people could be seen flattened to the ground in the midst of the melee," Atul Chaudhary said. "Some of the youngsters panicked and jumped into the swollen river."
Madhya Pradesh health minister Narottam Mishra told the BBC officials are investigating the cause of the stampede as a matter of "judicial inquiry," as other reports suggest police managing the crowd may have sparked the chaos.
In 2011, a stampede at a religious festival in northern India killed 16.
UPDATE — Oct. 13, 11:40 p.m. ET: