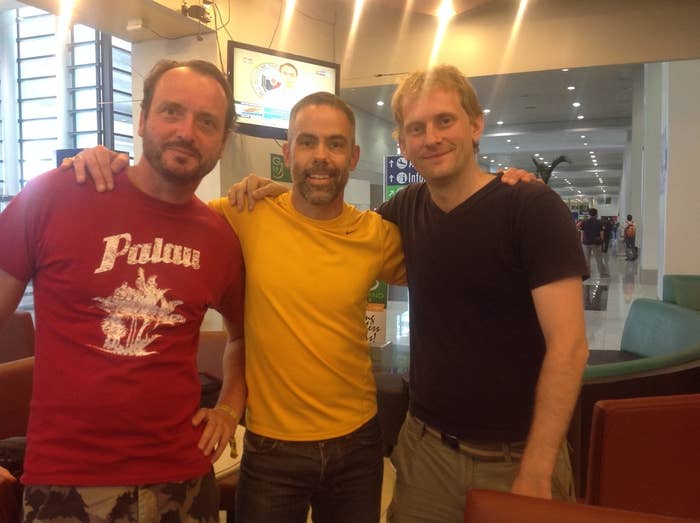 A small team of storm chasers escaped Tacloban City Saturday afternoon, where they witnessed — and survived — Haiyan, one of the most devastating typhoons to ever hit the Philippines.
"I've been chasing hurricanes and typhoons in the U.S., Mexico, and East Asia for over 20 years," said Josh Morgerman, a storm chaser with iCyclone. "I've been in many, many storms, and this was by far the worst I've personally seen."
Morgerman, 43, and two other iCyclone stormchasers, Mark Thomas and James Reynolds, escaped the region via a military helicopter after the devastation led to desperation among victims of the storm in the city. Civil order was breaking down, Morgerman told BuzzFeed.
Tacloban City, the capital of the Leyte Province, was "brought to its knees" by the superstorm, referred to by Filipinos as Typhoon Yolanda. The typhoon's eye passed directly over the city, home to over 200,000 people. As many as 10,000 are feared to be dead in the province. Bodies of the deceased piled up among the rubble in the aftermath.
"Blocks of flimsy buildings along the immediate waterfront were reduced to mountains of rubble by the storm surge," Morgerman said. "James, who covered the Japanese tsunamis the year before last, likened the destruction to that. Dead bodies were strewn about the wreckage, including a deceased pregnant woman a block from our hotel."
Morgerman safely returned to his home in West Hollywood, Calif., Sunday night and shared accounts of his experience in the storm with BuzzFeed: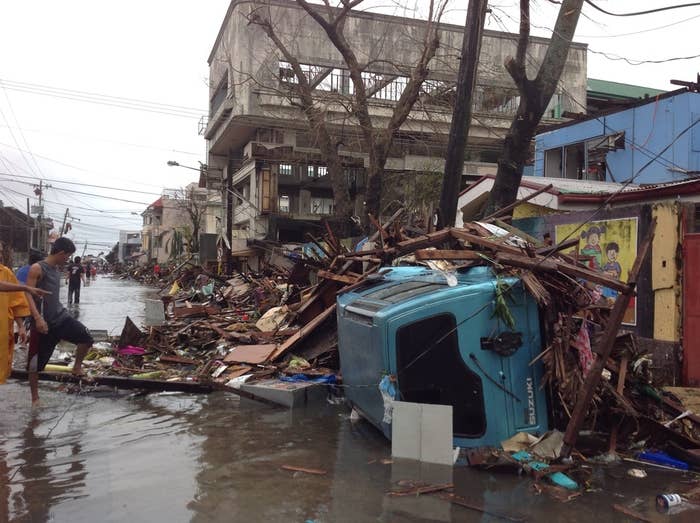 How did Haiyan compare to other storms that you've witnessed?
Josh Morgerman: Absolutely the worst I've experienced in every respect. Besides being one of the most intense cyclones ever to strike land (a dreaded Category 5 on the American intensity scale), the wholesale devastation it's inflicted on a population center is far beyond anything else I've personally witnessed. It's on a truly grand scale.
I've been chasing hurricanes and typhoons in the U.S., Mexico, and East Asia for over 20 years. I've been in many, many storms, and this was by far the worst I've personally seen. The Philippines is one of the most typhoon-prone places on the planet, and the Filipinos are no strangers to industrial-strength storms — but this one was particularly severe, and it hit a population center.
I was just in the Philippines a few weeks ago chasing another typhoon, Nari. That one hit the Luzon region to the north and was nowhere near as strong as Haiyan.
Where were you when the storm hit, and what were those moments like?
JM: We rode out the typhoon in a large, four-story, solid concrete hotel in the heart of downtown [Tacloban City]. As the typhoon approached early Friday morning, the wind became gusty and then rapidly rose to a full-on, angry roar like a passing train. The rain was so heavy, everything turned white. We could scarcely see across the street. Violent, swirling winds enveloped our building and tore away at it like being inside a tornado. Windows exploded — not just the glass, but also the metal frames, which came tearing out of the walls. Doors blew off. Large parts of the roof ripped away. Pictures fell off the walls. Flying wreckage from other buildings slammed into the hotel's walls with such force the building shook. The rain got in, turning the main staircase into a rushing, four-story waterfall.
And then, at the height of the storm, the bay rose up like a tsunami, swallowing the downtown area. A family emerged from a small, flimsy building across the street and fought through the winds and torrents to reach the relative safety of our hotel, carrying children who were unhinged with fear. They almost didn't make it.
Our hotel flooded so fast that guests in first-floor rooms were caught off guard. Their doors were wedged shut by rapidly rising water, turning their rooms into death traps. In a panic, these guests resorted to smashing open their courtyard-facing windows with whatever they could get their hands on — a heavy lamp, for example — and screaming for help.
At that point, we threw down our cameras and went into full rescue mode, wading across the waters, dragging victims out through windows and pulling them to the main lobby on mattresses. The typhoon winds continued screaming the whole time, with dangerous debris ricocheting off the hotel's walls. We rescued several people — an old woman, a disabled girl, a mother, and others. We kept going until everyone was accounted for.
The water continued to rise in the main lobby, tossing about furniture and plant vases. Guests scrambled up to the second floor. We struggled to carry an old man in a wheelchair up a long flight of flooded steps, nearly spilling him twice.
There was a growing sense of panic. Children became hysterical. One teenage boy begged me to help him save his mother but couldn't make any sense when I asked where she was. I was in a wild state of mind at the time; I remember it all in fragments, like a dream.
What saved us was that the typhoon, though exceedingly violent, was quite small and very fast-moving, so it passed through quickly. Within a couple of hours, it started to die down and the panic gave way to a numb, shell-shocked feeling.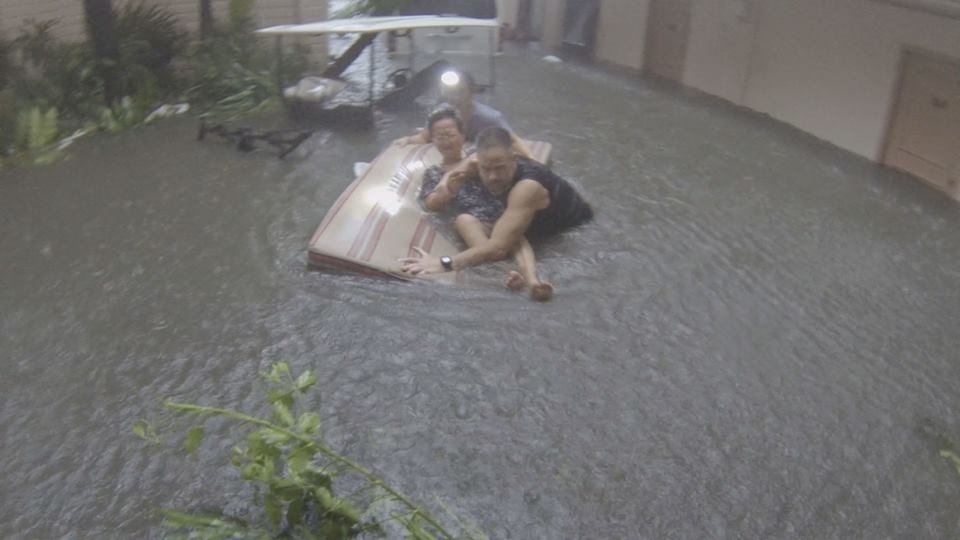 Who were you with, and how did you stay safe?
JM: I was with my two storm-chasing partners, James Reynolds and Mark Thomas. We actually didn't stay safe. We were too busy trying to keep other guests from getting killed.
In trying to save one guest, Mark tore open his leg on a rusty piece of roofing tin — a huge, long gash right down to the bone. It was the kind of injury that made me sick to look at. Thank god someone in the hotel was equipped to give first aid and dress the wound, a temporary solution. Unfortunately, that meant we were down one able-bodied man. After the cyclone passed, the father of a family he helped save came to our room to thank him. (Mark walked around in great pain for the next two days and is now in a hospital in a Taiwan, where he'll undergo a series of surgeries to repair the major damage to his leg.)
I want to clarify that we're not Good Samaritans, and we didn't go there to assist with rescue operations. We were simply there to document the storm. But given the harrowing circumstances, the urge to save people was not a choice, it was an instinctual human reaction. We'd need to be complete sociopaths to sit there coolly observing it all.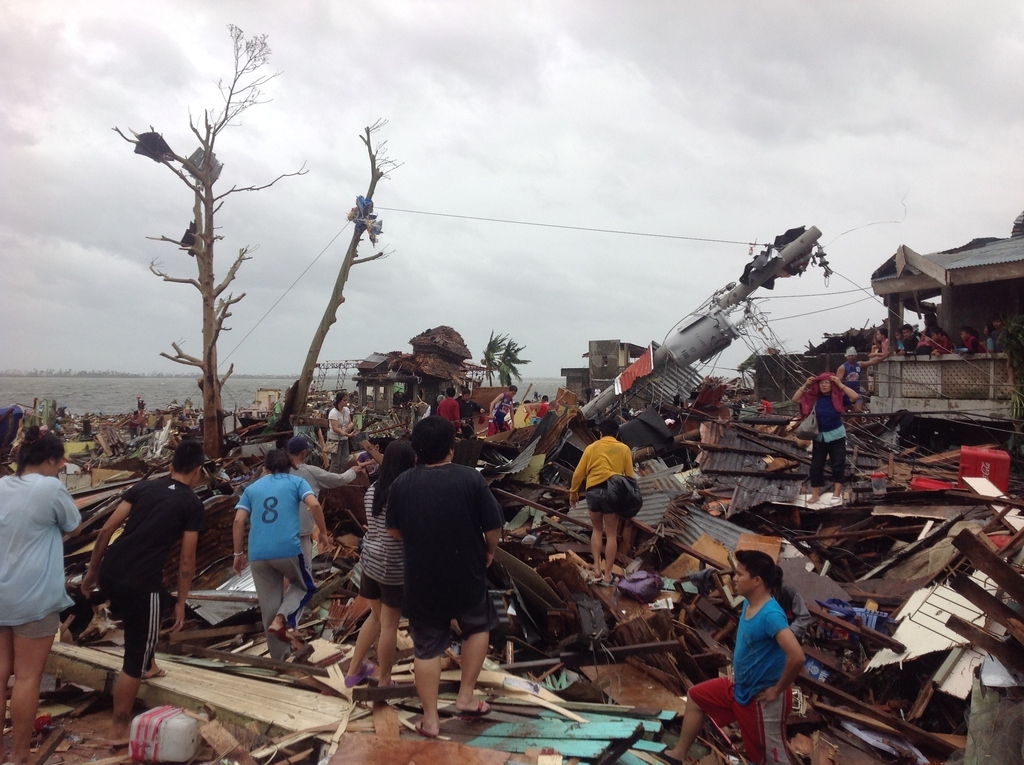 And then the aftermath — what did you find when the storm passed?
JM: Complete and utter devastation. We were the lucky ones. Smashed up as our hotel was, it stayed standing and no one died. Blocks of flimsy buildings along the immediate waterfront were reduced to mountains of rubble by the storm surge. James, who covered the Japanese tsunamis year before last, likened the destruction to that. Dead bodies were strewn about the wreckage, including a deceased pregnant woman a block from our hotel. (When we left yesterday, her body was still splayed out in front of the police station — perhaps for identification?)
Mountains of wreckage blocked most streets. Cars were thrown around like toys, with some resting upside down. Buildings that didn't collapse had broken windows and often roofs at least partially torn off. The large, main church in town lost most of its roof, and the pews were all swept against one wall. The force of the wind was so great that trees across the city lost all their leaves and even bark, so that this previously lush tropical landscape looked cold, wintry, and dead.
What were people there telling you after the storm?
JM: Coupled with the physical destruction is a complete meltdown of the region's power and communication infrastructure — meaning no electricity, no telephone lines, no mobile-phone service, nothing. So, in the 24 hours following the storm, it was impossible to get any reliable information, and rumors spread. The city was 100% cut off from the rest of the world.
Most cars in the city were destroyed or flooded by the storm surge and weren't drivable — and even if they were, streets were completely clogged with wreckage, thus adding to the city's isolation.
Hospitals were overwhelmed with the critically injured, and without power or adequate supplies, they were unable to provide adequate care to the thousands of trauma victims.
There was very little sense of any help from the outside world, or even any official governing presence. Raging fires burned whole city blocks unchecked, with no one coming to put them out. (We heard the fire station had been destroyed.)
By the second afternoon, looting became widespread. Crowds dragged boxes of looted goods from stores, and we had a growing sense that the city was spiraling out of control, that people were becoming desperate. This was the apocalypse.
When we managed to escape the city late yesterday afternoon, the Philippine military was starting to make its presence known, landing with supplies, surveying the destruction from above and so on. We see this as a good thing. A rock-solid official response is needed to prevent desperation and anarchy.
Bottom line: Tacloban City has been brought to its knees, and the city and surrounding regions NEED HELP.