You may have heard that Elon Musk bought Twitter for $44 billion back in October. You may also have heard that this purchase deeply upset many longtime users. They feared he'd destroy the site they loved — or at least loved to hate — so dearly.

When Musk took over, many people, feeling nostalgic, tweeted about how Twitter had saved their life, oftentimes literally. BuzzFeed News spoke to three users who said they owe their lives to Twitter, to find out their stories and what they make of the future of the site.
"I realized at that moment, that's when I was truly fucked"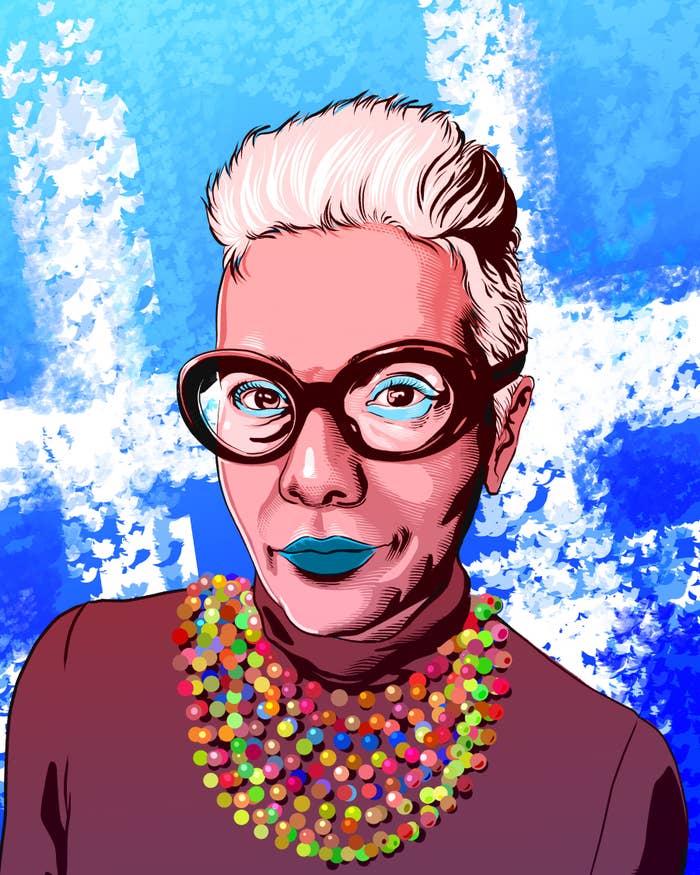 Mona Eltahawy, an Egyptian American journalist and activist, first signed up for Twitter in 2009, when she was working as a reporter in the Middle East. She used the platform to follow the case of a Palestinian woman and her baby who were being held at Cairo International Airport and denied access to water and a bathroom.

Two years later, Twitter would save Eltahawy's life. In November 2011, during the Arab Spring, she was covering a protest in Cairo when she was encircled by plainclothes police, who detained her until riot police arrived. "They surrounded me and beat me and broke my left arm, broke my right hand and then took me to a no man's land where they sexually assaulted me," she said.
While being beaten with nightsticks, she dropped her phone. "I realized at that moment, that's when I was truly fucked," she recounted. She was taken to the Egyptian Ministry of the Interior, the police headquarters where protesters were detained and frequently tortured.
She had been held for hours in a room with police and military officers, pleading for help, when she met a protester who had their phone on them. She borrowed it and, having seen how Twitter had amplified the stories of activists around the world, logged straight in to her account and fired off this tweet:
Within seconds, the phone's battery died. But unbeknownst to her, her tweet had started a chain reaction: Within 15 minutes #freemona was trending, prompting the US State Department to reach out to the Egyptian government about her detention. She was soon freed.
"Now, if I was not who I am and I didn't have Twitter — if I was an anonymous, working-class Egyptian woman — who knows what would have happened to me," she said. "I could have been gang raped, as they threatened to do. I could have been killed or disappeared."

In the years that followed, the platform continued to have a profound impact on her life. In 2012, Eltahawy was arrested in New York for spray painting over an anti-Palestinian advertisement on the subway. She was detained and again tweeted about the experience. The next day, when she was due to be arraigned, attorney and political activist Stanley Cohen approached her. He had seen her case on Twitter and wanted to defend her.
"And he represented me for two years, completely pro bono, until the judge dropped the charges in the interest of justice," she said. "So I think that was the second time that Twitter saved my life."
Then, in January 2015, Eltahawy tweeted that she wanted to learn to swim and to box, and that she wanted to fall in love. An academic in Canada named Robert Rutledge DM'd her, and they have been together ever since. Every year he tweets out their meet-cute story:
Given all the ways Twitter has helped her, Eltahawy is upset at the direction the site has taken under Musk's leadership — particularly the $1.89 billion investment in the company linked to Saudi Arabia's Prince Alwaleed bin Talal.

"Yes, of course, [Twitter] had a lot of things that we complained about," she said. "But we made it this beautiful, incredible, powerful place that connected the entire world. And it's devastating to think that it could crumble."
"The color inside the room was like this hellish amber hue"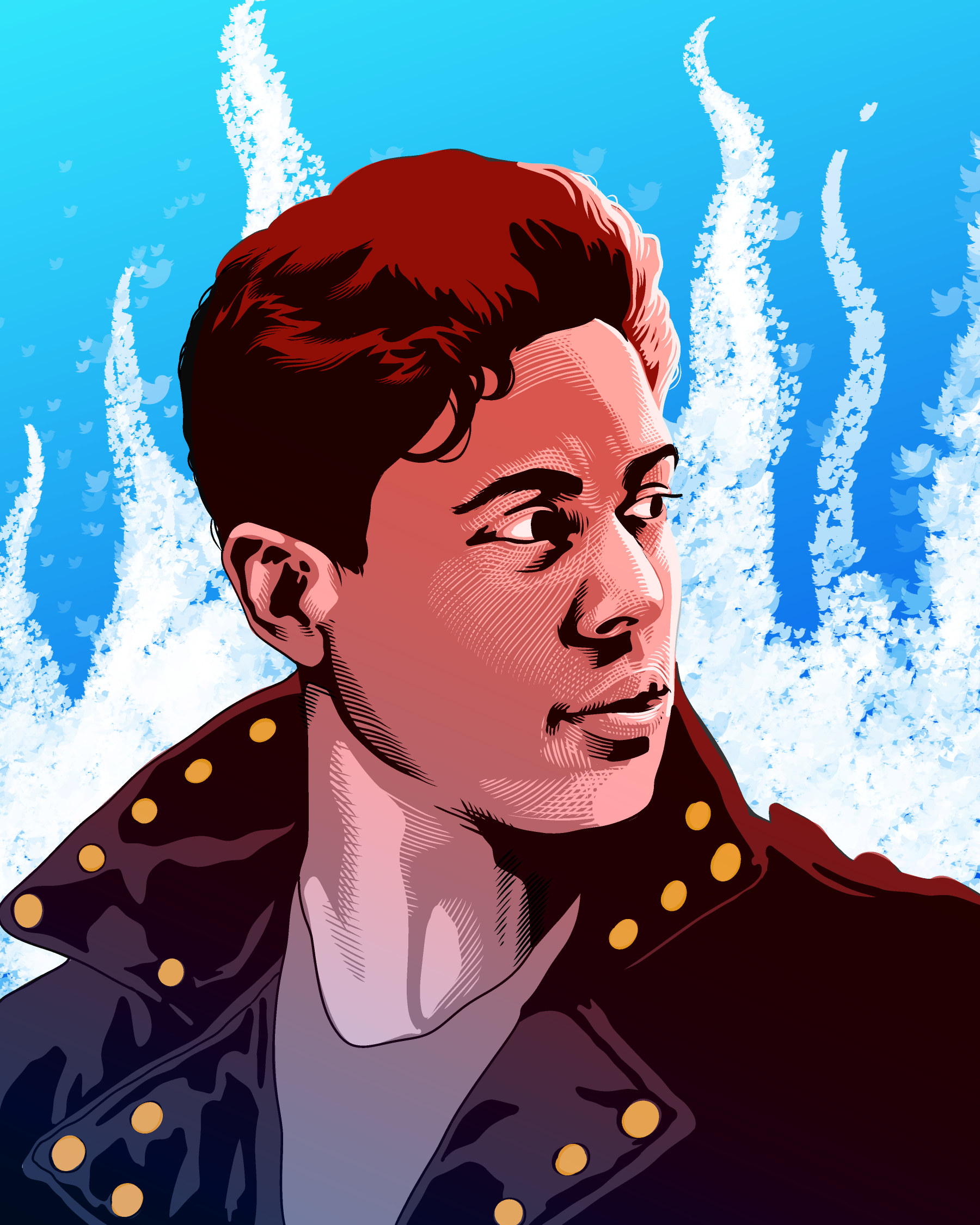 One evening in May 2010, then-20-year-old musician Chris Sheeran went to band practice before watching the newly released remake of A Nightmare on Elm Street at the theater. Then he went to bed in the Allentown, Pennsylvania, apartment he shared with his father, his father's girlfriend, and his then-10-year-old brother.
Around 3 a.m., he was woken up by a notification on his Palm Pre, an early smartphone that was popular at the time. He'd set it up to receive texts when his friends tweeted, and it would play a riff from the song "Big Wiggly Style" by the metal band the Devil Wears Prada.
"The color inside the room was this hellish amber hue, with this smokiness," he recalled. "Being in the heavy metal realm, I thought it was my imagination." He thought he might still be asleep, having a lucid dream. Then another notification pinged on his phone. "That's when I knew I was awake," he said.
He breathed in smoke and realized that the building was on fire. Remembering what he was taught at school, he threw himself to the floor to get to clean air. He crawled to his bedroom door, and when he opened it he was confronted with heavy black smoke.

"Some slight panic started to creep in," he said, adding that the first thing to go through his mind was that he needed to get the two other people in the apartment at the time — his little brother and his father's girlfriend — out safely.
Still in his boxers, Sheeran ran to their doors and banged furiously, but they didn't get up. Struggling for air, he ran out of the apartment, and on the street he saw two men phoning 911. Once he had regained his breath, he crawled back into the building and managed to get his brother and father's girlfriend out.

His thoughts then turned to other people in the building. "I ran back to alert the neighbors that were upstairs, only to be greeted by this gentleman who was extremely upset that I woke him up," Sheeran recalled. "And he's like, 'What's going on?' I just remember yelling in his face: 'Fire, get everybody out!' Then everything changed between us."

He subsequently tried to wake up the family on the top floor. Though he was unsuccessful, they survived after firefighters forced their way into their apartment.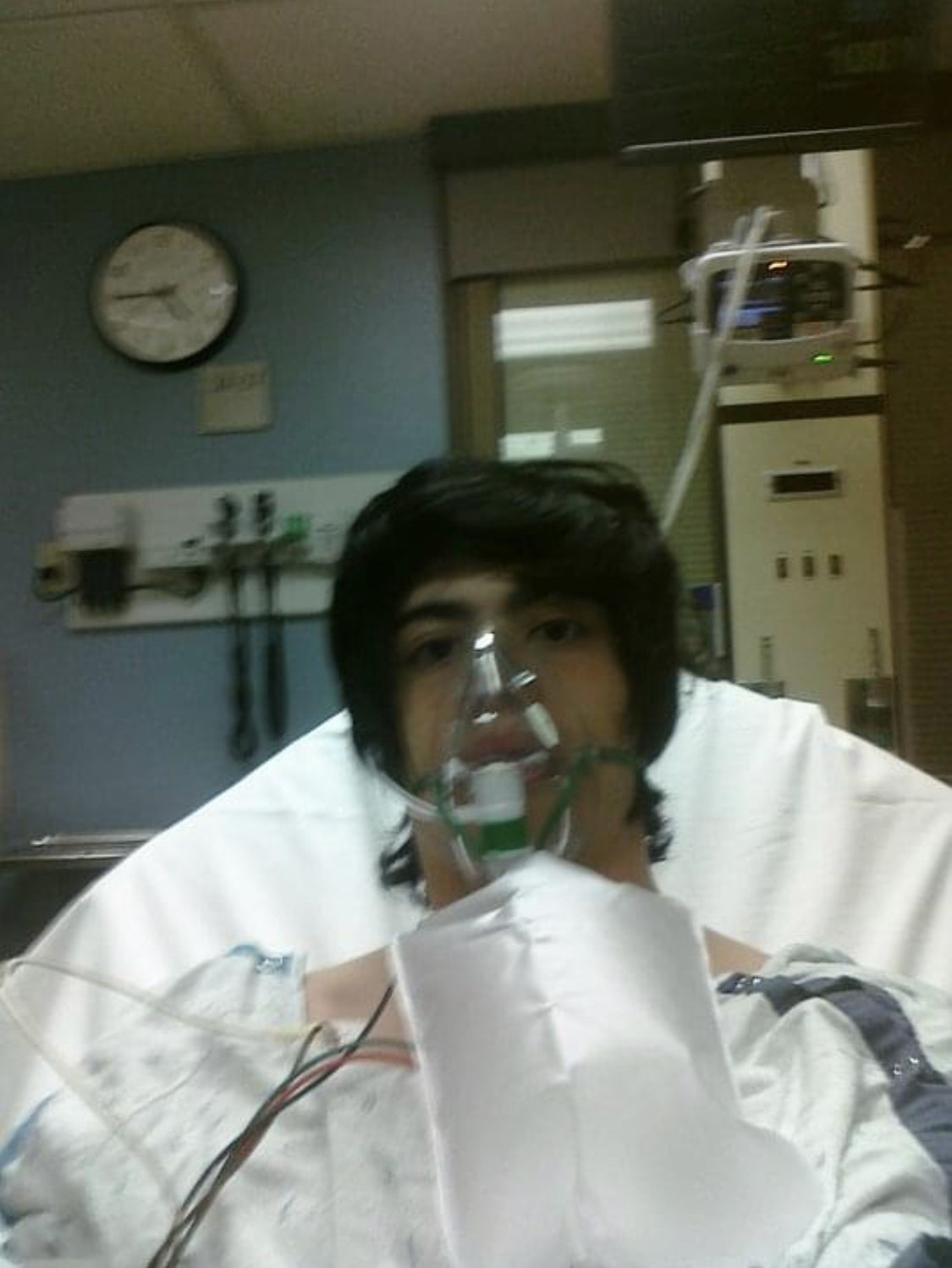 Afterward, Sheeran — at the time the lead singer for the metalcore band Leviath — was taken to a local hospital. "I had a 40% carbon monoxide fillup inside my lungs," he said. "And that was kind of heartbreaking to be truthfully honest, because we had a show maybe three or four days later. And it was pretty intense to turn that gig down."
Fortunately, Sheeran recovered fully. He later learned that the fire was caused by arson, though the particulars of who set the blaze and why are unknown. Now based in Florida, where he works as a video artist and content creator, Sheeran said he is researching the incident and hopes to make a documentary about it.
Despite the role Twitter played in saving his life, Sheeran, now 32, said the platform isn't particularly important to him these days. "Most social networks for me, including Twitter, are just a tool," he said. As for Musk, Sheeran said he hoped that the billionaire would improve the site. "I am always a proponent of looking at the glass half full," he said.
"Twitter was the only place I laughed"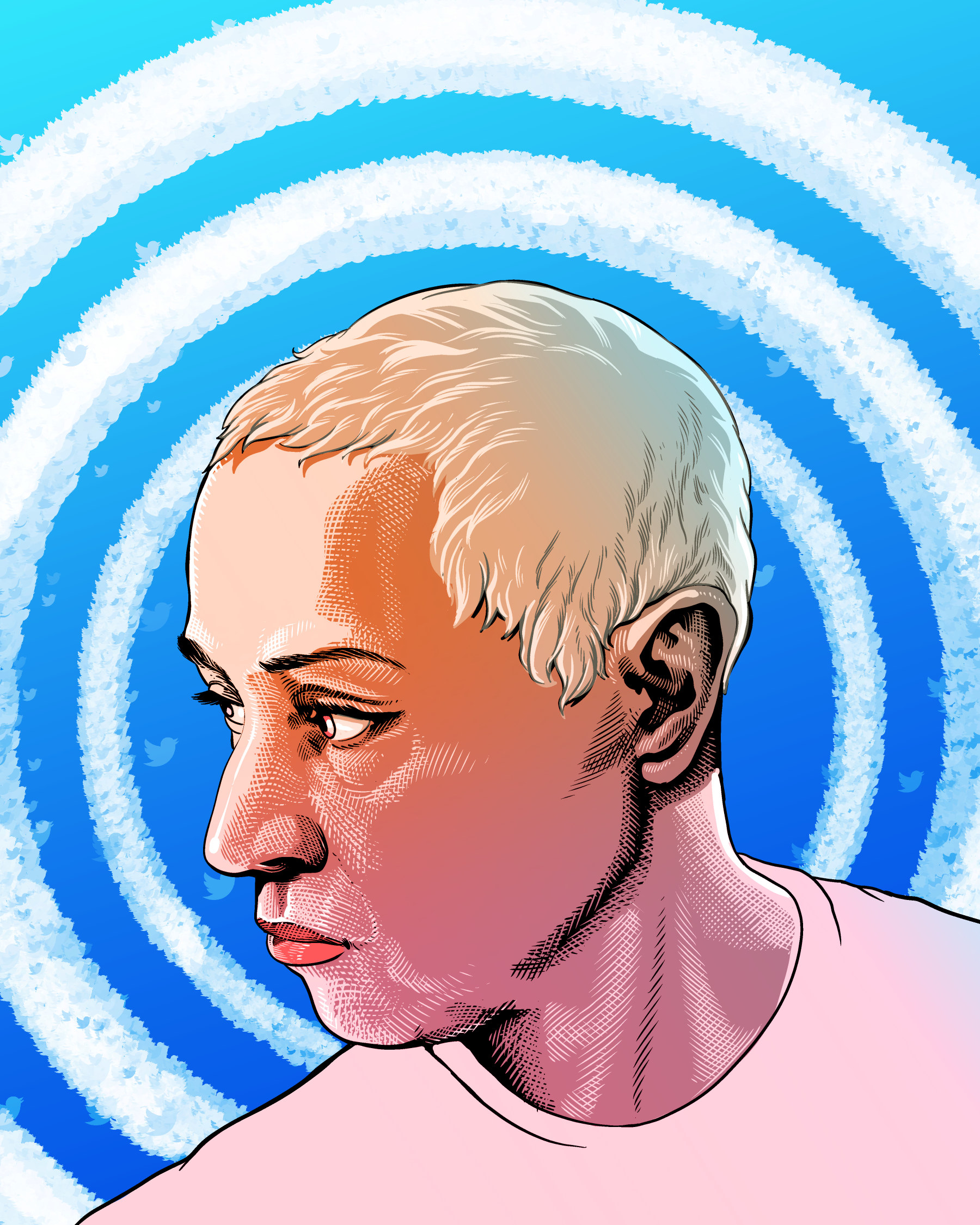 In 2019, the British-born, US-based actor Elizabeth West had recently finished a stage run playing Lady Bracknell, the staunch Victorian matriarch in The Importance of Being Earnest, in Portland, Maine, when she noticed there was something wrong with her voice.
"I went to the doctor, and they're like, 'I think you have cancer.' I said, 'I think I have cancer, too.' And I did," she said. She subsequently was diagnosed with an HPV-positive tumor at the base of her tongue and went straight into treatment.
"Radiation in your mouth is something else altogether. I ended up being hospitalized, I was really ill," she said. The radiation had burned her mouth and left her unable to speak. And then, on March 22, 2020, two weeks to the day after finishing her treatment, New York went into COVID lockdown.
West, who declined to give her age ("Because I'm a bloody actress, and I'm as old as I look!"), was stranded in her Manhattan apartment and was unable to speak clearly until September 2021. "I've never been so isolated," she said. "You cannot even imagine. I couldn't, you know, pick up the phone. I couldn't do Zoom. Because I couldn't talk. It was terrible."

Although she said she's "not a suicidal person," West was having suicidal ideation every day. "It was so awful," she said. "And Twitter was the only place I laughed. The only place I felt human, didn't feel broken, didn't feel like a monster. I can't even begin to explain how important it was."
West had set up her account in 2009 but only began tweeting in earnest when she was diagnosed. Though she did not tell people on the platform that she was unable to talk, she was extremely open about her cancer journey.

"I took photos of when I looked like absolute hammered shit — no hair, I weighed like 95 pounds. I mean, I looked really, really bad. And people were amazing," she said. People would DM her to ask for her address to send her gifts. After West tweeted that her throat was sore, the team from NBC's Dateline sent her milkshakes from Harlem Shake to help ease her discomfort.

West has since recovered, but she's still very active within Twitter's cancer community, passing on what she has learned to other people going through treatment. When Musk bought the site, she was devastated. "I'm like, What has fucking Elon Musk done today? It's just an awful blight. I just want him to shut up and fix it, or sell it."
West recalled that at one point during her treatment, she was struggling to eat and was hospitalized with a protein deficiency. She was in a ward on the Upper East Side receiving messages of support from strangers and friends. "And I think Elon Musk doesn't understand that these are real people," she said. "He doesn't seem to have much by way of an empathy gene." ●