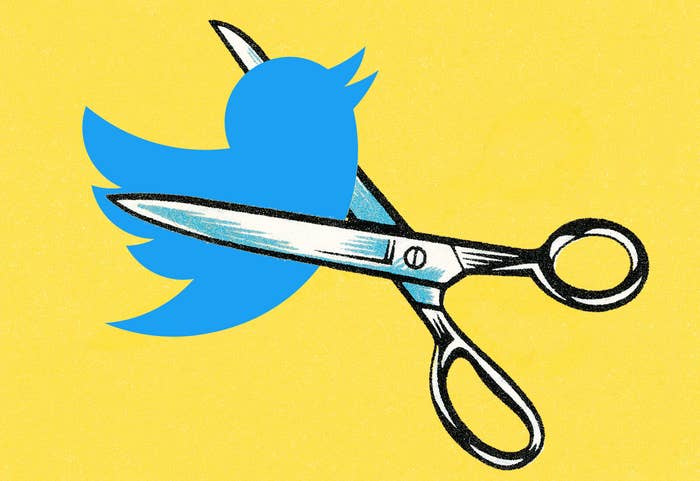 Mass layoffs are currently underway at Twitter. Though the extent of the cuts hasn't yet become clear, the situation is shaping up to be a bloodbath: Bloomberg reported this week that new Twitter owner Elon Musk planned to lay off half the staff at the 7,500-person company.

"In an effort to place Twitter on a healthy path, we will go through the difficult process of reducing our global workforce on Friday," Twitter said in an unsigned companywide email late Thursday. The message said Twitter would notify staffers by email by 9 a.m. PT to let them know whether they would be laid off or not.

Overnight, some staff found themselves locked out of their laptops and tweeted that they had lost their jobs. Musk himself was silent about the layoffs, instead tweeting out this non sequitur last night: "Tiny talk is talk so small it feels like it's coming from your own mind."
Twitter did not respond to BuzzFeed News' request for comment. But in a tweet Friday evening, Musk insisted he had no choice.
Are you a current or former Twitter employee? Email this reporter at tom.warren@buzzfeed.com or learn how to share secure tips here.
The cuts led to an outpouring of sadness on Twitter from current and former employees. James Glynn, a senior curation lead at Twitter's London office, where he worked on countering disinformation, announced being laid off and said he was sorry for the staff whose positions weren't eliminated. "Elon will run those left behind into the ground with his hair-brained ideas. Any kind of Twitter we knew before is dead," he wrote.
These aren't the first cuts Musk has made to the social media platform's workforce: Upon taking over Twitter on Oct. 27, he immediately fired some of the company's top executives, including its CEO, Parag Agrawal, and chief counsel Vijaya Gadde, who was in charge of online safety.

A lawsuit has already been filed challenging the layoffs, Bloomberg reported. On Thursday, before the round of cuts began, Twitter staff in California filed a class action for violation of the Worker Adjustment and Retraining Notification Act, which requires companies to give 60 days advance notice of mass layoffs. Three of the employees filing the suit said they were locked out of their Twitter accounts on Thursday, "which they understood to signal that they were being laid off," the filing says.
Musk is under tremendous pressure to generate profits. Twitter's annual returns show that while the social media company has increased income in recent years, it has spent more than it has made, operating at a loss. And Musk purchased the company at an inflated price. When he bought his first stake in Twitter, it was trading at $33.03. In the end, he closed the deal for $44 billion, paying $54.20 a share.
And while the company is no longer publicly traded, it has private investors to keep happy. Among them is Prince Alwaleed bin Talal bin Abdulaziz of Saudi Arabia, who is now the second-largest investor in Twitter after Musk. Another investor, Changpeng Zhao, CEO and founder of bitcoin firm Binance, has expressed support for staff cuts. Speaking at the Web Summit, a tech industry conference, on Thursday, he said that a "slimmer workforce would make more sense."
Meanwhile, Musk has announced a divisive plan to boost income: charging users $8 per month for verification. He has also been speaking to advertisers, some of whom seem skittish: General Motors suspended Twitter advertising after Musk's takeover, according to CNBC, and major advertising firm Interpublic advised its clients to wait until they had "more clarity" on Musk's plans before committing to spending additional money with the company, according to Morning Brew. The Wall Street Journal reported that Audi, Pfizer, and Volkswagen also were pausing advertising on the site.