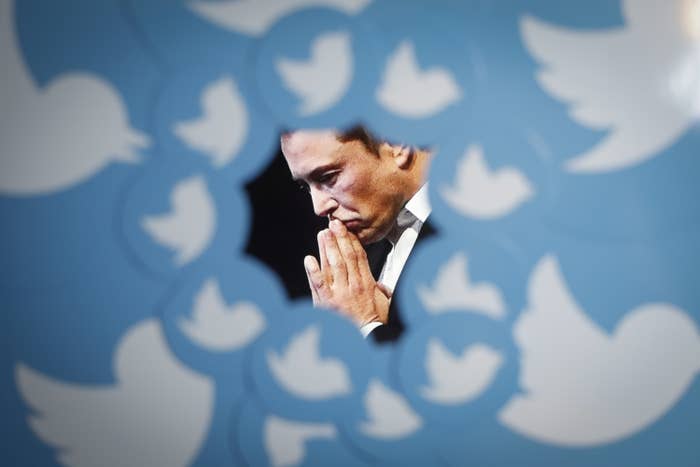 Elon Musk's first week or so at the helm of Twitter was very bad. Among many other developments, he laid off half the company's staff and publicly bickered with Twitter founder Jack Dorsey and comedian Kathy Griffin. Chaos reigned. This week, things only got worse.
Yesterday afternoon, Musk held an emergency meeting with staff, according to Platformer. Having given them one hour's notice, he arrived 15 minutes late and announced that a recession next year could cost the company billions of dollars. "Bankruptcy isn't out of the question," he said.

Over the last two days, key management at Twitter have walked out the door. This includes the firm's head of trust and safety, Yoel Roth, and its chief information security officer, Lea Kissner. One top marketing executive, Robin Wheeler, quit not long after interviewing Musk during a Twitter Space designed to assuage advertisers. After some convincing from Musk, she decided to remain.
Meanwhile, the rollout of the revamped Twitter Blue, the $7.99-per-month subscription service that Musk has declared his main gambit to make Twitter profitable, was not going well. Twitter Blue offers users a coveted blue checkmark, which trolls immediately used to make fake profiles of prominent people and companies, sowing confusion.

Yesterday, one parody account with a blue check, @EliLillyandCo, tweeted, "We are excited to announce insulin is free now," prompting the actual account of pharmaceutical company Eli Lilly to respond.

The incident appeared to have real-world consequences: Eli Lilly stock fell 2.2% in morning trades.
Twitter has tried to get a grip on the impersonation problem by implementing an "Official" verification status, which adds a gray checkmark to important profiles. Essentially, it mirrors the blue check system that existed before. Hours after the "Official" badges were rolled out on Wednesday, Musk unexpectedly announced that he "just killed it." But by this morning, the "Official" status was back on prominent profiles, including Coca-Cola's, according to Mashable. And then — plot twist! — they were gone again by the afternoon.
Fake accounts are not Musk's only problem. Thursday morning, an unnamed lawyer at the company announced his resignation and warned in a companywide Slack post that Musk's behavior could result in billions of dollars of fines from regulators, according to a report from the Verge.
The lawyer wrote that he had heard the head of legal at Twitter — Musk's personal lawyer, Alex Spiro — say, "Elon puts rockets into space, he's not afraid of the FTC." The Federal Trade Commission fined Twitter $150 million earlier this year for using customer security data for targeted advertising.
An FTC spokesperson told the Hill that the commission is watching the situation at Twitter with "deep concern" and that it will ensure the company keeps to its agreement with the agency to protect user privacy. "No CEO or company is above the law," the spokesperson said.

Musk, meanwhile, appeared to revel in all the negative media coverage. "The awesome irony of the situation," he wrote earlier today in a since-deleted tweet, "is that the media writing about Twitter/me failing nonstop is driving massive growth in Twitter!"