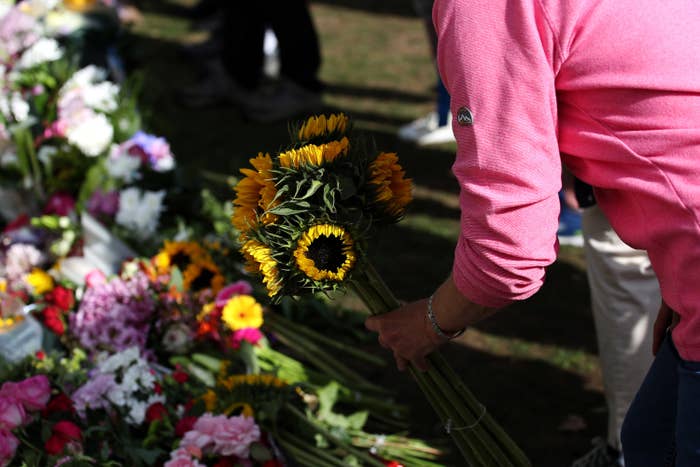 WINDSOR, England — On an overcast Friday afternoon, the day after Queen Elizabeth II's death, crowds of mourners descended on the town of Windsor to pay their respects outside Windsor Castle, the late monarch's longtime residence and soon-to-be final resting place.
Flowers were laid at the Long Walk and candles left in tribute. Handwritten notes, small and large, were placed: one from an ex–Royal Air Force service member simply says "Thank you ma'am." Others were longer, with messages filling up whole sheets of paper in plastic sheaths or cards.
By 6 p.m., the area near the castle gates was so overflowing with flowers that police and stewards had asked visitors to lay them in the park instead.
The crowds were a cross-section of British society; groups of local schoolchildren, tourists, and visitors from out of town. Around them were preparations for the national mourning period, expected to last until the end of the day of the state funeral. One local business owner said that the weekend was expected to be especially busy. Barricades were erected, and one local was overheard noting that paving slabs outside the palace had been relaid overnight. At Cambridge Gate, where mourners were leaving their tributes, groundskeepers were returfing the lawns.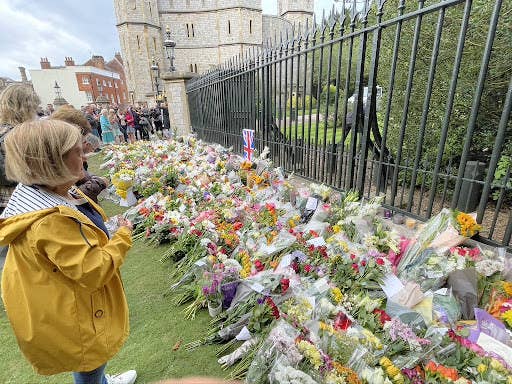 Among the mourners were Andrea and Simon, who drove an hour and a half from Wiltshire to pay their respects.
"She was a rock. She was the glue. We were born in the '50s. … She has been around all our lives," Andrea told BuzzFeed News.
Simon had served in the army and said the Queen had been a presence throughout his military career, from the moment she signed his commission as an officer. As captain general of his regiment, the Royal Artillery, Elizabeth had visited their barracks frequently and was a popular guest. He said that before one visit, they had forgotten to purchase Dubonnet for her; knowing it was her favorite drink, he rushed to a local supermarket to buy it.
Simon, who said he trained Harry in the military, had also met King Charles III during his service career. Reflecting that the Queen was always personally engaging when meeting people, he said he noticed that about Charles as well.
"When I said something, he asked a question that was related," Simon said. "It was not an inane question — there was an interest there."
Linda, who lives locally, said it was a sad time for the country.

"We are really in shock and wanted to come to see other people and mourn," she said. "It's the only Queen in our lifetime. She's a symbol of women in power. Any problems — COVID, wars — she survived them. It's someone to look up to."
Elsewhere in Windsor, Grant and his father David were visibly moved as they paid their respects and remembered the Queen.
"It's heartbreaking. She's been an institution for 70-odd years, her reign. My gran used to speak to her in Horton, called her Lillibet," Grant said. "During the war she was evacuated to Windsor and used to ride her horses through here. She's a wonderful person."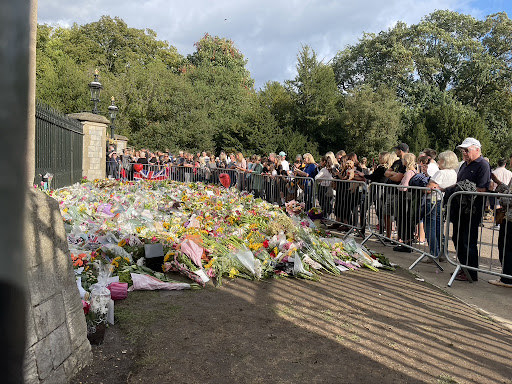 Asghar Majeed, the former mayor of the Royal Borough of Windsor and Maidenhead who has met the Queen numerous times, said the community will miss her dearly.
"She was all for stability, always had a sense of permanence and security for us," Majeed said. "We could relate to her, sitting on her own when her husband passed away. Every British person could relate to that — being banned from seeing our family due to COVID. And that's just one example, there are many where we could say she is part of the community"
Majeed said that the monarch attracted a lot of tourism to the area, and she was actively involved with local charities. He recalled one of his favorite events, the Windsor Walkabout, where he escorted the Queen through Windsor's streets to a local hall for her jubilee celebrations.
"We were very lucky to have her," he said. "People saw her as Her Majesty the Queen but as a mother and grandmother as well, and that's why she was an asset to Windsor and Maidenhead."