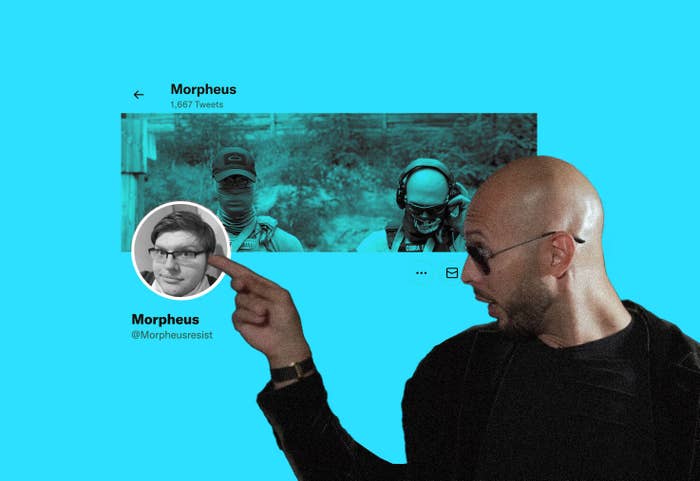 Andrew Tate shot to fame this year for his misogynistic social media presence. The former kickboxer has described married women as "property" and said that women should bear "some responsibility" for being sexually assaulted.

Over the summer, Tate was banned from Facebook, TikTok, Instagram, and YouTube for hate speech. He was permanently suspended from Twitter in 2017 for violating its terms of service but reportedly had snuck back onto the platform using different accounts. Earlier this year, the Independent found that one of the accounts Tate used after being kicked off the platform was even verified.

It now appears that Tate, 35, is back on Twitter. Or maybe he's not. Essentially, the account in question is Schrödinger's misogynist.

But either way, the account — @morpheusresist, which was set up in June and now has more than 110,000 followers — appears to be against Twitter's rules. The platform expressly forbids evading Twitter suspensions by setting up new accounts. It also bars the impersonation of "individuals, groups, or organizations to mislead, confuse, or deceive others."

The @morpheusresist account's first post was on Aug. 25, when it shared a video of Tate being interviewed by Tucker Carlson. Since then, the account — whose avatar is currently a young man with glasses — has tweeted heavily, sharing videos and photos of Tate and apparent statements from him.

"I don't have any active Twitter accounts. There are many fake accounts pretending to be me."
On Oct. 30, the account addressed a question "many have been asking": whether new Twitter owner Elon Musk would reverse the ban on Tate.

"Until CobraTate is unbanned OFFICIALLY, 'Andrew Tate' is still banned," @morpheusresist tweeted. "I must still say I am NOT Top G as a precautionary measure so the word can continue to be spread." Top G is the nickname that Tate has given himself.
Other posts were less nebulous about who's behind the profile. On Nov. 1, the account tweeted, "I, Emory Andrew Tate the 3rd, have more than you."

And numerous followers seem to believe @morpheusresist is Tate himself. Last week, professional cage fighter Jenaid Ebanks tweeted at the profile, "glad your back son, @twitter needs you."
When approached for comment on Oct. 28, Tate denied the account was his. "I don't have any active Twitter accounts. There are many fake accounts pretending to be me," he said via a representative. After BuzzFeed News reached out to that same rep yesterday to inquire about the @morpheusresist tweets quoted above, the tweets in question were deleted.
The account, whose bio has since been changed to say it's a "parody," also links to Tate's site, where he sells access to his life coaching courses, including a networking club called the War Room that costs $4,497. The site boasts that "members and their sons will remain the closed wielders of global influence into eternity."

A recent BuzzFeed News investigation found that another of Tate's life coaching programs, Hustlers University 2.0, made $11 million in just one month. A post on the course's Discord server, seen by BuzzFeed News, showed that Tate paid his students to set up social media pages promoting his courses.

"I don't think it's a material difference whether it's Tate himself or whether it's part of his money-making scheme. The damage is the same."
Callum Hood, head of research at the Center for Countering Digital Hate, said it didn't matter who's behind the @morpheusresist account. "I don't think it's a material difference whether it's Tate himself or whether it's part of his money-making scheme," Hood said. "The damage is the same. They're posting his content."

Andrea Simon, director of the End Violence Against Women Coalition, said that Tate's alleged evasions of social media bans show that tech firms clearly have a problem.
"If social media platforms won't enforce their own rules for high-profile individuals driving the radicalization of men and boys into extreme and violent ideologies, how can we believe that they will take adequate action against the abuse and harassment women and girls experience online every day?" she asked.

Twitter, whose press department was decimated in the recent layoffs at the company, did not reply to requests for comment.