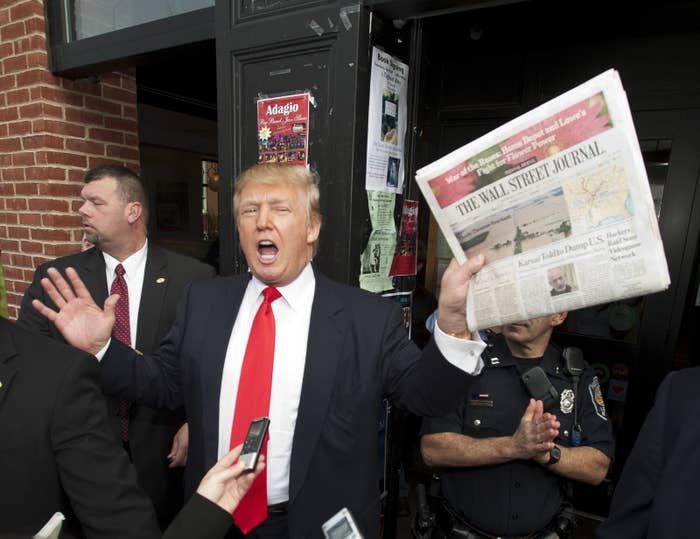 Donald Trump said he is skipping the White House Correspondents' Association dinner because "they make stories up."
Trump explained his decision in an interview with Fox & Friends, which was scheduled to air Tuesday morning on Fox News. An excerpt was released Monday night.
"Over the years you make a mistake, I fully understand when they hit you," Trump told Fox. "But when they make stories up, when they create sources, cause I believe that sometimes they don't have sources, you know, the sources don't exist, sometimes they do exist, I'm not saying all sources, but I do believe that a lot of the sources are made up. A lot of the stories are made up. I believe a lot of, the stories are pure fiction, they just pull it out of air."
Trump said that was why he decided not to attend the dinner, but he could go next year.
On Saturday, Trump first announced his decision on Twitter amid the most tense relationship between a sitting president and the press corps since the Nixon era.
Trump, who in the past few weeks has taken to calling media outlets who write pieces critical of his administration the "enemy of the American people" added, "Please wish everyone well and have a great evening!"
The annual, celebrity-studded WHCA dinner has long been criticized as a display of too-cozy relations between the media and people they are supposed to cover fairly and critically. It usually involves a comedian or master of ceremonies roasting the president, and then president responding in kind. The proceeds go to scholarships. (Some outlets choose not to attend the event. For example, the New York Times stopped attending in 2007 and BuzzFeed News does not go.)
This year's dinner posed a particularly sticky situation for both the White House and the media. Trump, while on the campaign trail, would condone chants of "CNN sucks!" at his rallies and sometimes called out specific reporters. That later developed into Trump adopting and using the term "fake news" for any article — generally published in the mainstream media — he didn't like.
That practice only intensified when he entered office. He began calling some outlets — including the New York Times, NBC News, ABC News, CBS News, and CNN — "the enemy of the American people," which is unprecedented vitriol.
Earlier this month, the New Yorker canceled its kickoff party and Vanity Fair said it was dropping out of sponsoring its exclusive after-party. This week, Bloomberg, Vanity Fair's co-host, also dropped out. And on Friday, BuzzFeed News reported that CNN was considering skipping the dinner all together.
In fact, Trump was invited to the 2011 WHCA dinner — the height of his claiming that President Obama was not a US citizen — where he sat in the middle of the ballroom and was subsequently roasted and apparently humiliated by Seth Myers and the president. The moment has become known as one of the driving points for his victorious 2016 presidential run — Trump, who always craved a sense of belonging among the A-list, found himself the butt of their jokes, and needed a way to legitimize himself.
Former BuzzFeed News reporter McKay Coppins painted the scene in this piece from 2016:
On the night of the dinner, Trump took his seat at the center of the ballroom, perfectly situated so that all 2,500 lawmakers, movie stars, journalists, and politicos in attendance could see him. He schmoozed and bragged and glad-handed and backslapped his way through four courses, reminding everyone who would listen that he was here "with Lally" (as in Washington Post heiress Lally Weymouth). But as soon as the plates were cleared and the program began, it became agonizingly clear that Trump was not royalty in this room: He was the court jester.

The president used his speech to pummel Trump with one punchline after another, then delivered Apatow's haymaker in a droll deadpan.

"Obviously, we all know about your credentials and breadth of experience," Obama said, immediately prompting laughter from the crowd. "For example, just recently, in an episode of Celebrity Apprentice [laughter] at the steakhouse, the men's cooking team did not impress the judges from Omaha Steaks. And there was a lot of blame to go around. But you, Mr. Trump, recognized that the real problem was a lack of leadership. And so ultimately, you didn't blame Lil Jon or Meat Loaf. [laughter] You fired Gary Busey. [laughter] And these are the kind of decisions that would keep me up at night. [laughter] Well handled, sir. [laughter] Well handled."

When host Seth Meyers took the mic, he piled on with his own rat-a-tat of jokes, many of which seemed designed deliberately to inflame Trump's outer-borough insecurities: "His whole life is models and gold leaf and marble columns, but he still sounds like a know-it-all down at the OTB."

The longer the night went on, the more conspicuous Trump's glower became. He didn't offer a self-deprecating chuckle, or wave warmly at the cameras, or smile with the practiced good humor of the aristocrats and A-listers who know they must never allow themselves to appear threatened by a joke at their expense. Instead, Trump just sat there, stone-faced, stunned, simmering — Carrie at the prom covered in pig's blood.
Jeff Mason, the president of the WHCA and a White House correspondent for Reuters, said the event will still be held on April 29.
"The WHCA takes note of President Donald Trump's announcement on Twitter that he does not plan to attend the dinner, which has been and will continue to be a celebration of the First Amendment and the important role played by an independent news media in a healthy republic," he said.
The WHCA dinners began under President Warren G. Harding. President Calvin Coolidge was the first to attend in 1924.