A train carrying 107 tankers of crude oil derailed and exploded in West Virginia on Monday, destroying a home and displacing around 1,000 people, CNN reported.
The CSX train, consisting of two locomotives and 109 rail cars was traveling from North Dakota to Yorktown, Va when it derailed around 1:20 p.m. in the Mount Carbon area of Fayette County.
The train was carrying crude oil from North Dakota's Bakken formation the Charleston Daily Mail reported.
At least 27 train cars derailed of which at least 15 caught fire, according to the West Virginia Department of Military Affairs and Public Safety.
One person was being treated for possible respiratory problems, but no other injuries were reported, CSX said in a statement.
The train's explosion displaced up to 1,000 residents and oil spilled from the train contaminated the local water supply.
The oil leaked into the Kanawha River which provides drinking water to the Kanawha and Fayette counties. CSX said the company was also working to contain oil found in a creek running parallel to the the tracks.
West Virginia American Water initially closed two of its treatment plants in Montgomery and Cedar Grove and officials urged customers to conserve water.
State Department of Military Affairs and Public Safety spokesman Lawrence Messina said the Montgomery facility remained shut down while the Cedar Grove intake was reopened on Tuesday, West Virginia Public Broadcasting reported. The extent of the oil leak is being investigated by authorities.
The threat of fire and power outages displaced around 1,000 people, Messina told CNN.
Governor Earl Ray Tomblin declared a state of emergency in Kanawha and Fayette Counties.
In a statement on Monday, Tomblin said, "Declaring a State of Emergency ensures that residents of both Kanawha and Fayette counties have the access they need to resources necessary to handle all stages of the emergency. State officials are on site and will continue to work with local and federal officials, as well as CSX representatives, throughout the incident."
The cause of the derailment is still under investigation, CSX said.
CSX said its teams were working to deploy environmental protective and monitoring measures on land, air and in the Kanawha River and was also working with the Red Cross and other relief organizations to address residents' needs, taking into account winter storm conditions.
The person, whose home was destroyed by the fire, escaped by running into the snow in his bare feet, WCHS reported.
The man was treated for possible respiratory injuries at the Montgomery General Hospital.
Messina told the Charleston Daily Mail that emergency responders faced difficulties in reaching the house fire because of the derailment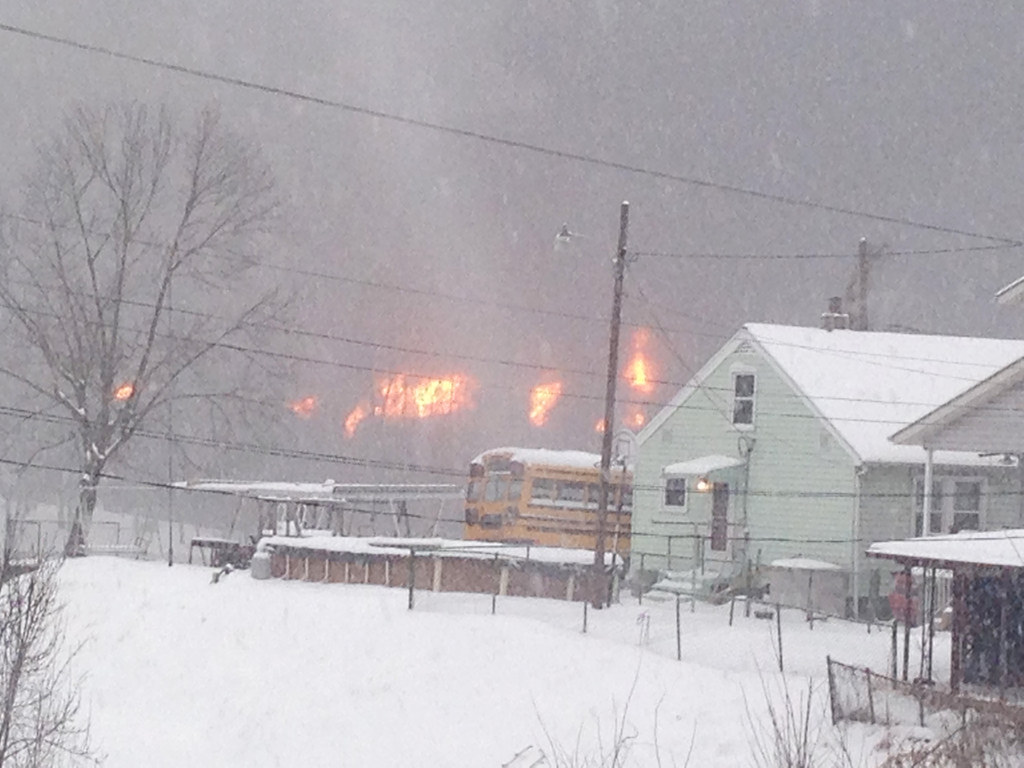 This is a developing story, please check back for updates. Thumbnail photo by Kanawha County Department of Homeland Security and Emergency Management.