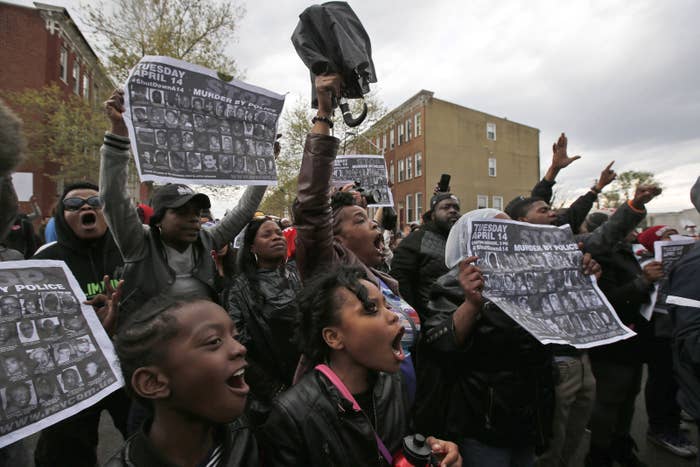 Baltimore's police union on Wednesday likened ongoing protests against the death of Freddie Gray to a "lynch mob," drawing sharp criticism from the victim's family and from people nationwide.
"While we appreciate the right of our citizens to protest and applaud the fact that, to date, the protests have been peaceful, we are very concerned about the rhetoric of the protests. In fact, the images seen on television look and sound much like a lynch mob in that they are calling for the immediate imprisonment of these officers," wrote Gene Ryan, the president of the Fraternal Order of Police Lodge 3.
Gray, a 27-year-old unarmed black man, was taken into custody on April 12. Video footage showed he was loaded into a police van while conscious but injured.
Police said when Gray was unloaded from the van he was not conscious and has suffered a spinal injury. He died one week later.
An attorney for Gray's family told the Baltimore Sun:
"We've been the victims of the lynching and now we're the lynch mob?" he asked. "The president of the police union called peaceful protests and the anger at the death of a man to severe and unfathomable injuries while in police custody a lynch mob? It doesn't get more insensitive or insulting than that. These remarks illustrate why black people and the police don't get along."

Murphy called for "an immediate apology and a retraction."
Others took to social media to express their disbelief:
Protests continued Wednesday night as crowds marched in front of the hospital where Gray died and stopped in front of City Hall.
The Department of Justice opened a civil rights investigation into Gray's death.
"The Department of Justice has officially opened this matter and is gathering information to determine whether any prosecutable civil rights violations occurred," U.S. Department of Justice spokesperson Dean W. Iverson said in a statement.

Earlier this week the Baltimore police department said there is no evidence of force of bodily injury on Gray's body. The Deputy Baltimore Police Commissioner said none of his limbs were broken. Authorities are looking into what happened in the van as Gray was transported to the police station. Baltimore Police Commissioner Anthony Batts said the department is conducting an investigation and that the results will be sent to the state attorney general's office May 1.
Meanwhile, Batts confirmed that the six officers involved in the incident have been suspended with pay pending the results of the investigation. Five of the six officers have provided statements to police, according to the Baltimore Sun.